A week spent in the all new subcompact from Kia

Pros:
Handling
Bang for the buck
Versatility
Cons:
Firm ride
Steering feel


The Rio
The  Rio has been hanging around new car dealer showrooms since 2000, when it was sold as a 2001 model. At the time, it was the least-expensive passenger car sold in the U.S.
The 96 horsepower Kia subcompact was also poorly built and offered drivers very little in terms of ride quality or onboard amenities. For the most part, it was a vehicle that was considered a throwaway car.
But that was then and this is now. What a difference ten years makes.


2012 Kia Rio 5-door
The all-new 2012 Kia Rio shares its underpinnings with the Hyundai Accent and is available in three trim levels - the entry-level LX, available with either a six-speed manual or six-speed automatic transmission, the mid-level EX and the uplevel SX, both sold only with the automatic.
The Rio is also available in two body styles; a traditional four-door sedan and the model I tested, a 5-door hatchback.
Standard safety features include stability and traction control, hill assist control, 4-wheel disc brakes with ABS and six airbags.


Standard equipment highlights on our EX included air conditioning, power windows, and door locks and cruise control as well as remote keyless entry. An audio system with CD, satellite radio, USB and audio input jacks is also standard as is Bluetooth wireless, a tilt and telescopic steering column with steering wheel-mounted audio controls and a trip computer.
Our Signal Red Rio was also equipped with the optional convenience package, which adds, among other things, 15-inch alloy wheels, front fog lights, automatic headlights, power folding outside mirrors with turn signal indicators, leather-wrapped steering wheel, soft-touch dashboard trim and the UVO infotainment system that Kia has developed in partnership with Microsoft that also includes a rear camera display.


Interior
Interior fit and finish of the Rio as well as the quality of materials used by Kia is certainly above average for this class. Its looks were also aided by the fact that our tester featured a beige-colored interior that brightened the cabin up considerably.
All controls operated smoothly and were within easy reach of the driver. Steering wheel-mounted controls for the audio system, cruise control, hands-free phone system and driver information center were both easily understood and intuitive. In fact, I must've set some kind of record in pairing my iPhone to the Rio's UVO system – it took me less than a minute and I never had to refer to the owner's manual.


The headlight and turn signal stalk to the left of the steering wheel also featured a tap/flash to pass feature, while the right stalk controls the wiper functions.
The center stack is simple and straightforward. Three large buttons flank the both sides of the touch screen and control the radio, media, phone and jukebox functions. Just below the screen are knobs for power/volume and tune/file that flank two flat entertainment function buttons.


Finally, below that in a very cool layout are three large rotary knobs that control fan speed, air delivery and temperature, while four toggle buttons work the A/C, rear defrost and control the fresh and recirculation functions.
For a small car, the driving position was excellent. Although the windshield pillars are thick, forward visibility is very good. The rear window, however, is small and the thick C-pillars can hinder rear visibility – which is where the backup camera came in particularly handy.


Exterior
Schreyer and company have done a nice job re-styling the Rio. Gone is the lumpy look of old – replaced by a faster rake and body lines that rise from its signature "tiger nose" front grille. Not only is it lower and wider, it looks way cool – something that's all-important in this segment.
Beginning at the tiger nose, large headlamp enclosures sweep back over the mildly flared front fenders, while a mild lower body crease begins at the front door and sweeps up and back, merging with the rear fender flare.


The cab-forward greenhouse features a steeply-raked windshield that flows back until it ends at a small spoiler above the rear window. Compared to its Accent cousin, the styling of the new Rio is an exercise in restraint, although it's also less polarizing.
Its styling aside, other changes on the 2012 model include an increase in length by over an inch, a reduction in height of a half inch, an increase in width of exactly an inch and, most importantly a wheelbase that's grown by nearly three inches to 101.2. Front track has also grown by 2 inches and the rear track is wider by 2 and a half inches.
The new Rio has also gone on a diet of sorts, shedding four pounds over the outgoing model.


On the road
The Rio's ride, unlike that of its Hyundai counterpart, is tuned towards handling control rather than a soft ride. This means that darting in and out of traffic and throwing it into curves can be especially entertaining, even given the fact that it possesses a fairly simple semi-independent setup in the rear.
The flip side, however, is that the ride can feel a bit stiff even in normal around-town driving. I'd take this side of the coin any day and my feelings are that most drivers it's meant to appeal to would feel the same way. Others, however, might not agree with me.
There is only one engine offered in the Rio – a very up-to-date 1.6-liter four with direct injection that produces 138 horsepower peaking at a fairly high 6,300 rpm and 123 lb.-ft. of torque at 4,850 rpm. And while the EX isn't offered with a manual, the automatic is a six-speed and it does feature a manual mode – something rarely found in this class.
Noise levels seemed to be on the low side for a car this size and braking performance was also very good.


Fuel economy was decent, although not in the top tier in city driving for vehicles in the B-segment. EPA estimates are 30 mpg in the city and 40 mpg on the highway. Around town, I averaged 31.5 miles per gallon in, I must admit, very spirited driving.
Aside from the ride which some people might find too firm, I do have one other nit to pick.
While its electric steering had a nice weight to it, it could use a bit more feedback, especially on-center and at lower speeds.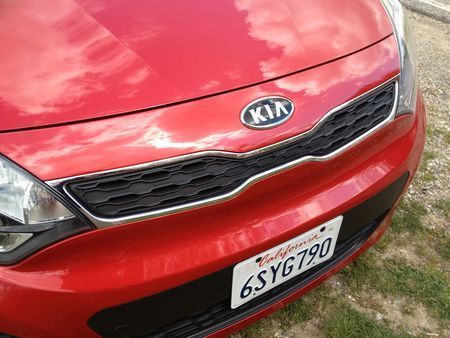 Pricing
New car prices for the 2012 Rio starts at $13,400 for a 4-door LX model equipped with a manual transmission which features such amenities as air conditioning, steering-wheel-mounted audio controls and variable intermittent wipers as standard equipment.
Our EX 5-door example had a base price of $16,500.
Adding the $1,000 Convenience Package and $95.00 for floor mats brought the grand total of this particular Rio EX to a manufacturer's suggested retail price of $18,345, including a $750.00 destination charge.


The Bottom Line
So what does this all mean?
It means that Kia finally has a serious contender to go up against the likes of the Chevrolet Sonic, Hyundai Accent and the Toyota Yaris. It also has a feature set that may even lure buyers away from the Nissan Versa, Ford Fiesta and, dare I say it, the Honda Fit.
So here, as I see it, is the bottom line: A few years ago, American small car buyers had little to choose from and even less to look forward to in the subcompact car segment. With the new Rio, Kia now has a vehicle that can hold its own in this growing vehicle class.