Spending a week in the Ford crossover that doesn't look like a crossover

Pros:
Unique styling
Limo-like interior room
Smooth around town and highway cruiser
Cons:
Not exactly light on its feet
Wide turning radius
You'll need that backup camera

Ford wagons
Growing up in a small town north of Detroit in the 1950's and 1960's in a family that owned a hardware store, our family car also doubled as a delivery vehicle. That necessitated that the vehicle of choice was, for better or worse (it got worse as I approached driving age) a station wagon – specifically, a Ford station wagon.


Besides the fact that local Ford dealer was a family friend, station wagons from the Blue Oval (back then it was the Ford Crest) were durable and offered a good value for the money. Beginning with a 1954 Ford Ranch Wagon, we owned a total of four Ford wagons over a 12 year span – with the biggest and grandest being a 1959 two-tone red and white Ford Country sedan – a model that slotted between the more proletarian 2-door Station Wagon and the high-bucks Di-Noc wood-grained Country Squire.


Comparing the wagon to the crossover
The reason behind this historical foray is simple: I am an admitted small car guy and I needed to come to grips with the size of the 2013 Ford Flex.
This, then, is where the 1959 Country Sedan comes in. Back in 1959, the Country Sedan had, like the Flex, four doors plus a tailgate. It had an overall length of 208 inches and a wheelbase of 118 inches while ours was powered by a 4.8-liter (292 cubic inch) overhead valve V-8 engine that, in 1959, was rated at 200 hp. That body-on-frame Ford wagon also had a curb weight of 3,859 pounds.


I can't answer to the station wagon's fuel economy, but I do know that gasoline back then averaged about 30.5 cents a gallon – which, when adjusted for inflation, comes to $1.88 in today's dollars (according to the DOE).
By comparison, the Flex has a wheelbase of 117.9 and an overall length of 201.8 inches. The SEL model we drove is powered by an improved version of Ford's normally aspirated 3.5-liter V6 that produces 285 hp and 255 lb.-ft. of torque (an improvement of 13 horsepower and 7 lb.-ft. of torque over last year). No doubt because of the added equipment levels found on current vehicles, the Flex's curb weight, despite its unibody construction, is a hefty 4,439 lbs. (although it has shed 9 pounds since last year).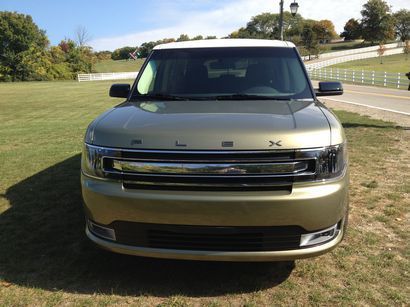 So curb weight aside, both the '59 wagon and the '13 Flex are surprisingly similar - both in size and in mission and, if you squint hard enough at a Flex, you might even begin to see the outlines of the "Di-Noc" wood-grain side panels of a classic Ford Country Squire.


2013 Ford Flex
All-new in 2009, the 2013 Ford Flex has received a mild makeover. Outside, its corporate three-bar grille was given the heave-ho, replaced by a single central bar set into a surround that integrates into the headlamp covers giving it a sleeker Futurama-esque look. Badges and logos were also moved around a bit.
Inside, although the dashboard layout remains the same, most of the function buttons have been replaced by MyFord Touch, while the buttons that formerly resided on the lower console face have also been supplanted by touch-sensitive surfaces.


Interior
The interior is where the Flex really shines. It begins when you open the door. Because of the way the doors are engineered, rather than the typical
door opening, the lower edges of all four doors fold under the vehicle. This means when they are opened the sill is closer to the seats. Combined with the comparatively low ride height this makes ingress and egress nearly effortless.


Once inside, front and middle-seat passenger room is more than ample – we're guessing enough room for 4 NBA players to stretch out in comfort with room to spare. Instrumentation is laid out in a logical manner and the SYNC navigation system was easy to read with intuitive controls.
All Flex models feature three-row seating with two buckets in front, a 50/50 split third-row bench, and the choice of either a 60/40 second row or, on SEL and Limited models, a pair of buckets split by a center console – a $650 extra. On the Limited, a particularly sybaritic option includes a compressor-driven refrigerated version of that center console for keeping drinks cool that's part of a $4,045 option package that also includes adaptive cruise control and collision warning with brake support, power third row seating and active park assist.


But even our more plebian SEL came standard with fog lights, privacy glass, tilt and telescoping steering wheel, dual climate control and a reverse sensing system.
Heated front seats are also standard, offer plenty of thigh support and the adjustability is excellent.  On the other hand, the cushions felt a bit flat laterally, where they could use at least some semblance of side bolstering.


The only other niggle I had was with the size of the storage area behind the second row seats. Due to the fact that the standard third row rear seats fold into the floor, for such a large vehicle, there really isn't much vertical storage space when they're folded flat and the center row is in the normal position. In order to carry a road bicycle without removing the front wheel we had to fold down one of the middle seats in order to transport it and even then, it would not lay flat.
One other point we'd like to make: if you plan on spending a lot of time in the Flex, the interior is so cave-like, especially in black, that we'd suggest checking the options box next to the Vista Roof.


Exterior
Outside, despite the fact that the Flex that marches to a different drummer and you either love the design or hate it, it has its advantages. Passenger volume is generous at nearly 156 cubic feet. Better yet, it's usable space from the load floor to the roof.


On the road
Interstate cruising with the Flex was smooth and effortless. Its long wheelbase smoothed out all but the harshest bumps and road noise was muted.
Fuel economy, at 18 mpg city, 25 mpg highway and 20 mpg combined is better than most vehicles in this class (we observed 18.5 mpg in mixed city and highway driving).


Around town, however is where it can get challenging. At nearly two and a half tons, you're certainly aware of the Flex's size. You quickly realize that tossing this vehicle into a corner with alacrity and hoping for anything other than mild body lean is futile. Adding to this difficulty is a Titanic-like 43-foot turning circle.
In addition, while visibility and sight lines to the front and sides are good, because of its length and high rear seat, visibility towards the back and rear quarters can be difficult. We suggest getting the optional rear-view camera.


One more thing: steering calibration is not up to the standards we have come to expect from Ford. The setup on the Flex could use more work - it lacks feedback and is uncharacteristically (for the Blue Oval) numb on center.


The Bottom line
All in all, the Ford Flex accomplishes exactly what it's intended to do – transport up to seven people quietly and comfortably. If you're looking for a crossover vehicle that offers a sense of style and doesn't blend in with the rest of the pack, then the Ford Flex should be at or near the top of your list.
It's certainly a worthy successor to, and a modern interpretation of, the venerable Country Sedan.


2013 Ford Flex SEL FWD
Base price (SEL) - $33,225
Options – Equipment Group 202A (leather-trimmed seats, blind spot monitoring system with cross-traffic alert, remote start), voice-activated navigation system, rear inflatable seat belts, white two-tone roof
Total options - $4,385
Destination and delivery - $825
Price as tested - $38,435