A week spent in the swoopy compact coupe from Hyundai
Pros:
Fuel economy
Exterior styling
Interior quality and design
Cons:
Suspension compliance
Steering feel
Road and engine noise
Such a thing as too hot
Korean auto manufacturer Hyundai currently finds itself in a quandary. That's because even with all of its factories running at full capacity as is currently the case, there aren't enough Elantras on the ground at U.S. dealerships to meet customer needs.
Back in June, at the current rate of sales Hyundai dealers had a 44 day supply of vehicles, the second lowest in the industry for a non-premium brand. Lest you think this is due to throwing shovelfuls of money "on the hood", take note that the brand's average incentive spend, $1,237 per vehicle, was also the second lowest in the industry.


Despite the low incentives, through the first five months of the year, Elantra sales were up 19 percent over 2012 – while sales of the Toyota Corolla and Chevrolet Cruze were up 15 and 10.3 percent respectively, and sales of the Ford Focus and Honda Civic were down by 1.4 and 4.6 percent, respectively.
And while it has yet to overtake any of those four nameplates in the compact car segment, the 2013 Hyundai Elantra is currently outselling the Volkswagen Jetta, Nissan Sentra, Mazda Mazda3 and the new Dodge Dart.
For a vehicle that has been labeled a throwaway car for most of its existence, that's some pretty heady company it's been keeping lately.


2013 Hyundai Elantra Coupe
When the Elantra sedan first debuted at the 2010 Los Angeles Auto show, it was obvious that it would make a great-looking coupe. All this was confirmed on November 8, 2011 at Hyundai's engineering center near Ann Arbor, Michigan when Hyundai president John Krafcik pulled the cover off a pre-production Hyundai Elantra Coupe.
Like the Elantra sedan, there are a great many things I liked as well as a few things I didn't particularly care for with the Elantra Coupe. First, here's the good news.


Models
For 2013, Hyundai Elantra Coupes come in just two trim series – the entry-level GS and the uplevel SE. Standard on both is a six-speed manual transmission with a six-speed automatic available as an option.
Standard safety features include stability and traction control, 4-wheel disc brakes with brake assist, ABS and EBD and six airbags.


Equipment highlights that are hardly basic include, on all trim levels, such niceties as alloy wheels, power windows, locks and heated outside mirrors and front seats as well as remote keyless entry. Air conditioning, an audio system with CD, satellite radio with USB and audio input jacks are also standard as is a tilt and telescoping steering wheel with cruise controls.
In addition to those goodies, SE trim models get a firmer sport-tuned suspension, alloy pedals, rear spoiler, outside mirrors with integrated turn signals, power moonroof, larger 17-inch alloy wheels and leather-trimmed seats, steering wheel and shift knob.


Our Blue Sky metallic SE tester had all that and only lacked the Limited Technology Package ($2350) that consists of a navigation system with 7-inch screen, rearview camera Premium audio system, automatic headlamps, dual automatic temperature control and proximity key with push-button start and the six-speed automatic ($1,000).
All Elantra Coupes come with the same engine – a 1.8-liter four that produces a decent 148 horsepower at 6,500 rpm and 131 lb.-ft. of torque at 4,700 rpm.


Interior
There is more good news inside the cabin where fit and finish as well as the quality of the materials used by Hyundai is world class. Tasteful shades of gray and black soft-touch surfaces contrast with brushed metal trim.
Storage cubbies abound. In addition to a decent-size box under the armrest, the center console contains two cup holders, a small open compartment behind the cup holders, a covered storage area (which also houses a 12-volt outlet as well as AUX and USB Jacks) in front of the shifter as well as an additional 12-volt outlet plus smaller storage areas on the lower left and right sides of the console just below the instrument panel.


There are also two cup holders for rear seat passengers built into the rear fold-down center arm rest.
All controls operate smoothly and are within easy reach of the driver. Steering wheel-mounted controls for the audio system, cruise control, hands-free phone system and driver information center are also easily understood and intuitive.


The headlight and turn signal stalk to the left of the steering wheel features an upscale tap/flash to pass feature, while the right stalk controls the wiper functions.
The center stack is both stylish and surprising easy to understand considering how swoopy it looks. Buttons flank the left and right of the touch screen and control the display, information and media functions. Below the screen, a second set of controls handles the radio station presets.


Below that, a round on/off/volume knob is flanked by tune/file and setup/enter buttons for the radio and display screen.
Finally, below that, another set of buttons and knobs control all functions of the HVAC system.


Exterior
The exterior is the most striking aspect of Hyundai's newest compact – encompassing the company's "Fluidic Sculpture" design language. In this case, think of the Elantra Coupe as a very sporty nine-tenths interpretation of the larger Sonata.
It all begins up front with Hyundai's signature trapezoidal grille. From there, large headlamp enclosures sweep up over the flared front wheel well openings, while a prominent body crease begins at the leading edge of the front door and sweeps back, ending at the leading edge of the rear taillamp lens.


The cab-forward greenhouse features a steeply-raked windshield and peaks at the B-pillar, where the sweep of the rear roof begins.
Styling is, by its very nature, a very subjective thing. Some think the Elantra goes a bit overboard in this department. I happen to think it's the best-looking coupe in its class.


The Elantra Coupe shares all its exterior dimensions with its sedan counterpart including wheelbase (106.3 inches), length (178.7 inches), width (69.9 inches) and height (56.5 inches) while both front and rear tracks on the coupe are marginally smaller (0.4 inch) than the sedan.


On the road
My week with the Elantra consisted primarily in around-town driving. Despite its swoopy roofline, rear seat passengers never complained of a lack of headroom and, in fact, were quick to note that the rear seats, especially for a compact sedan, were very comfortable.
On freeways, the Elantra's suspension easily soaked up small bumps, although larger ones or a series of bumps or road imperfections had a tendency to upset its rear torsion axle suspension. The brakes, on the other hand, were easy to modulate and there was excellent feedback through the brake pedal.


Fuel economy, as advertised, was very good. In primarily suburban driving I averaged 31.1 miles per gallon – just 0.9 off its manually-equipped EPA combined estimate of 32 and 3.1 mpg better than the EPA city estimate of 28 mpg.
Aside from these numbers, however, the engine is distinctly underwhelming in everyday driving. Torque is noticeably absent on the low end and when you put your foot into it there is, to paraphrase the Bard, "much sound and fury, signifying nothing."


I also have another nit to pick.
As I've often noted previously, electric steering has to be fine tuned in order to give the right amount of feedback to the driver in all situations. Like the Sonata, there was a nice weight to the steering on the highway. Unlike its larger sibling, however, this same heaviness carried over into slower traffic situations where this same heaviness resulted in reduced feedback at lower speeds.


Pricing
New car pricing for the 2013 Elantra Coupe starts at $18,945 for a GS model equipped with a manual transmission and tops out at $25,230 for a fully loaded SE with a 6-speed automatic.
Our manually-equipped SE tester had a base price of $19,745. Adding carpeted floor mats ($95) and destination (at $720) brought the grand total of this particular Elantra Coupe to a manufacturer's suggested retail price of $20,615.


The Bottom Line
So what does this all mean?
In the 2013 Elantra Coupe, Hyundai has a serious contender to Civic Coupe buyers looking for more style and Corolla, Cruze and Focus shoppers looking for something more sporty than a sedan or hatchback.
Looking at style and quality alone, this Hyundai should be at the top of many buyers' shopping lists.


What may hold some back, however, is the fact that the Hyundai Coupe's looks write a check that neither its engine nor its suspension dynamics can cash. In this respect it can't yet play in the same sandbox as either the Mazda Mazda3 or the Ford Focus.
So here, as I see it, is the bottom line: A few years ago, American small car buyers had little to choose from and even less to look forward to when buying a compact car. All that has changed and the Hyundai Elantra Coupe is right in the thick of it with only its driving dynamics holding it back from being one of the best.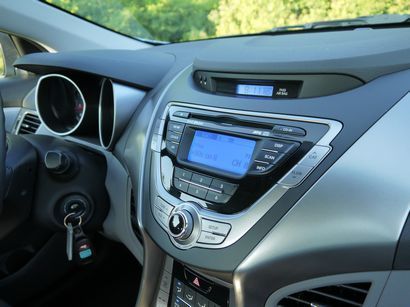 But what should give other manufacturers pause is that Hyundai has shown itself to be a quick learner and, with a couple of tweaks, it could soon be at or near the top.