We spend a week in the sleek for a minivan people mover from Toyota
Pros:
Styling
Comfortable ride
Interior room and versatility
Cons:
Cheap interior finishes
Road noise
Size matters
Modern minivans may trace their roots back to the original Chrysler twins, but they've come a long way since their relatively humble beginnings.
According to manufacturer's data, a 1988 Plymouth Voyager LE weighed 3287 lbs., had a wheelbase of 112 inches (119.1 for the stretched Grand Voyager) and was 177.3 inches long. It was also 64.4 inches high, 72.2 inches wide and had front and rear tracks of 59.9 and 62.10 inches, respectively.
Under the hood even the "Grand" Voyager sported a 2.5-liter inline-4 that produced 96 horsepower and 133 ob.-ft. of torque that was mated to either a 5-speed manual or 3-speed automatic transmission. It also came with a strut front suspension, solid rear axle and 195/75R14 tires wrapped around standard 14-inch steel wheels. With the rear seat removed cargo volume was 125 cubic feet.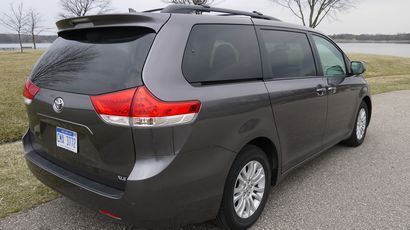 2013 Toyota Sienna XLE
Other than a wheelbase nearly identical to that of the Grand Voyager at 119.3 inches, the 2013 Toyota Sienna XLE in front-wheel-drive configuration weighs 4465 lbs and is 200.2 inches long. It's also 68.9 inches high, 78.2 inches wide and has front and rear tracks that measure 67.7 inches.
The Sienna rides on standard 17-inch alloy wheels wrapped in 235/60R17 Firestone FR710 all season tires and it's powered by a 3.5-liter all-aluminum V6 that produces 266 horsepower and 245 lb.-ft. of torque. It also features a MacPherson strut front suspension, torsion beam rear suspension and, with the third row seats stored in the floor, 87.1 cubic feet of cargo space (that increases to 117.8 cu. ft. with the second row seats folded and pushed forward and 150 cubic feet with the second row seats removed).


Exterior
The Sienna was given a complete makeover for the 2011 model including all-new sheetmetal. In the process Toyota has given each body panel a new tautness of line. The grill and headlamp enclosures flow back to the steeply raked windshield. An upper character line begins at the upper trailing edge of the headlamp enclosures and terminates at the front quarter glass. The A-line begins in front of the front wheel well, extending over the front wheel arch and continues along the body sides just below the beltline until it terminates at the upper edge of the rear taillamp.


A mild arch above the rear wheel opening plus a character line between the wheel wells along the lower body just below a swage line keeps the Sienna from looking too slab-sided. Think of these changes as bringing the older model's soft lines into sharper focus.
The rear fascia is dominated by a pair of trapezoidal-shaped taillamps while, in an especially nice touch, the rear wiper parks neatly under the rear upper spoiler.


Interior
The real goodness of the latest Sienna and what every minivan owner really looks for is versatility – something this Toyota delivers in spades. We're talking about fitting seven adults in comfort and an eighth in a pinch.
In this case, the two outboard middle seats flip and slide forward for easy ingress and egress to a rear bench seat that is large enough to seat three adults comfortably. For trips requiring seven or less, the middle seat center section can be removed and stowed in a special cubby set in the driver's side just aft of the third row. Removing it also reveals two cup holders set in the floor along with an aisle for additional access that allows rear seat passengers to exit without moving either of the two middle outboard seats.


One issue I had concerns this seating system. While rear seat has a 60/40 split with either or both third row seats storing flush into the load floor, it is an altogether different matter with those in the middle row. Unlike Chrysler's stow-and-go (and in all fairness just like Honda's system), you have to physically remove the middle seats to take advantage of the additional cargo space. But unlike the Odyssey, once they're removed the floor-mounted seat-track hardware on the Sienna remains, making it especially difficult to slide heavy cargo in and out the side doors.
Front seat passengers will also find that they have plenty of room with each seat having its own inboard drop-down arm rest – an especially nice touch. Leg and shoulder room is ample and the cabin has an airy feeling to it thanks to a relatively low cowl and plenty of glass area.


The rest of the cabin is as modern-looking as anything in this segment with clear, easy to read back-lit instrumentation and controls that are both intuitive and silky smooth. A testament to the simplicity of its infotainment system is the fact that I was able to pair an iPhone to it without having to consult the owner's manual – something that has become somewhat of a benchmark around here.
The only issue I had with the cabin had to do with the finish of some of the interior materials. In this case I'm referring to the very un-Toyota-like finish of the dashboard and upper door panel trim. Many of the dashboard and door pieces are constructed from hard, dull-finished plastics and despite their graining, look low-rent for a vehicle in this price range.


The Premium Package on our XLE tester also included a 10-speaker JBL audio system – one of the best sound systems I've ever encountered in a minivan. It delivered crisp highs along with solid midrange and bass response even sounding splendid even when playing back the compressed music files from an iPhone – no mean feat. It also includes a dual view video screen that drops down from an overhead compartment just aft of the front seats and comes equipped with wireless Bluetooth headphones so there are no cords to contend with.


On the road
Minivans, by their very nature, are not the type of vehicles you associate with either twisty roads or straight-line performance. But at the same time their very size gives them a big advantage because when it comes to a smooth ride as there is no substitute for a generous wheelbase.
It should also be noted that Toyota does offer the Sienna in the brand's sportier SE trim level that includes a body kit, larger wheels and firmer suspension settings along with retuned power steering.


But alas our tester was an XLE although the 2011 update resulted in a retuned suspension that's stiffer and also a new electric power steering system that gives drivers more feedback.
Even with that the suspension on our tester still tended more towards the plush end of the spectrum. And while there was very little body lean through corners you are always aware of the fact that this is a big vehicle. The ride itself was controlled and that generous wheelbase gives the Sienna's suspension the ability to soak up even the harshest of Michigan's bumps and potholes. Accelerating up to freeway speeds was also never a problem and the six-speed transmission shifts smoothly, although when pushed hard the engine sounds coarse.


As for other areas, the brake pedal is progressive and easy to modulate and while the power steering has a decent amount of road feel Toyota wasn't able to wring out some on-center numbness.
Fuel economy for a vehicle this size is also decent with the EPA giving it 18/25/21 city/highway/combined mpg figures with my own observed economy of 20.2 mpg in mostly city driving.


Pricing
New car pricing for the Sienna, including an $845 delivery, processing and handling fee, starts at $27,430 for a front wheel drive L model and tops out at $46,820 for a fully-optioned all-wheel-drive Limited model.
Our FWD XLE tester had a base price of $33,360 and was equipped with the Premium Package (at $6,105 that, in addition to the aforementioned items also includes a voice-activated touchscreen, nav system with two mode backup camera, aux and USB ports with iPod connectivity, Bluetooth music streaming, smart key, pushbutton start and rear parking sensor), cargo net ($49), first aid kit ($29), roof rack cross bars ($185), a full complement of floor mats ($330) and a third pair of wireless headphones ($82) that brought its as-tested price to an even $41,185.


The Bottom Line
There are a number of reasons buyers have chosen the Toyota Sienna over the years including its quality, reliability and resale value. What we have with the 2013 Toyota Sienna is a vehicle that in shedding much of its previous car-as-appliance approach is much better dynamically than the previous version.
Drivers of the XLE version seeking the same involvement as that of the Honda Odyssey may be disappointed but it is, after all, a minivan and it does very well what most owners will demand of it.
The fact is, previous-generation Sienna owners will be pleased with the improvements while consumers new to the market for this type of family hauler should put it near the top of their list.