A week spent in the large three row crossover SUV from Acura
Pros:
Smooth engine and transmission
Interior finish
Cargo room, storage, switchgear
Cons:
Distracting touch screen controls
Bouncy ride in undulating pavement conditions
Vague electric steering
The MDX
The Acura MDX mid-size crossover SUV was first introduced in the summer of 2000 as a 2001 model. At the time it was, and remains, Acura's largest SUV. The second generation was released in the fourth quarter of 2006 as a 2007 model with a minor update for the 2010 model year. The first two generations shared a platform (Global Light Truck) with the Honda Odyssey as well as the Honda Accord and Pilot.
2014 Acura MDX
The MDX Prototype, a thinly-veiled third-generation MDX, was first unveiled at the 2013 North American International Auto Show in Detroit, with the production version shown three months later at the New York Auto Show.
The latest version, although it won't be mistaken for anything other than an MDX, arrives with a host of changes.


Size-wise, the 2014 is 2 inches longer with a 2.8-inch longer wheelbase. Vehicle height is down by 1.5 inches with a 1.8-inch lower rear step-in height, while both front and rear tracks are narrower (by 1.4 inches and 1.2 inches, respectively). Acura states that these changes result in a 2 percent smaller frontal area for increased aerodynamics.
The 2014 MDX is now based on an all-new, purpose-built platform (helping shave 275 pounds in overall weight) and while still available in Super Handling all-wheel drive and, for the first time, front wheel drive, everything in front of both drivetrains has been updated.


The previous-gen's 5-speed automatic has been supplanted with by a more up-to-date, paddle shifter-equipped 6-speed manumatic unit that's mated to an all-new engine.
Part of Honda's Earth Dreams lineup, that would be an all-aluminum 3.5-liter, direct injection V6 that produces 290 horsepower and 267 lb.-ft. of torque. It's equipped with Honda's Variable Cylinder Management system, which electronically deactivates cylinders to reduce fuel consumption. This allows it to run on 3 or 6 cylinders based on power requirements. Those interested in bringing one along during a return trip to southern Germany will be pleased to know that it powered the MDX to an 8 second faster lap time on the Nürburgring's Nordschleife.


Together, it delivers EPA mileage ratings of 20/28/23 city/highway/combined mpg in front-wheel-drive equipped models and 18/27/21 city/highway/combined mpg in models with four-wheel-drive. Like the previous MDX, premium fuel is recommended.


Exterior
Despite all the changes, styling of the 2014 model is more evolutionary than revolutionary.
In a side-by-side comparison the silhouettes are remarkable similar, although the lower overall height of the new model makes it appear more fluid. While the beltline remains high, the roof is lower, resulting in an overall narrower daylight opening.


Up front, the narrower headlamp enclosures give it a sleeker appearance, while in back the integration of the exhaust ports into the lower valance gives it a more aggressive look. Along the sides, there's more of a rake to the D-pillar, while the large wheel arches have been toned down for a more elegant look.


Most significantly, the new MDX features Acura's new signature "Jewel Eye" LED high- and low-beam headlights – featuring five LED elements per side. Take it from me; this new setup blows away the former HID units.


Interior
Inside there's a lot to like about the new MDX. With a clean slate design that can be described as understated luxury, all surfaces are soft touch and the black trim is accented by satin chrome and the best-looking simulated wood trim we've ever seen.


Instrumentation is clear and easy to read, although the upper and lower displays can be distracting. It appears that in striving to clean up the dash and console areas by eliminating as many conventional buttons and knobs as possible, Acura has also made it more difficult to perform some of the simpler functions. So while it all looks good, in order to turn on the seat heaters, you have to dive, although not deeply, into the menu functions. In cold weather, this must be repeated as the heaters revert to off when the vehicle is turned off.


On a positive note, there's plenty of leg, shoulder and head room for two adults up front and three in the middle seat. The steering wheel has a motorized tilt and telescoping feature that's also part of a "driver recognition memory feature" that also includes the driver's seat. But like most midsize three-row SUVs, the third row is probably best left to small children – although the second seats are provided with 5.9 inches of fore-aft seat travel. In any case, a particularly nice feature is the "One-Touch Walk-In" single button mounted on the outboard middle seat cushion frames and backs for accessing the third row.


Driver visibility out the front and sides is excellent, but the large C-pillar makes viewing out the rear three-quarters difficult. In addition, if the third row seat is occupied, the head rests take up a lot of the rear window's real estate. Fortunately, the MDX come standard with a rearview camera that includes guidelines that change as you steer the vehicle.


Versatility has not been forgotten as both the middle as well as the back rows fold flat. There's also plenty of storage in the various bins and cubbies. Cargo volume behind the third seat is 15.8 cubic feet. If that's not sufficient, stow both halves of the rear seat and it jumps to 45.1 cubic feet. If that's still not enough, simply flip the middle seats forward and, presto, you now have 90.9 cubic feet of cargo room.


Equipment
The 2014 Acura MDX is available in either front-wheel drive or Super Handling all-wheel drive in four trim levels for a total of eight variations.


The "base" MDX comes standard with, among other goodies, seven airbags, multi-view rear camera, leather interior, heated front seats and outside mirrors, power windows (with auto-open/close), power tailgate and proximity key with push button start. Rear privacy glass is standard as is a power moonroof, LED backlit gauges and inner door handles, 3-zone automatic climate control, 7-inch multi-use display with tactile feedback, 8-inch color audio/information screen, Bluetooth with Honda's HandsFreeLink voice recognition and a 432-watt AM/FM/CD audio system. Three driving modes (sport, normal and comfort) are also standard as is ABS, stability and traction control, active sound control and active noise cancellation.


The Technology Package adds, among other things, a 501-watt ELS Studio audio system with hard disk drive, navigation with voice recognition and real-time traffic, AcuraLink, a GPS-linked tri-zone automatic climate control system, 19-inch alloy wheels, blind spot information, forward collision warning, lane departure warning, proximity key rear door function, rain-sensing wipers and LED puddle lights.


The Technology and Entertainment Package adds a 429-watt ELS Studio audio system, rear entertainment system with a 9-inch color display, remote control, 2 wireless headsets, heated rear seats and rear door-window sunshades.


In addition to the Technology and Technology and Entertainment Packages, the Advance and Entertainment Package throws in, among other things, a 546-watt ELS Studio audio system, 16.2-inch ultra-wide rear entertainment system, adaptive cruise control, collision-mitigation braking system, lane keeping system, Milano leather interior with ventilated, HVAC-integrated front seats, auto-dimming side mirrors and remote engine start "with bi-directional feedback integrated into the key fob."
Boo Rah!
On the road


Handling of the MDX is very secure and stable but as with any vehicle this size it is hardly sporty. Steering is very precise with a nice weight to it, although, especially on-center, there's not much feedback to the driver. The ride is also smooth and well damped for the most part, although despite the fact the wheelbase is three inches longer, big bumps are very noticeable.


On the expressway the MDX tracks straight and true, unaffected by crosswinds. One of the high points showing great improvement in the latest iteration is the fact that there's very little road, tire, wind or engine noise that enters the cabin.


The brakes on the MDX are also excellent. They're easy to modulate and provide excellent feedback through the pedal. Fuel economy is another high point – the EPA fuel economy numbers for our tester were 20/28/23 city/highway/combined while my observed fuel economy, in winter city driving, was 20 miles per gallon.


Pricing
The good news for MDX buyers is the 2014 model is available in a less expensive FWD version starting at $43,275 - $2,000 less than the AWD model. Meanwhile, prices max out at $57,490 for an AWD model equipped with the Advance and Entertainment packages.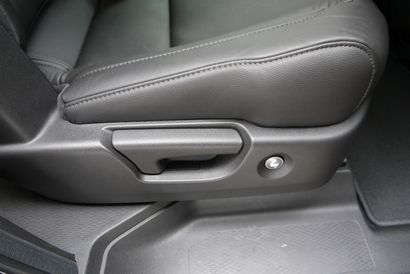 Our Graphite Luster tester was an FWD model equipped with the Technology and Entertainment packages and had an MSRP of $49,550, including $985 in destination and handling charges.


The Bottom Line
So what's the bottom line?
There's a lot to like about the 2014 Acura MDX including a smooth ride, a very quiet interior with a lot of luxury touches, plenty of room for five adults and a third row that, although its tight, is simple to access. It also gets good fuel economy for a vehicle this size and its LED headlights are outstanding.


On the other hand, the reliance on touch screens and the lack of backup buttons means even ordinary functions like adjusting the seat heaters can be distracting, while the third row, although easy to get to, is still tight for adults. It's also a big vehicle so it's not as agile as smaller SUVs and big bumps can intrude into the cabin.


But when all is said and done, this Acura has a lot going for it. Buyers looking for roomy and comfortable large SUV with plenty of luxury touches as well as Honda's legendary quality and reliability can't go wrong with the 2014 MDX.