We spend a week in the all-new IS 250 AWD sport sedan during some of the worst winter weather Michigan has to offer
Pros:
Styling
AWD capability
Interior touches
Cons:
Cramped interior
Tepid performance
Remote Touch joystick still not a joy
2014 Lexus IS 250
The Lexus IF, the brand's entry-level rear drive sedan, was first introduced in 1998 as a 1999 model.
Although Toyota calls the IS all new, a number of things haven't changed, not the least of which are the choice of engines. Both the 2.5 and 3.5-liter V-sixes carry over from the previous generation. The larger one is good for 306 horsepower and 277 lb.-ft. of torque, while the smaller one, found under the hood of our tester, is Toyota's 4GR-FSE V6 replete with direct injection, four cams, 24 valves and, alas, just 204 horsepower @ 6,400 rpm and 185 lb.-ft. of torque @ 4,800 rpm - but more on that later.
There are two transmission choices, but in order to get the 8-speed you need to order an IS 350 sans AWD. All other versions, including both IS 250 iterations, get a 6-speed manumatic unit, albeit with steering wheel-mounted paddle shifters
In addition to all-new sheetmetal, most of it galvanized for improved rust prevention, 2014 models sport a more aggressive "spindle" grille, edgier styling all-around, plus a wheelbase and overall length up by around 3 inches. While its height is down by roughly half an inch, width is also up by an inch.
The result of all these changes is an inch more headroom and legroom in front and an additional inch and a half of legroom for rear seat passengers. There's also a bit more hip and shoulder room all around. All told, interior volume is up from 88 to 90 cubic feet, while cargo volume remains unchanged at 11 cubic feet (according to EPA data).


Likewise for 2014, fuel efficiency numbers remain the same as might be expected. Despite the greater use of high strength steel and despite the fact airflow around and under the body has been improved as the result of "Newly developed vortex-generating aerodynamic fins based on F1 technology (that) are used (near) the side mirror and (on the) rear combination lamps to enhance stability") for a coefficient of drag of 0.29 for the AWD version, the IS 250 retains a mediocre EPA-estimated 20/27/23 city/highway/combined mpg due to a generational weight loss of just 2 pounds – but more on that later, as well.


Styling
In addition to its more aggressive grille, the 2014 IS also receives narrower bulging headlamp enclosures above L-shaped LED daytime running lamps.
In back, changes include narrower tail lamps with LED lights that mimic the "L" design motif as well a larger trapezoidal license plate opening set below the built-in trunk lip spoiler. LEDs are also used to illuminate the license plate.


Interior
The additional 2 cubic feet notwithstanding, the biggest changes inside have to do with the dashboard's metamorphosis from a clone of its luxury stable mates, to one inspired by the adrenaline-pumping LFA supercar – replete with that model's TFT instrumentation and moving center tachometer ring surrounding a center digital speedometer/transmission/driving mode and individual tire pressure display.
The interior both looks and feels luxurious with soft black material covering the A, B and C pillars as well as the headliner. The dashboard is also soft touch with nice detail stitching, while the F Sport model features contrasting red leather trim – a particularly nice touch. The dashboard buttons are clear and easy to read, with the smooth console and center-stack buttons and controls being very intuitive. The heated sports seats are very comfortable, offering 10-way driver and 8-way passenger electric adjustments plus power lumbar adjustments for the driver.


Despite the high beltline, the view out the front and sides and straight out the back is excellent. However the swoopy roofline and large C-pillar make it difficult to see out the rear three-quarters. Additionally, even though there's more interior room in the 2014 model, it still feels tight up front. Because it sits rather low to the ground, there's no elegant way of getting in and out – at only 5' 8" even I had to duck to get into it.
And while it looks slick, the center console isn't particularly useful. The covered storage space is tiny, the optional joystick for the infotainment system can be distracting and it also takes up a lot of space. This means the cup holders are placed further back, making them harder to reach. Making matters worse, when a cup is placed one or both of them, there's no place for the front passenger to rest their left arm.


On the road
As for its on-road manners, handling is secure with the suspension doing a nice job of soaking up the bumps and there's very little in the way of body roll resulting in a fairly flat trajectory through corners. The steering also has a nice weight to it, although there's not much in the way of feedback. The brakes are easy to modulate and give good feedback and the IS 250 also feels very stable at high speeds
Going down the road, the IS 25 track well courtesy of a fully independent double-wishbone front suspension, a new multilink rear suspension similar to the one found on the Lexus GS and a new rear sub frame and cowl side braces for improved structural rigidity. Most outside noise is kept to a minimum, although tire and road noise do intrude at freeway speeds.


Unfortunately, the IS 250's 3,649 pounds, with just 204 horses on tap, means stabbing the throttle will hardly press you back into that nearly perfect perforated leather seatback. Even with three transmission modes to make things interesting –Normal, Eco which revises the throttle mapping and air conditioning for better fuel economy and Sport mode which quickens the throttle response and increases steering effort by 20 percent – the IS 250 AWD is more show than go.
On the other hand, I really liked was the F Sport's LED headlights. They are amazing at night and better than any HID headlights I've used. I also appreciated the AWD setup - especially the SNOW setting – which made driving a breeze even in one of the worst winter storms I've experienced in quite some time. Both in snow and on ice the IS 250 felt stable and secure, often out-accelerating SUVs.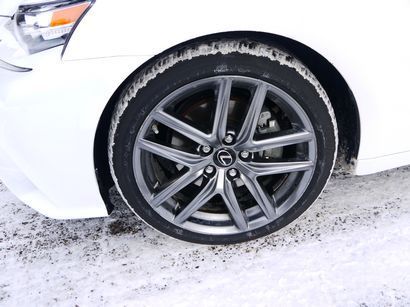 Equipment
Befitting its luxury sedan credentials, the IS comes with a long list of standard features that, in addition to the standard power and connectivity bits, includes push button start, power tilt and slide moonroof, automatic on/off projector beam headlamps and a premium audio system with HD radio and real-time traffic and weather.


Our tester came with the optional F Sport package that included LED headlamps (low & high beam), 18-inch F Sport alloy wheels, TFT instrument cluster, F Sport seats, F Sport tuned suspension, perforated leather steering wheel and shift knob as well as a black headliner.
The other major option was a hard disk drive navigation system with backup camera, remote touch interface, a one year subscription to Lexus Enform with App Suite and voice command.


Pricing
The 2014 Lexus IS 250 starts at just over $37,000 for a RWD model and can top out at over $47,000 for a loaded AWD model. Our ultra white AWD tester had a base price of $39,380. Adding the F Sport ($2,675) and navigation ($2,085) packages brought the MSRP to $44,140, including an $895 delivery, processing and handling fee – that's a pretty pricey neighborhood (not to mention nearly identical to that of a base IS 350 with the F-Sport package).


The Bottom Line
So what's the bottom line?
Despite the fact that the Lexus bills the IS 250 F Sport as a sporty model, it felt underpowered at times and there is a definite lack of feedback through the steering wheel.


On the other hand, it's a knockout in the styling department, the interior definitely looks and feels luxurious and it's hard to beat both Toyota's legendary quality when it's matched with the Lexus ownership experience.
Let's face it: the 250 IS F Sport, while definitely not a BMW fighter, should definitely appeal to buyers looking for quality and luxury (and winter prowess in the AWD version) in one of the slickest-looking sedans Lexus has ever produced.