The newest Corolla gets a slew of improvements that make it bigger, better and, dare we say it, a bit of fun to drive
Pros:
Fuel economy
Interior room
LED headlights
Cons:
Better but still average ride and handling
Uninspired interior trim bits
Styling improved but hardly spectacular
Ringing the cash register
No introduction to Toyota's compact would be complete without mentioning its sales success. For nigh onto 50 years Corollas have been rolling off assembly lines around the world finding homes with more than 40 million buyers – many of whom, we assume, were swayed more by its quality and reliability than its styling or handling prowess.
We also suspect that the latter type of buyers generally gave Toyota showrooms a wide berth.
But here in the U.S. the sandbox the Corolla plays in has gotten much more crowded. In addition to traditional rivals such as the Honda Civic and Nissan Sentra, there is new competition from the Hyundai Elantra, Chevrolet Cruze and Ford Focus. There's also a new Mazda Mazda3 to contend with and Chrysler just unveiled an all-new 200 at the 2013 Detroit Auto Show.
So it was clearly time to give the Corolla a makeover. The only hitch for Toyota, of course, is that an extreme makeover was pretty much out of the question as they are faced with the delicate balancing act of attracting new buyers without alienating the millions of current loyal owners.


2014 Toyota Corolla S
Exterior
While the new Corolla won't steal away many style-conscious buyers from either the Ford Focus or the Hyundai Elantra, I believe that it might be just edgy enough to attract value buyers that may have been put off by the previous gen's striking similarities to any number of products offered by Maytag.
Toyota calls it "Iconic Dynamism" a term generated from three concepts: dynamic, modern basic, and iconic. Translating this to our S tester in particular produces a higher and narrower upper grille, larger and more aggressive lower air intake. The headlamp enclosures are more geometrically-shaped and they house standard LED headlights – the best we've ever encountered in a compact sedan.


S models also get a honeycomb grille insert with a piano black bumper bar, while other trims feature horizontal bars in both the grille and lower air intake with a carbon fiber –look bumper spanning the lower opening (a touch I think might be more appropriate for the sportier model).
The rear fascia displays stylish teardrop-shaped tail lamp enclosures, with, most appreciably, nary a Malibu-esque chrome trim strip to be found.
Overall, the new model is 2.5 inches longer, 0.3 of an inch wider and 0.4 of an inch lower than its predecessor.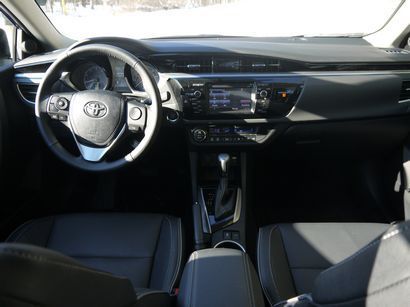 Interior
Inside the good news is that stretching the wheelbase by 3.9 inches results in a whopping 5.1 inches of additional legroom for rear seat passengers. Up front, the redesigned seats, in particular those assigned to the sportier S model, feature improved thigh, lateral and lumbar support. Throughout the cabin there are more soft touch surfaces and all trim levels come with a richer-looking flat knit headliner.


There's also more space – an additional 5 cubic feet for a total of 97.1 (with a sunroof). That's 2.5 cubic feet more than a Civic sedan and 6.4 cubic feet more than a Focus. Like most of the Toyota sedan lineup, the Corolla features a horizontally-themed dashboard with easy to read instrumentation that's also intuitive to use. Models like our S tester get a standard two gauge cluster with a 3.5-inch TFT monitor centered between them.
All in all, the interior is an improvement over the previous model. The bad news, however, is that it comes up short in terms of overall refinement when compared to the likes of a Mazda3, Elantra or Focus.


Engines
Under the hood there's little change from the outgoing model.  Buyers of the S model get the carryover 2ZR-FE 1.8-liter DOHC 16-valve inline-4 that produces a comparatively underwhelming for the class 132 horsepower at 6,000 rpm and 128 lb.-ft. of torque at 4,400 rpm.
But while the engine remains the same, it's now paired with a CVT for a 2.85 mpg improvement over that of the antiquated outgoing 4-speed automatic. On S models the CVT also offers a sport drive mode for more of a performance feel featuring sequential shifts (via the console lever or steering wheel-mounted paddle shifters) with 7 "gear" presets for a more conventional transmission feel.
Rated at 29/37/32 city/highway/combined, we managed an impressive 31 mpg in predominantly city driving.


On the road
In addition to a more spacious interior, the longer wheelbase and stiffer platform (using more high-strength steel) contribute to a more satisfying driving experience while noise transmitted through the chassis from the engine, road and tires has been reduced.
Buyers expecting either a Mazda Mazda3 or Ford Focus may be disappointed, but the fact is that the new Corolla is head and shoulders above the outgoing model in every respect and represents a quantum leap in terms of handling, feedback to the driver and overall vehicle dynamics. The ride wasn't at all floaty and the chassis responded well to bumps and road imperfections.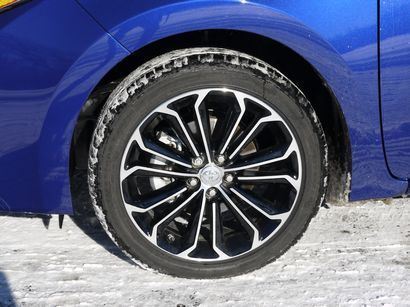 Although a quick stint in an L model showed it to have a more forgiving ride - possibly due to its 15-inch wheels and higher-aspect tires especially over potholes and washboard road surfaces – buyers looking for something sportier will appreciate the tighter suspension tuning of the S.
The CVT in our tester with its faux seven speeds is one of the better ones to be had. Steering feedback courtesy of a new speed-sensing electric power steering system is also improved even making the new Corolla somewhat fun to toss through corners.


One more thing: the standard LED headlights are nothing short of amazing and, certainly as of this writing, surely represent the best standard lighting setup of any vehicle in this class.


Equipment
Since the 2014 Corolla is all new, I'll go into the specifics a little more deeply than usual. Here they are:
For 2014, the base L model equipped with the 6-speed manual (the 4-speed automatic is an additional $600) is priced at $17,610 including an $810 destination and delivery charge - $570 over the outgoing model. But while lowly 15-inch steel wheels are standard, so is air conditioning, the aforementioned LED headlamps with LED daytime running lights, power windows, locks and outside mirrors, Bluetooth connectivity for phone and audio streaming, USB and AUX ports, voice command (provided the paired phone has it), and a total of 8 air bags including a new driver knee and one for each front passenger seat cushion.


The LE model, at $19,110 with the CVT automatic gains a backup monitor, automatic climate control, cruise control, keyless entry and Entune audio with a 6.1-inch touchscreen. The LE Plus, at $19,510, adds 16-inch alloy wheels and integrated fog lights, while the LE Premium, at $20,210, tops it all off with simulated leather "Softex" seats along with 8-2ay driver and 4-way front passenger electric seats.
The LE Eco is priced at $19,510 and features the higher-output "Valvematic" engine. LE Eco Plus models ($20,210) get LE Plus equipment "plus" a chrome beltline and an Eco driving mode for improved mileage. The LE Eco Premium ($20,910) adds Softex and power seats.


Finally, S models come in what appears to be a total of three flavors. CVT models start at $19,810 with get fog lights, a stitched leather steering wheel, 16-inch steel wheels, a modest rear spoiler, side mirror turn signals, paddle shifters and sport gauges. S Plus models ($20,510) receive 17-inch alloys and rear disc brakes while S Premium models ($21,210) get Softex seating with power front seats.
Note: at its regional introduction we were told that there would also be an S Plus with 6-speed manual priced at $22,110 with everything from the CVT-equipped Plus "plus" a moonroof and keyless pushbutton start, but I couldn't find it in the online configurator.


The Bottom Line
Especially with its best-selling vehicles, Toyota tends to be conservative even when they require makeover as complete as that of the 2014 Corolla. And while it's easy to criticize this decision, the fact is that the current Toyota faithful should be pleased with the changes while its edgier styling and improved dynamics – combined with Toyota's quality, durability and reliability - should attract more buyers to the model.