The newest generation of Toyotas best selling compact gets a touch of sizzle and, dare I say, more sporting road manners
Measuring success
Truth be told, it's hard to argue with success in the automobile industry. For nigh on to 50 years now Corollas have been rolling off assembly lines around the world finding homes with more than 40 million buyers – most of whom, we suspect, that were interested in the legendary quality and reliability of the Japanese manufacturer's vehicles.
Car buyers looking for handling, performance, and style, on the other hand, generally gave Toyota showrooms a wide berth.
But the compact segment here in the U.S. has gotten much more competitive. New players from Korea have upped the styling ante. In addition, domestic manufacturers now realize that profits can be had when the vehicles they offer are desirable to buyers looking to downsize without sacrificing comfort or performance.
The only hitch for Toyota, of course, is the delicate balancing act of attracting new buyers without alienating those millions of current loyal owners.
Exterior
While the new Corolla won't steal away many style-conscious buyers from either the Ford Focus or the Hyundai Elantra, it's certainly edgy enough to attract new shoppers that may have been turned off by the previous gen's striking similarities to a Maytag.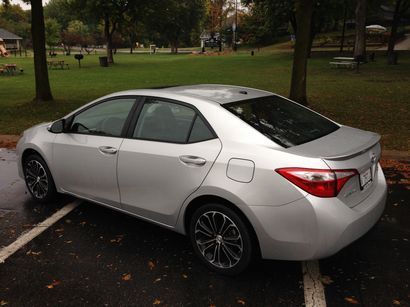 Toyota calls it "Iconic Dynamism" a term generated from three concepts: dynamic, modern basic, and iconic. That is to say if you squint hard enough at the front of the new Corolla in S trim you can discern traces of the hot shoe Scion FR-S.
Translating this to the S model, in particular, means a higher and narrower upper grille, larger and more aggressive lower air intake, and more geometrically-shaped headlamp enclosures that house standard LED headlights.
Where L, LE and LE Eco models feature horizontal bars in both the grille and lower air intake with a carbon fiber –look bumper spanning the lower opening, S models get a honeycomb grille insert with a piano black bumper bar.
In back, the former squarish taillamps have been replaced by stylish teardrop-shaped units, while the Malibu-esque chrome trim strip that spanned the distance between them has been removed altogether.
Overall, the new model is 2.5 inches longer, 0.3 of an inch wider and 0.4 of an inch lower.


Interior
Inside there's more good news for both driver and passengers alike. Stretching the wheelbase by 3.9 inches means an additional 5.1 inches of legroom for rear seat passengers. Up front the seats feature additional thigh, lateral and lumbar support with the best, in terms of side bolstering, belonging to the sportier S model. There's also a greater use of soft touch materials and all models get a richer-looking flat knit headliner.
Toyota has also gone to great lengths to give occupants a feeling of spaciousness. Like the rest of the lineup, the Corolla features a horizontally-themed dashboard with easy to read instrumentation that's also intuitive to use. L, LE and LE ECO models get a three gauge pod, while S models get a revised two gauge cluster with a center 3.5-inch TFT monitor.


Engines
Under the hood, the majority of buyers will notice little change from the outgoing model.  L, LE and S buyers get the carryover 2ZR-FE 1.8-liter DOHC 16-valve inline-4 that produces 132 horsepower at 6,000 rpm and 128 lb.-ft. of torque at 4,400 rpm. But there is a twist:
For LE and S buyers, the automatic transmission is now a CVT resulting in a 2.85 mpg increase over the outgoing slushbox. On S models the CVT comes with a sport drive mode for a sportier feel along with a sequential shift position (via the shift lever of paddle shifters) with 7 "gear" presets for a more conventional transmission feel. The CVT is also the only choice for LE buyers, while both the L and S models come standard with a 6-speed manual.


The LE Eco model, on the other hand, is the recipient of Toyotas new "Valvematic" valve train variable control feature. Operating on the intake valves only, the computer-controlled mechanism continuously monitors the valve timing and lift for better fuel economy. The result is that the 2ZR-FAE 1.8-liter inline-4, in internal testing by Toyota, posted a 5.3 percent increase in overall fuel economy with an EPA estimated 42 mpg highway. It also generates an additional 8 horsepower – 140 – at 6,100 rpm. Peak torque is down to 126 lb.-ft., but it's attained at an even more usable 4,000 rpm.


Equipment
For 2014, the base L model equipped with the 6-speed manual (the 4-speed automatic is an additional $600) is priced at $17,610 including an $810 destination and delivery charge - $570 over the outgoing model. But while 15-inch steel wheels are standard, so is air conditioning, LED headlamps with LED daytime running lights, power windows, locks and outside mirrors, Bluetooth connectivity for phone and audio streaming, USB and AUX ports, voice command (provided the paired phone has it), and a total of 8 air bags including new driver knee and front passenger seat cushion airbags.
The LE model, at $19,110 including the CVT automatic, gains a backup monitor, automatic climate control, cruise control, keyless entry and Entune audio with a 6.1-inch touchscreen. The LE Plus, at $19,510, adds 16-inch alloy wheels and integrated fog lights, while the LE Premium, at $20,210, tops it all off with simulated leather Softex seats.


The LE Eco model is priced at $19,510 and aside from its powertrain includes those features found in the LE. The LE Eco Plus trim level ($20,210) gets everything from the LE Plus "plus" a chrome beltline and an Eco driving mode that reduces engine output per pedal effort while reducing the HVAC blower output or airflow volume to conserve power. The LE Eco Premium ($20,910) again adds the cherry-on-top Softex seating.
Finally, S models come in a total of four flavors. CVT models start at $19,810 – a $60 drop from 2013 - and include the model-specific front fascia with fog lights, stitched leather steering wheel, 16-inch steel wheels, a modest (compared to 2013) rear spoiler, side mirror turn signals, paddle shifters and the sport gauge cluster. S Plus models ($20,510) receive 17-inch alloys and rear disc brakes while S
Premium models ($21,210) also get Softex. Finally, the S Plus with a 6-speed manual is priced at $22,110 with everything from the CVT-equipped Plus "plus" a moonroof and keyless pushbutton start.


On the road
In addition to its more spacious interior, the longer wheelbase and stiffer platform (with greater use of high-strength steel) contribute to a more satisfying driving experience.
Buyers expecting Toyota's answer to the new Mazda Mazda3 may be disappointed, but the fact is that the new Corolla is head and shoulders above the outgoing model in every dynamic respect.
I found that most comfortable model for around town driving was the L. Possibly this was due to its 15-inch wheels and higher-aspect tires but the ride felt distinctly plush – especially over potholes and washboard road surfaces.


Buyers with more sporting pretensions will appreciate the 6-speed manually-equipped S. The shifter has somewhat longish throws, but you row through them all with a satisfying snick. Steering feedback courtesy of a new electric power steering system is also improved as this Corolla is actually fun to toss through the corners.
But regardless of which one you choose, the new models represent a quantum leap for the Corolla in terms of handling, feedback to the driver and overall vehicle dynamics.


The Bottom Line
As is its wont, when it has a well-established vehicle on its hands Toyota tends to be conservative even with a makeover as complete as that of the 2014 Corolla. And while it's easy to criticize this kind of decision, the fact is that the current Toyota faithful should be pleased with the changes while its edgier styling and improved dynamics – combined with the manufacturer's traditional values of quality, durability and reliability - should attract yet more buyers to the Toyota fold.