We spend a week in the comfortable and nice handling RAV4 compact SUV from Toyota
Pros:
Smooth ride
Responsive engine
Roomy rear seat
Cons:
Some cheap interior trim materials
Highway road and wind noise
Steering feedback
2014 Toyota RAV4
Return with us now to those thrilling days of yesteryear when, back in 1994, Toyota created the compact crossover segment when it introduced the RAV4 – a name which means Recreational Activity Vehicle with 4-wheel drive. That first- generation model came with a 94.9 inch wheelbase and was 162 inches long. It was powered by a 120 horsepower 2-liter engine, had either two or four doors and featured a rear-mounted spare tire as well as a swing-out tailgate that was hinged on the passenger side. Ah, how times have changed.
Exterior
Outside, the fourth-generation RAV4, introduced just last year, has a chunky, chiseled look. Up front, there's a split upper grille and large grey-colored lower fascia just below a small lower air intake, while the sides feature sculpted upper and lower character lines along with the requisite wheel well and lower side sill cladding. Meanwhile, the rear fascia is dominated by a pair of horizontal, protruding, taillamp housings that blend into a small shelf just below the rear window.
Interior
The re-do in 2013 brought with it a new horizontal-themed dashboard that features a sloping lower panel covered in a soft material with real stitching. The rest of the dash, though hard plastic, has a nice grain to it. The only misstep, at least in our opinion, would be the lower front door panels that look cheap when compared to the rest of the interior.
In front of the driver a silver-trimmed instrumentation cluster features clear, easy to read gauges. Although it contains a 6.1-inch touchscreen, the center stack doesn't dominate the rest of the interior. With three function buttons on each side and an HVAC module below, it creates a feeling of roominess missing from many vehicles in this class.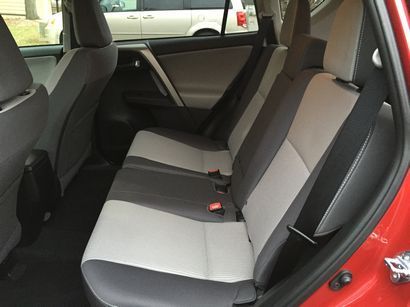 The front seats are supportive and nicely bolstered and the rear seat is also very comfortable. There's plenty of head, shoulder, hip and leg room for the two up front as well as three adults in the back seat.
The cabin itself is bright and airy with excellent visibility out the front, sides and back, aided by both a relatively low beltline and narrow D-pillar. All RAV4 models also feature a standard rear view camera that is a considerable help when backing up.
Under the hood
Under the hood is a 2.5-liter all-aluminum inline-4 that produces 176 horsepower and 172 lb.-ft. of torque on regular unleaded fuel. It's mated to a 6-speed, electronically-controlled automatic transmission.
According to EPA figures, fuel economy in 2WD models is 24/31/26 city/highway/combined. The EPA rates the AWD RAV4 at 22/29/25 city/highway/combined mpg, while our own observed fuel economy in primarily suburban driving was a very good 25.9 miles per gallon.
All-wheel-drive RAV4s, such as our tester, now feature a Dynamic Torque Control AWD system developed by auto supplier Magna. The system monitors and controls the transfer of engine torque between the front wheels via an electromagnetic coupling in front of the rear differential. It allows a torque distribution anywhere from 100 percent to the front wheels up to and including a 50-50 split between the front and rear wheels.
Unlike previous RAV4s whose drive systems were much simpler, the new system on AWD models works in conjunction with various sensors such as speed, steering angle and yaw rate and transfers torque to the rear wheels not only when slip is detected, but also when it detects cornering forces to reduce the load on the front tires and the effects of understeer and improve lateral grip for better handling.
Front drivers, however, are not left out of the engineering mix and feature a system Toyota calls Automatic Limited Slip Differential (Auto LSD for short. This system, which is essentially an additional layer of computer logic in the traction control system, can be engaged by the driver at low speeds.
Once engaged and through pulsed application of the front brakes, in low-speed situations under 25 mph it directs power across the front axle and allows some controlled drive-wheel spin to help "dig" the vehicle out of difficult situations such as a snow-covered driveway or a sandy patch of unpaved road.
On the road
The RAV4 is one of the better handling  compact SUVs and feels solid and well-planted on the road. It is, in a word, "comfortable." Although the short wheelbase means the ride can sometimes get busy, overall the suspension does a good job of damping out all but the harshest of ruts. There's little body lean in corners and no nosedive under hard braking. The brakes are also easy to modulate and there's plenty of feedback through the brake pedal. On the other hand the steering, although quick and responsive, offers little in the way of feedback to the driver.
At freeway speeds the RAV4 is unaffected by either crosswinds or grooved pavement, although the lack of steering feel can be aggravating as it can cause you to overcorrect and it's often difficult to judge just exactly where you are in the lane.
Around town, the 2014 RAV4 is one of the quietest vehicles in its class. At higher speeds, there's also very little engine and wind noise, but at the same time some tire and road noise does find its way into the cabin.
Pricing
2015 RAV4 pricing starts at $24,565 for a front wheel drive LE and can top out at over $35,000 for a fully-optioned and accessorized four-wheel-drive Limited.
Our tester, a 2014 all-wheel-drive XLE, had a base price of $26,400. Options included a $585 Entune premium audio with navigation system, $315 for roof rack cross bars, a $359 VIP security system, $185 interior light kit, $255 for carpeted floor mats and cargo mat, $49 for a cargo net and $29 for a first aid kit. Including the $860 destination and delivery charge, this brought the MSRP to $29,136.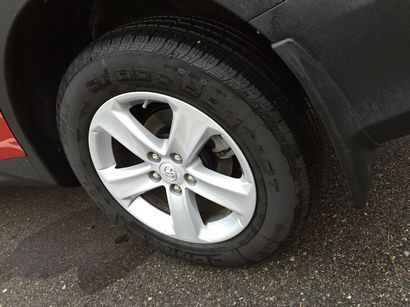 The Bottom Line
There's a lot to like about the 2014 Toyota RAV4. It has a peppy drivetrain, smooth ride, excellent driver visibility and it's also fairly quiet around town. On the other hand, road and tire noise are apparent at freeway speeds and the lack of steering feedback takes away from much of its otherwise excellent handling characteristics.
But the fact of the matter is that most buyers in this segment are more interested in reliability and resale value – two areas in which Toyota excels. Those qualities, plus its other virtues should entice current owners as well as many more potential customers to pay a visit to their local Toyota dealer.