We spend a week in a CrewMax version of the updated 2014 Tundra in suburbia, on the freeway and in the Windy City


Pros
Interior materials
Flip up rear seats with limo like room
Quiet and comfortable freeway cruising
Cons
Steering feel
Rear and side visibility
Fuel economy


Big trucks
Unlike its very successful sedans and hybrids, Toyota has found the full-size pickup market a much harder nut to crack even with an assembly plant in San Antonio, Texas - deep in the heart of the biggest truck market in America.
But in all fairness a ten percent retail market share in a segment largely dominated by loyal owners who for decades have been buying from the domestic automakers is still nothing to sneeze at.


In 2013 Toyota expected to sell a mix of 107,000 2013 and 2014 model Tundras while, by year's end, the actual figure turned out to be 112,732 – at least according to sales figures from Automotive News. Next year it's projecting 2014 model sales to rise to 137,000.
Those figures were shared by Toyota's marketing people at a ride and drive event in Tennessee to introduce the 2014 Tundra. And while it pales in comparison to the 70,000 or so Ford F-Series trucks sold every month, it's more than respectable considering Nissan was hard-pressed to sell 15,691 Titans in all of 2013.


2014 Toyota Tundra Limited CrewMax 4x4

The fact is that despite all the hype Toyota's full-size half ton is hardly "all new" although it's as close as any vehicle in its segment to being all-American. The 2014 Tundra has 75% North American content. It was designed in California and engineered in Michigan. Its engines are built in Alabama, the transmissions in North Carolina and it's all put together at Toyota's assembly plant located in San Antonio, Texas.
Marching orders for the 2014 face lift essentially boiled down to "if it ain't broke, don't fix it." To that end, the body 'hard points' and underlying platform as well as the choice of engines remains unchanged from 2013.


Suspension and engines
The front suspension retains its independent, high-mounted double wishbone setup, but tweaks include re-tuned rear shock absorbers that increase damping in the low- to mid-speed range for improved ride over harsh surfaces and enhancements to the steering system that reduce the feedback from road variations and imperfections for better straight-line stability and less driver fatigue.
Under the hood, buyers will find the same three engine choices: a 270 horsepower 4.0-liter DOHC V6 as well as two V8s – a 310 horsepower displacing 4.6 liters and the most popular choice and the one in our tester, Toyota's 5.7-liter 32-valve 3UR-FE making 381 horsepower and 401 lb.-ft. of torque. The EPA rates the 5.7 at 13/17/15 city/highway/combined mpg while we recorded a decent, although mediocre, 14.1 mpg in combined city and highway driving.
The smallest engine is mated to a 5-speed automatic while both V8s get Toyota's 6-speed. To models equipped with the 5.7-liter Toyota also adds a tow/haul mode.


Styling
At the introduction of the 2014 model, Toyota noted that while first-generation full-size Tundra owners were satisfied with their vehicles performance and handling, they were less enthusiastic about the styling noting that 2007-2013 models were too "bubbly" looking.
The result is that the newest Tundra features what Toyota calls a more "chiseled" look. Along the sides, character lines are more creased, while fenders and wheel wells have been squared off.  Up front a bolder-looking six-sided grill is integrated into a prominent hood scoop.


In back, there's a new bed design, a tailgate with "TUNDRA" stamped into it that features an integrated spoiler. Below that is a new three-piece rear bumper in place of the former one-piece unit in an effort to reduce replacement costs.
Three cab styles (regular, double and CrewMax) are offered, with regular and double cabs available with either a standard (78.7) or long bed (97.6) while CrewMax models like our tester are limited to a 66.7 inch bed.


Interior
The interior of the 2014 Tundra is all-new and comes in five variations with the Limited trim of model we tested being the middle child – residing between the entry-level SR and step-up SRS models, but below the Platinum and top shelf 1794 Edition.
Changes for 2014 include a redesigned dashboard that places the major controls closer to the driver, one of the complaints about the previous version. The door trim is also new and there's a new seat design (covered in leather on our Limited with 10-way driver and 4-way passenger power) for better lumbar, lateral and bottom cushion support.


Also new is a center-mounted 6.1-inch touch screen (a 7-inch LCD display screen on SR5 and above models) that includes Toyota's Entune audio suite as well as Bluetooth connectivity. In addition to Bluetooth, the Limited also comes with USB and aux-jack connectivity.


The back seats in CrewMax models no longer recline, but they can now be folded up for an additional 11 inches of load height. Another especially nice feature is that outboard rear seat passengers, like those up front, get adjustable seatbelt anchor points.
Because it was a Limited model, our tester also featured soft touch console and door surfaces, dual zone HVAC controls, wood-style trim as well as the aforementioned leather seating surfaces.


On the road
I had a chance to spend a week with the Limited 4x4 CrewMax that included suburban driving in and around Auburn Hills as well as a freeway jaunt to Chicago that included quite a bit of Windy City-style urban driving.
It tracked nicely in both around town as well as freeway driving – even in strong crosswinds it never felt unstable. The hydraulic steering also had a nice weight to it, although feedback from the road was limited. On the other hand, the brake pedal provided excellent feedback and was easy to modulate.


I wasn't sure how difficult it would be driving something as large as a Tundra in a city like Chicago. But after motoring through the neighborhoods of Chicago for three days, I found that it was much easier that I thought it would be.
For one, the backup camera was a godsend in parking maneuvers. Even though finding a parking place can be more challenging (most spaces are Corolla-sized), parallel parking was a snap.


Secondly, the view from the cab enabled me to see one and sometimes two blocks ahead – not something that can be replicated in a compact or even midsize sedan – and you'd be surprised at the way even BMW drivers (some of the most wretched in the city) will defer to something as imposing as a Tundra CrewMax.
Another big plus: potholes that swallow up lesser vehicles barely registered a blip in the Tundra's cabin. As I see it the only drawbacks to owning one in the city, other than parking, is the Tundra's comparatively poor fuel economy and the obvious reality that valuable items can't be left in its open bed.


As for its towing capabilities, Toyota gave me a brief glimpse of it during its regional roll-out where I drove a six-mile round trip hauling a Ditch Witch RT45 tractor with an H314 attachment atop a twin axle trailer with a combined weight of 8,000 pounds hooked up to a Premium Edition MaxCab with the 5.7-liter V8.
When we got back, one of Toyota's reps asked us, in jest, if we could tell if there was anything behind us. Truth be told, we could, but the ride was so stable it didn't feel like it was anywhere near 4 tons.


Pricing
Although Tundra offerings don't approach the dizzying array of models available from the domestic manufacturers, there are still five grades, three engines, three cab styles and two drivetrain configurations to contend with.
That being said, MSRPs, including a $995 delivery, processing and handling fee, range from $26,915 for the SR grade 4x2 Regular Cab, 4.0-liter V6 to $49,065 for a 1794 Edition CrewMax 4x4 grades equipped with a 5.7-liter V8 – with dealer installed accessories adding further to that total.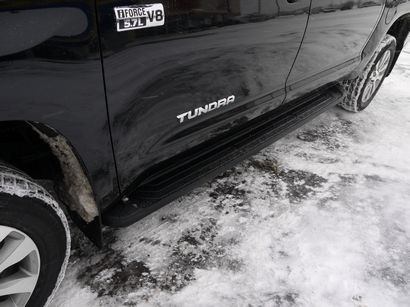 Our Attitude Black Limited CrewMax had a base price of $41,895. The Limited Premium Package (front driver and passenger auto up/down power windows, illuminated entry system, glass breakage sensor, front and rear parking sonar) added $595. Running boards ($345), bedliner ($365), door sill protector ($65) and chrome exhaust tip ($99) brought the grand total, including delivery charges, to $44,359.


The Bottom Line
As is its wont, Toyota tends to be conservative when it comes time to re-design a well-established nameplate. And while it's easy to criticize taking the safe route, the fact is that the faithful will undoubtedly be pleased that Toyota decided not to mess with its solid underpinnings.
Additionally, the new styling is just bold and edgy enough that it's clear the latest Tundra will attract even more new buyers to the Toyota fold.