A week spent in the large two row people mover from Toyota
Pros:
Quiet ride
Smooth engine and drivetrain
Interior room
Cons:
Busy ride over irregular surfaces
V-6 AWD not a fuel-sipper
The Toyota Venza was created here in the U.S. especially for the American market and shares its Toyota K platform with such disparate vehicles as the midsize Avalon and Camry sedans (the latter with which it shares an identical 109.3 inch wheelbase) and the boxy three-row Highlander crossover. But its wheels and tires are far larger than those found on any Camry, while it's both lower and svelte when compared to the boxy, stylistically-challenged Highlander.
The Venza (a name derived from a combination of the words "venture" and "Monza") is based on the Toyota FT-SX vehicle that was first shown as a concept at the 2005 North American International Auto Show. Engineered in Ann Arbor at the company's technical center there and designed out in California at Toyota's Calty Design studios, the production version was also unveiled at the Detroit Show three years later as a 2009 model.


2014 Toyota Venza XLE AWD
Exterior
Unlike many vehicles that begin their lives as concepts, the 2014 Venza is, in many ways, even more striking than its FT-SX progenitor.


Beginning up front at the lower air intakes, style lines sweep up and arc to the outside, ending at the lower training edge of the headlamps. The handsome silver satin-finished horizontal grille is flanked by the twin headlamps that taper and flare upwards.
Both the fenders and quarter panels feature wheel arches that are subtlety flared and surround substantial twenty inch alloy wheels shod with P245/50R20 Michelin Latitudes.  A crease just below the beltline as well as a mild coke bottle indentation in the lower door panels give the sides of the vehicle some interest, as well.


In back, there's an upper spoiler above the rear glass as well as mild lip spoiler midway down the rear hatch.
In all, it's a very handsome and compelling design exhibiting a great deal more style than your average Toyota. A testament to its inherent goodness: although it debuted at the same time as the last generation Corolla, Toyota has found no compelling reasons to update the Venza.


Interior
If only its insides were as good. Unfortunately, it's here that the Venza is beginning to show its age as it doesn't represent Toyota's current standards of interior design. While there are nice soft-touch surfaces on the dashboard, console and upper door trim, the dashboard, although nicely grained, is a mash up of differing, misaligned panels.


Be that as it may, there's a generous 108 cubic feet of passenger space with ample head, shoulder and legroom for front as well as rear seat passengers - up to five adults in all. The leather is soft and the seats are all very supportive. The rear seats even feature a reclining feature and they really do fold flat – more than doubling the 34.4 cubic feet of cargo space behind the rear seats to over 70 cubic feet, although cargo space is limited by the low roofline.
You'll find yourself paying the price for that swoopy exterior in yet another way as, despite its size, the Venzas only come with 2-row seating.


As with the rest of the Toyota lineup, all vehicle controls are within easy reach of the driver, are very intuitive and operate smoothly.
Aside from its somewhat checkered visage, the Venza's dashboard is uncluttered, straightforward and tasteful. One particularly nice touch: Toyota has resisted the temptation to slather the interior with glossy fake wood trim bits and, in their stead, has substituted gray carbon fiber –look panels for the console, window switches and lower center stack.


The view out the front and sides, despite its high beltline, is excellent. But that same beltline rises toward the back and, combined with a small rear window and large C-pillar (despite the fact it has a small window) can make viewing out the back and rear three-quarters difficult.


Equipment
Beginning in 2012 Toyota switched to a three-tier trim strategy, replacing the single trim strategy used since 2009.
Engine choices remain unchanged: a base 16-valve 2.7-liter inline four generating 181 horsepower and a matching 181 lb.-ft. of torque as well as an optional 24-valve 3.5-liter V-6 that produces 268 horsepower and 246 lb.-ft. of torque. Both engines are available in either a two- or all-wheel drive configuration.


Even the base LE model comes with a plethora of standard equipment including dual zone automatic climate control, 3.5-inch multi-function display, power windows, locks, mirrors, keyless entry, cruise, power driver and front passenger seats, tilt/telescopic steering wheel, AM/FM/CD audio system with XM radio, USB iPod connectivity, hands-free phone and music streaming via Bluetooth.
Standard safety equipment includes seven airbags, disc brakes with ABS, electronic brake force distribution and brake assist, stability and traction control.


Moving up to the XLE adds a 3.5-inch TFT instrument display, leather steering wheel, shift leather and seating (heated in front, power driver and front passenger), power liftgate and folding outside mirrors plus a proximity key with push-button start.
Limited models add projector-beam HID headlamps, LED daytime running lights, a panoramic glass roof and a navigation system with Toyota's Entune app suite.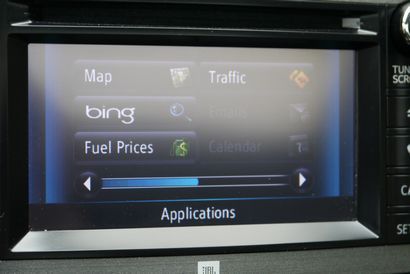 The LE Convenience Package consists of the power liftgate, backup camera and TFT display, while the Preferred Package includes all that plus the panoramic moonroof and Display Audio with the Entune app suite.
The XLE Premium Package includes the aforementioned panoramic glass roof and Display Audio with nav system plus the Entune app suite and JBL speaker system.


All V6 models can be ordered with a tow prep package that includes an engine oil cooler, larger radiator fan and a heavy-duty alternator.


On the road
Despite the fact that the Venza shares a platform and wheelbase with the Toyota Camry, the ride isn't nearly as smooth. Much of that can be attributed to its large 20-inch wheels and tires. And although it's weighted nicely, there's not much feedback through the steering wheel.
One thing that should be noted, however, is that those large wheels and tires – plus the all wheel drive – make the Venza a very reassuring vehicle to drive in the winter – as well as a great vehicle in which to navigate the many potholes found in southeast Michigan this time of year.


Traveling on the freeway elicits much the same results - where the pavement is smooth, the ride is especially comfortable. But when you encounter rough pavement – especially road irregularities and the omnipresent potholes – the ride vacillates between jittery and downright bouncy.
Throughout it all, however, the interior of the Venza is one very quiet place to spend time - with very little engine, road or tire noise intruding into the cabin.


Although the Venza won't bring any trophies home from the drag strip, acceleration is both smooth and fairly brisk with hardly any body lean through corners. Braking is also solid with excellent feedback through the brake pedal.
Fuel economy for a vehicle this size isn't bad, but it's still only so-so overall with EPA city/highway/combined projected figures of 18/25/21. I recorded a better-than-average 19 miles per gallon in winter city driving.


Pricing
Venza prices, including an $860 destination charge, start at $28,810 for a 2WD 4-cylinder Le and top out at over $42,000 for a 4WD V6 Limited with the tow package. Our Barcelona Red 4WD XLE V6 had a base price of $35,080. Adding the $1,850 Premium Package plus destination brought its as-tested MSRP to $37,790.


The Bottom Line
The Toyota Venza has a comfortable interior and a quiet ride with plenty of storage space and room for five adult passengers. There's also plenty of power under the hood. On the other hand, the ride can get jittery over rough surfaces and there's very little feedback through the steering wheel.
Despite those shortcomings plus a funky checkerboard dash, no third row seat along with rear visibility and cargo room limited by a low roofline, I found many more things than not to like about it.


For one, the interior is very quiet and there's plenty of room in the back seat for three adults. Secondly, the engine pulls strongly, the transmission shifts smoothly and the EPA fuel mileage, while not outstanding, is pretty decent for a vehicle this size.
Finally, those same wheels and tires that make the drive a bit fidgety, when coupled with all wheel drive, make winter driving feel safe and secure – especially when dodging potholes.
When you toss in Toyota's legendary quality and reliability, it makes the Venza a very compelling vehicle to own.