Kia unveils an all new third generation minivan with a more formal look
And Sedona makes six
While they may not garner the respect or market share they once did, reports of the death of the minivan segment have been greatly exaggerated. For proof, one needs look no further than Kia's upcoming 2015 Sedona.
Kia's newest Sedona joins the Chrysler Town & Country, Dodge Grand Caravan, Honda Odyssey, Nissan Quest and Toyota Sienna as the only remaining minivans sold in the U.S.
It also boasts the latest Schreyer-penned design elements including a more upright and formal "tiger nose" grille, narrow upswept headlamp enclosures and a kick-up along the beltline somewhat reminiscent of the Honda Odyssey's "lightning-bolt" beltline.
Changes
Size-wise, not much has changed with the 2015 Sedona. Length and wheelbase are up by an inch and inch and a half, respectively, while overall height is about an inch lower and the width is unchanged.
The rear now sports an integrated upper spoiler and horizontal taillight enclosures housing LED lamps, while the D-pillar is narrower and blacked-out, forming a continuous-appearing greenhouse from the A-pillars to the rear glass.
Inside there's room for seven or eight, depending upon the seating arrangements, with a greater use of soft touch materials on the doors, dash and center console. Speaking of the center console, Kia has chosen to eschew what is currently de rigueur for minivans by locating the gear selector in a console between the front seats instead of on the dashboard.
Center row "Slice-n-Stow" seats glide forward for additional cargo hauling capability, while checking the box next to the "First Class" lounge seating box substitutes a pair of recliners with retractable leg rests. In back, the third row features the requisite 60/40 split in-floor retractable bench.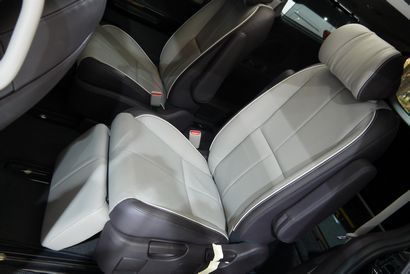 Adhering to its family-oriented transportation roots, in addition to a leather seating option, the YES Essentials fabric technology in the Sedona provides "anti-microbial protection from spills, anti-static protection from irritating electrical shocks as well as stain-repelling and stain-releasing fabric characteristics."
Boo-rah!
New for 2015 is a new range-topping SXL trim offering "the same Chromium-free (Nappa) leather found in the K900 luxury sedan. There are also a slew of new technologies in the available next-gen UVO infotainment system that includes family-oriented nannies such as Speed Alert, Curfew Alert and Driving Score.
But the new Sedona is more than just show.
According to Kia, the chassis has a static torsional stiffness 36-percent greater than its "closest competitor" (whatever that might be) with a body that comprised of 76 percent High Strength Steel or Ultra High Strength Steel while this, along with large diameter welds and extensive use of adhesives, is expected to earn the Sedona an NHTSA 5-Star overall vehicle safety rating.
Although it rides on the same platform, the new Sedona features revised rear cross-member bushings, longer rear sub- frame trailing arms and added strut reinforcement for improved ride characteristics.
Finally, under the hood is a new Lambda direct injection 3.3-liter V6 replacing the 3.5-liter V6 found in the outgoing model boasting seven more horsepower (276) and 2 more lb.-ft. of torque (248) with, we suspect, better fuel economy as well.
Availability
Kia expects deliveries of the 2015 Sedona to dealers to begin early this fall and will release pricing closer to the on-sale date.