We spend a cold winter week in Michigan with a very nice IS 350 F Sport RWD sedan with summer tires and conclude that it probably wasn't such a good idea

Pros:
Knockout styling
Luxurious interior
Plenty of power
Cons:
Cramped interior
Summer tires not good for a Michigan winter
Remote touch joystick lacking in joy
2015 Lexus IS 350 F Sport
The IS represents Lexus' entry-level sedan which is available in rear-wheel- and all-wheel-drive configurations and was introduced here in the U.S. back in 1998 as a 1999 model. The 2015 IS 350 F Sport you see here is the third generation of that model that was first introduced as a 2014 model.
Exterior
In addition to all-new sheetmetal, most of it galvanized for improved rust prevention, third-gen IS models sport a more aggressive "spindle" grille, edgier styling all-around as well as both a wheelbase and overall length that were increased by around 3 inches. While height is down by roughly half an inch, width is up by an inch.
Up front, narrow headlamp enclosures sit above L-shaped LED daytime running lamps while in back, narrow horizontal tail lamps with LED lights that mimic the "L" design up front. There's also a built-in trunk lip spoiler while LEDs are also used to illuminate the license plate.
Interior
Inside, the IS borrows design cues from the LFA supercar with TFT instrumentation and a center tachometer ring that not only changes but also moves across the display depending on the driving mode selected. It, in turn, surrounds a center digital speedometer/transmission/driving mode and individual tire pressure display.
The interior, itself, both looks and feels luxurious with soft black suede material covering the A, B and C pillars as well as the headliner. The dashboard is also soft touch with nice detail stitching.
The dashboard buttons are clear and easy to read, with the smooth console and center-stack buttons and controls being very intuitive.
But while it looks slick, the center console isn't particularly useful. The covered storage space is tiny and the joystick for the infotainment system is not only distracting, it also takes up a lot of what could be usable space. This means the cup holders are placed further back, making them harder to reach. Additionally, when a cup is placed in either or both of them, there's no place for the front passenger to rest their left arm.
On the other hand, the heated sports seats are extremely comfortable, offering 10-way driver and 8-way passenger electric adjustments plus power lumbar adjustments for the driver. But even though there's more interior room in the third-gen model (all told, interior volume is up from 88 to 90 cubic feet, while cargo volume remains unchanged at 11 cubic feet), it feels tight up front. Because of its low stance, it seems there's no elegant way of getting in and out of either the front or rear seats. At just 5' 8", even I had to duck getting into the front seats while my daughter, who's only two inches taller, was constantly hitting her head on the headliner when seated in back.
Despite the high beltline, the view out the front and sides and straight out the back is excellent. However the swoopy roofline and large C-pillar make it difficult to see out the rear three-quarters.
Under the hood
Unlike the IS 250 that comes with a smaller 2.5-liter 204 horsepower V6, the IS 350, with only a 132 pound weight penalty, is equipped with Toyota's 3.5-liter 2GR-FSE V6 replete with direct and port injection, four cams, 24 valves and 306 horsepower @ 6,400 rpm and 277 lb.-ft. of torque @ 4,800 rpm. Boo-rah!
AWD models are equipped with a 6-speed while FWD models are specked with an 8-speed automatic with steering wheel-mounted paddle shifters.
The EPA estimates FWD IS350 fuel economy at 19/28/22 city/highway/combined while our own observed fuel economy was 18 mpg in what turned out to be primarily subzero cold suburban driving conditions.
On the road
The IS350 F Sport is flat out the best handling Lexus sedan (at least in dry conditions) we have ever driven due in no small part to a fully independent double- wishbone front suspension, a new multilink rear suspension, a new rear sub frame plus cowl side braces for improved structural rigidity. Steering feedback is very good and there is no detectable body lean through the corners. The firm ride, despite the adaptive variable suspension and even in normal mode, can get choppy over uneven road surfaces at low speeds. On the other hand, the brakes on the IS350 are excellent. They not only have a nice bite, they're very easy to modulate and there's excellent feedback through the brake pedal.
Unfortunately for us, F Sport models also come standard with summer tires, which are probably very nice in, say, oh, June or July.
But despite the close to- and sub-zero temperatures that were forecast during our test week, these tires remained fitted to the IS 350, which meant that our RWD tester fared rather poorly on snow and slick road surfaces – situations which amounted to about sixty percent of our time behind the wheel. Our advice: owners living in colder climates should buy a good set of winter tires if they plan on driving a RWD F Sport year round.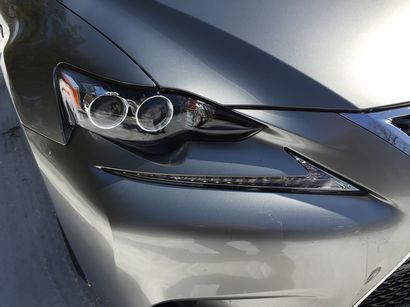 But on a brighter note, we really appreciated the F Sport's LED headlights. They were amazing at night and far better than any HID headlights we've encountered.
As for cabin noise, around town sound levels are fairly muted, although a fair amount of tire and road noise does intrude at freeway speeds.
Equipment and pricing
2015 Lexus IS 350 prices start at $40,990 for a RWD model and can top out at over $58,000 for a loaded example with AWD. Befitting its luxury credentials, the IS comes with a long list of standard features that, in addition to the standard power and connectivity bits, includes push button start, power tilt and slide moonroof, automatic on/off projector beam HID headlamps and a premium audio system with HD radio and real-time traffic and weather.
Our tester came with the optional F Sport package that included LED headlamps (low & high beam), 18-inch F Sport alloy wheels, TFT instrument cluster, F Sport seats (heated and ventilated), F Sport tuned suspension, perforated leather steering wheel and shift knob as well as the black headliner.
Other options included a $600 blind Spot monitor, $400 for variable gear ratio steering and $2,995 for a navigation/Mark Levinson audio package that brought the MSRP to $48,725, including a $925 delivery, processing and handling fee.
The Bottom Line
There's more than a lot to like about the 2015 Lexus IS 350 F Sport. There's a decent amount of power under the hood, it's a knockout in the styling department and the interior both looks and feels luxurious. Steering feedback is also very good and the strong brakes are easy to modulate, although drivers in the northern climes ordering the RWD version should plan on buying a good set of winter tires come fall.
In addition, the ride can get choppy over uneven road surfaces and it can be difficult get in and out of the tight-feeling interior while its fuel economy is hardly stellar for the segment (Lexus recommends using premium fuel).
While it's only close to being the BMW fighter it could be, it's hard to beat Lexus' legendary quality and ownership experience. That said, the IS 350 will appeal to buyers looking for luxury and driving performance in one of the slickest-looking and best-handling sedans Lexus has ever produced.