We spend a week in the latest Corolla that gets a new option package for three of its trim levels
Pros:
Fuel economy
Interior room
LED headlights
Cons:
Average handling
Buzz-kill CVT automatic
Interior finish
2015 Toyota Corolla
With the eleventh-generation Corolla being all-new for the 2014 model, you would hardly expect any big changes for 2015. This holds true as the only change Toyota made for the 2015 model year was the addition of a Premium trim for LE, LE Eco and S models – a package that includes a sunroof, smart key system, premium audio with navigation and Toyota's app suite.
Exterior
Although it's a tad down the scale from the cutting edge styling found on vehicles such as the Hyundai Elantra, the newest Corolla eschews much of the "car as appliance" look of its forebears. Up front there's a narrow honeycomb upper grille with a large lower air intake that's finished in piano black on S trim models. It's flanked by angular headlamp enclosures that house standard LED headlights – the best we've ever encountered on a compact sedan.
Along the sides, it's still slab-city, although there is a character line that runs from just aft of the front wheel, bisecting both door handles and terminating at the midpoint of the rear tail lamps.
In back, there's a small decklid spoiler that sits atop stylish teardrop-shaped tail lamp enclosures with nary any chrome trim to be found.
Interior
The good news, interior-wise, is that the latest-generation Corolla offers an additional 5.1 inches of rear seat legroom when compared to the previous version. Other than that, the interior is conservatively styled with a horizontal dashboard, soft touch surfaces pretty much everywhere and a rich-looking flat knit headliner.
Instrumentation is clear easy to read and intuitive to use. S-trim models get a standard two gauge cluster with a 3.5-inch TFT screen between them. The infotainment touch screen is within easy reach also includes redundant buttons for the major functions.
There's also a total of 97.5 cubic feet of passenger space on non-sunroof models like our tester. Up front, there's plenty of leg, hip, shoulder and headroom for adults of all sizes, while the uplevel seats on Corolla S models offer a decent amount of thigh, lateral and lumbar support. In back, there's actually room for three adults courtesy of a lower center floor hump and 41.4 inches of legroom – that's over an inch more than the midsize Camry.
Visibility is great out the front and decent out the sides, back and rear three-quarters. It's also helped by the fact that all but base model Corollas get a standard rear view camera.
Under the hood
The only engine choice is a 1.8-liter DOHC inline-4. On L, LE and S models it's equipped with dual variable valve timing, has a 10.0:1 compression ration and produces 132 horsepower and 128 lb.-ft. of torque.
On LE Eco models, it's equipped with Valvematic technology, has a 10.6:1 compression ratio and produces 140 horsepower and 126 lb.-ft. of torque.
Base L model buyers get the choice of either a standard 6-speed manual or optional conventional 4-speed automatic transmission, while all other models including our S are available only with a continuously variable transmission for better fuel economy.
In a nod to its sporting intent, on S models the CVT also offers a sport drive mode featuring sequential shifts (via the console lever or steering wheel-mounted paddle shifters) with 7 programmed "gear" presets for a more conventional transmission feel.
The EPA rates the CVT-equipped Corolla at 29/37/32 city/highway/combined, while we managed a very good 31 mpg in mostly city driving.
On the road
Although the latest Corolla is the best handling one yet, we find that it's still no sports sedan and lacks the steering feedback and responsive suspension found in the best vehicles in this class.
That gripe aside, we should note that its handling is secure and the ride is well controlled, absorbing minor road irregularities and larger bumps with ease. Although feedback through the pedal is only average and there's not a lot of initial bite to the pads, the brakes are responsive, linear and easy to modulate.
Compared to many vehicles in this class, especially in around town driving there isn't a lot of noise from the wind or tires – although the engine definitely makes itself known when you put your foot into the accelerator pedal.
At freeway speeds the suspension compliance makes it feels like a much larger sedan, with a very comfortable ride without the floating feeling found in many small cars that sacrifice agility for wheel travel.
Although the L model has a more forgiving ride due to its smaller wheels and higher-aspect tires, buyers looking for the type of handling that feels a little more connected will appreciate the slightly firmer suspension tuning of the S trim level.
2015 Toyota Corolla prices
2015 Toyota Corolla pricing, including an $825 delivery, processing and handling fee, starts at $17,775 for a base model with a six-speed manual and can top out at close to $26,000 for a fully optioned-and-accessorized S Premium.
Our S Plus had a base price of $19,845. Adding $225 for carpeted floor mats and a trunk mat brought the total Manufacturer Suggested Retail Price to $20,895.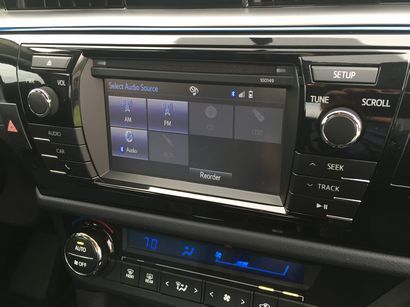 The Bottom Line
There's a lot to like about the latest Corolla. It comes with great fuel economy, a quiet, roomy interior and the best standard headlight setup in the compact segment.
On the other hand, ride and handling is just average, performance is only adequate with the buzz-kill CVT – despite its stepped feature - and, when you really stomp on the accelerator, the engine can get noisy.
But the fact remains that while the 2015 Corolla is only mid-pack when it comes to handling and performance, it's still a very pleasant car to drive especially on long stretches of freeway. Current owners will like the improvements in the current model while its somewhat edgier styling and smooth ride – combined with Toyota's quality and reliability – should also attract even more buyers to the Corolla nameplate.