We spend a week with the latest limited edition model of the turbocharged subcompact coupe from Hyundai.
Pros:
Interior design and materials quality
Matte blue paint job
Improved suspension compliance
Cons:
Road and tire noise
Steering feedback
Rear visibility
Hyundai Veloster
The original Veloster Turbo made its introduction at the 2012 Detroit Auto show and hit dealer showrooms a year after the normally-aspirated version. It came with more horsepower, re-tuned steering, an option matte gray paint finish and unique styling cues. the turbo brings a number of enhancements to the table. But there are also a number of shortcomings that come with it, as well.
2016 Veloster Rally Edition
Unveiled at the 2015 Chicago Auto Show, the Veloster Rally Edition takes Hyundai's model simplicity to a new level. Only one engine, a single transmission and a solitary exterior color are offered. Likewise, there's but a singular interior choice, no package options and just nine accessories to choose from.
Exterior
Like its siblings, the most striking aspect of the Veloster Rally, is its unique three-door layout. Like the 1975 AMC Pacer, instead of making the single driver's-side door smaller and the single passenger-side door wider, the single driver's-side door is the normal one, while the passenger side features two doors: a narrower one for the front passenger, which allows for a second passenger-side door behind that one for rear seat occupants, making ingress and egress easier for them. The single rear door handle blends into the right C-pillar, making that third door nearly invisible thus retaining a coupe-like body style.
As for differentiating it from normally-aspirated models, turbo versions sport a more aggressive front fascia with a larger grille flanked by blacked-out fog lamp enclosures. Rally Edition models like our tester receive standard Ray lightweight alloy 18-inch wheels wrapped in Kumho Solus 225/ 40R18 all-season tires, nicely filling the wheel wells. The greenhouse features a steeply-raked windshield, while the roofline flows down and back from the top of the A-pillars.
The sides are dominated by pronounced front and rear wheel arches, distinct upper and lower character lines and a lower body kit that features a carbon fiber-look lower trim piece.
In back, large rear taillights are placed in deeply scooped-out pockets while the lower valance, specific to all turbos, features chrome plated, dual center-exiting tail pipes.
A particularly nice touch was the Rally-specific matte blue exterior paint finish. Despite the fact that it requires very special care (you can forget about waxing it or even taking it through a car wash), the number of compliments you'll receive – we certainly did –certainly adds to its panache and justifies at least a portion of the $2,350 premium over the manually-equipped Turbo R-Spec.
In addition to the model-specific paint job, lower body kit and alloys, it shares a number of exterior upgrades with the R-Spec including projector headlights with LED accents, fog lights, side mirrors with integrated turn signals and twin rear exhaust extensions.
Interior
Inside, you'll find the R-Spec's alloy pedals and, while the bolsters are festooned with "turbo" lettering, they're trimmed in blue and the seating surfaces are leather, not the R-Spec's cloth. There's also a leather-wrapped steering wheel and B&M Racing sport shifter knob.
Other standard amenities include air conditioning, keyless entry, power windows, locks and mirrors, tilt and telescopic steering wheel with cruise, audio and phone controls along with iPod, USB and auxiliary input jacks.
Like the rest of the Veloster stable, interior fit and finish as well as the quality of materials is excellent, with tastefully-patterned soft touch surfaces on the dash as well as upper door trim. Large interior door pulls, an especially nice touch, make closing even the bigger and heavier driver's door especially easy. All controls operate smoothly and are within easy reach of the driver. Those located on the steering wheel for the audio system, cruise control, hands-free phone system and driver information center are intuitive and back-lit. The electroluminescent gauge cluster easy to read and, although you sit low in the Veloster, a tilt and telescoping steering wheel, along with the height-adjustable driver's seat, make finding a comfortable driving position easy.
The headlight and turn signal stalk to the left of the steering wheel features a handy tap/flash to pass feature, while the right stalk controls both the front and the short lower rear window wiper functions.
The stylish center stack is also a cinch to navigate. It contains a 7-inch touch screen flanked by large, easy to read buttons controlling the media functions. Below the screen, three more buttons control phone, setup and seek/track functions. Centered below that is a round dial that handles the temperature, fan speed and A/C functions while four buttons on either side control the airflow and defrost functions.
Leg, head and hip room for both front occupants is more than adequate, even for taller drivers (the Rally has no sunroof option). And while the two rear seats, separated by a small console, are adequate insofar as hip and legroom are concerned, the height restrictions brought upon by the low roofline make them accommodating only for children on long trips, as we found that even shorter adults nearly hit their heads on the rear window.
Yet another issue is the rather large rear three-quarter view blind spots, while the split rear window is not only distracting and the images viewed though narrow upper glass are often distorted.
Equipment
Additional standard equipment includes Bluetooth phone, iPod connectivity, satellite radio and a 90-day free trial of Hyundai's Blue Link telematics system.
Standard safety features include ABS, vehicle stability management, electronic stability control, traction control, torque vectoring control, brake assist and a full complement of six airbags.
Under the hood
All Rally turbos are powered by Hyundai's 1.6-liter Gamma DOHC direct-injection four-cylinder engine equipped with a twin-scroll turbocharger whose housing is part of the stainless steel exhaust manifold. It produces 201 horsepower at 6,000 rpm and a maximum 195 lb.-ft. of torque between 1,750 and 4,500 rpm. Engineered with fuel-saving features such as a low friction roller timing chain, variable intake and valve timing and a block water jacket spacer, it's rated at 25/33/28 city/highway/combined mpg by the EPA – numbers that seem somewhat conservative considering our own calculated 35 mpg highway and 26 mpg city mileage figures.
It's mated to the only transmission available, a short-throw B&M 6-speed manual.
On the road
Given our past experience with Veloster turbos, the Rally edition was somewhat of a revelation. We'll chalk it up the "sportier" shocks, springs and stabilizer bar (since those were the only pieces Hyundai says it tampered with), but the suspension on the Rally felt much more compliant. Granted, it isn't as compliant as the Scion iA or even the Ford Fiesta ST, but the overall ride quality was head and shoulders above the last Veloster Turbo we drove.
While driving over expansion joints, bumps and washboard surfaces still isn't pleasant and road and tire noise are still readily apparent, it's much more controlled and no longer transmits every pavement irregularity directly and nearly unfiltered to the vehicle's occupants. Not only that, the suspension no longer feels skittish, even though handling through corners is as flat as it ever was.
Both the clutch and the shifter also work smoothly together and the brakes are easy to modulate, but that's where most of the goodness ends. Unfortunately, nothing has been done to massage the Veloster's steering. It has a nice weight to it, but the communication between the road and the wheel remains lost in translation.
2016 Veloster Rally Edition pricing
New car pricing for a matte blue 2016 Veloster Rally Edition Turbo sits at $23,950. Out tester also came with a $50 cargo net and $95 worth of mud guards. Those two bits, plus $825 for inland freight and handling brought it to a manufacturer's suggested retail price of $24,920.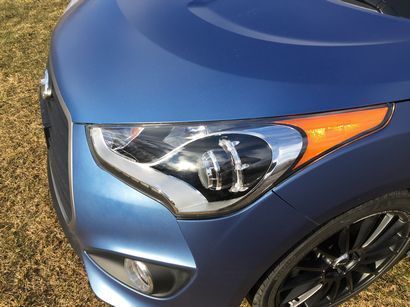 The Bottom Line
The Hyundai Veloster Turbo is beginning to get a bit long in the tooth, but despite its aging platform it has a number of things going for it: a great interior, front seats that are supportive, a clutch and shifter that work nicely together and materials are all top shelf. Fuel economy numbers, in both the city and on the highway, are also very good.
On the other hand, road and tire noise are still apparent, especially at freeway speeds. In addition, feedback through the steering system is still poor - especially for a sporty car - while rear visibility is absurd.
But if the Rally Edition is any indication, Hyundai is on the right track with the turbocharged version of its subcompact three-door. The changes not only help the Veloster soldier on, the improvements made to the suspension make it much easier to live with day-in and day-out.