Pros:
Composed ride
Versatile and well-equipped
Wide range of safety features
Cons:
Entertaining engine hamstrung by CVT
Steering lacks road feel
Smaller back seat and cargo area than the outgoing model
Toyota Corolla
The Toyota Corolla remains a popular choice in the compact class for a number of reasons: All versions reliable, economical to operate, fairly roomy, and offer above-average resale value. The Corolla is also the best-selling nameplate in history, with over 46 million sold in various body configurations since the model's introduction in 1966.
The first body style of the 12th-generation Corolla bowed in 2018 with an all-new hatchback for the 2019 model year. The sedan will make its debut later this year as a 2020 model.
2019 Toyota Corolla Hatchback
Exterior
For the most part, the Corolla Hatchback manages to skirt Toyota's current philosophy of "let's just throw as many styling gimmicks as possible against the wall and see what sticks, because what's left is bound to look cool!" Rather, what we see here, aside from the gauche grille badge, is a clean, tight, and expressive design. Up front, narrow LED headlights give the fascia a sharp look, while additional mesh has been ladled on, creating a bolder look for the grille.
Along its flanks, sculpted lower door panels, side sill extensions, and a rising upper character line that begins just aft of the front wheel wells and kicks up forward of the C-pillars make things interesting.
The best look is in back, where creases arc from the rear quarter panels to just below three-dimensional tail lights that are stylized but not overwrought, and where, on SE models, those touches are framed by a large, body-colored, upper spoiler, and an aggressively-styled lower valance housing a pair of chrome exhaust tips.
Interior
That all-new sheet metal is wrapped around a conservative, soft-trimmed interior with a 2-tier, dashboard dominated by a centrally-located 8-inch touchscreen. The front seats are nicely-bolstered, and offer decent thigh support as well as all-day comfort with plenty of head shoulder, hip, and leg room. Thanks to a low cowl, visibility is very good in front and out the sides, and, despite thick B- and C-pillars, decent out the rear three-quarters as well as in back.
The materials are at least standard for the class, with soft-touch materials found at most of the important touchpoints, while the center console cover slides fore-and-aft, offering a convenient arm rest for occupants of all sizes.
Like the rest of the cabin's buttons and knobs, the infotainment screen is within easy reach of the driver and features redundant knobs for power-volume and tune/scroll, as well as buttons for the major software functions. The infotainment software is another highlight, offering an intuitive app-based interface with a learning curve that can be mastered in minutes – sans an owner's manual. All systems should be this easy.
Aside from the electronics, the hatchback also affords a versatility that no Corolla sedan can match: with the rear seats folded, we were able to easily transport a 52cm road bike in the softly-lined cargo area without having to remove the front wheel.
On the flip side, measuring 18 cu ft, the cargo area behind the back seat is down by 2 cu ft from last year, while rear seat space is tight compared to the sedan, with leg room dependent upon the generosity of those up front. In addition, the rear door cutouts are smaller than we'd like, which makes ingress and egress awkward – especially for those of advancing age. Finally, despite its clean look, the interior falls short of the standard set by the class-leading Mazda3.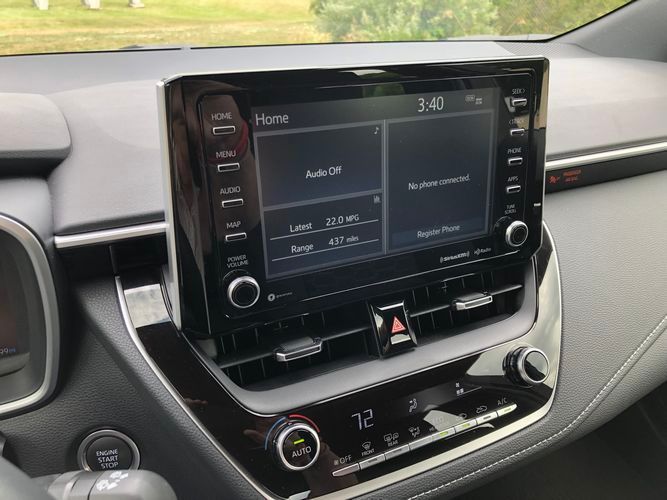 Equipment
Standard equipment on all Corolla Hatchbacks include the typical bits (air conditioning, power windows, locks, mirrors), as well as Bi-LED headlamps with automatic high beams, LED tail lights, heated outside mirrors, 16-inch alloy wheels, leather-wrapped steering wheel, paddle shifters (automatic), and an 8-inch touchscreen that supports an infotainment system offering Bluetooth, Siri Eyes Free, Apple CarPlay, and Amazon Alexa capabilities, plus weather and traffic information via Toyota's Entune 3.0 App Suite.
Standard advanced safety features are another big plus and include pre-collision warning with pedestrian detection, automatic emergency braking, road sign assist, lane keep assist with steering assist, and CVT-only lane trace assist and full-speed adaptive cruise control (manually-equipped models get a limited adaptive cruise control system).
Under the hood
The hatchback uses what is currently a model-exclusive 2.0-liter 4-cylinder engine – all Corollas should be so lucky. Fitted with both direct and port injection systems and dual variable valve timing, it manages to deliver a satisfying 168 horsepower at 6,600 rpm, and 151 lb-ft of torque at 4,800 rpm on 87-octane regular unleaded fuel. It's mated to either a 6-speed manual (our choice, by far), or a CVT automatic (what we believe the choice will be for at least 90 percent of Corolla buyers).
Fuel economy is very good, with the Corolla Hatchback SE scoring an EPA-estimated 28 miles per gallon in the city, 37 on the highway, and 31 combined when equipped with the 6-speed manual transmission, and an EPA-estimated 32 mpg city, 42 highway, and 36 combined when matched with the CVT automatic. We managed a vehicle-measured 25.3 mpg with the CVT in aggressive city driving.
On the road
Even with limited seat time and the realization that the percentage of buyers opting for this configuration will probably be in the single digits - unlike our CVT-equipped tester - it's the manually-equipped hatchback that comes the closest to being fun to drive – nearer, in fact, than any Corolla in recent memory. Pressing a button near the center console activates an intelligent mode that matches revs on downshifts, and streamlines upshifts with small adjustments to the throttle for more fluid operation during aggressive driving. Although throws could be shorter, the shifter operates smoothly, and clutch take-up is fluid and progressive.
An engine we would also like to see offered in the sedan, the 2.0-liter four-cylinder seems more than willing to add to the festivities, although most of the action takes place around 6,500 rpm, which means only manual buyers can explore the four-pot's true potential.
Underneath it all, the fully-independent suspension offers plenty of wheel travel, absorbing even large bumps well and doing yeoman's work in mitigating road harshness and making for smooth, effortless highway cruising. The brakes are responsive, linear and easy to modulate, and for a compact, wind and tire noise are fairly muted, especially in around town driving.
On the negative side of the ledger, The CVT is certainly fine, and offers a fixed first gear for better step off. But nice as it is, it still manages to reduce the fun factor by at least 50 percent. Hardly helping matters are the standard paddle shifters - confined to a narrow window of operation before the eco-tuned ECU takes control of the system. In addition, very little of what's happening under the tires is transmitted to the driver, the engine needs to be wrung out for the most fun, and although body lean is fairly well-controlled, the lack of grip from the eco-friendly 205/55R16 Dunlop Enasave tires on our SE tester was enough to dampen any enthusiasm we might have had to launch it through the twisties. The bottom line here is that although entertaining by Corolla standards, the hatchback still lags class leaders like the Mazda Mazda3, Honda Civic, and the soon-to-exit-the-market Ford Focus.
2019 Toyota Corolla Hatchback prices
2019 Toyota Corolla Hatchback pricing, including a $920 delivery fee, starts at $21,095 for the SE trim equipped with the 6-speed manual, and tops out at $27,210 for a CVT-equipped XSE model equipped with the Preferred Package with options.
Starting with a base price of $21,090, our Galactic Aqua (we couldn't make that up) SE was also equipped with the SE Preferred Package ($1,400, blind spot monitor, SiriusXM with Cache Radio, safety, service and remote connected services, and Wi-Fi hotspot capability), and Carpet Mat Package ($229). This brought the total Manufacturer Suggested Retail Price, including destination charges, to $23,639.
The Bottom Line
The latest hatchback offers a tighter rear seat and smaller cargo area than the outgoing model, issues that may be a turnoff to families. It also features a CVT that hardly favors an otherwise a strong engine, and possesses a driving character that, even with improved ride and handling and a demeanor that's sportier than other Corollas, is sure to be a turnoff to enthusiasts.
But the fact remains that most Toyota buyers look for quality, dependability, and above-average resale value. In addition to being a pleasant car to drive around town and on long stretches of freeway, the latest hatchback represents a solid choice in its class, with the added benefits of excellent fuel economy, and a long list of advanced safety features that should appeal to eco-friendly and safety-conscious buyers, as well as traditional Corolla shoppers looking a bit more fun and versatility than the sedan.