The Ford exhibit at SEMA13 featured customized cars and trucks as well as a celebrity couple


2013 SEMA Show
It was exactly a week ago today that the Ford press conference took place at the Las Vegas Convention Center, the home of the annual dessert in the desert known as the SEMA show.
This year's festivities not only included the requisite over-the-top customizations of both cars and trucks from Ford's stables, but also a very special custom 1956 Ford F-100 destined for Barrett-Jackson's Scottsdale auction in 2014.
So let's get to it.


Vandemonium
As promised, at this year's show Ford placed a special emphasis on its Transit Connect van. Among the highlights was a fashion boutique on wheels from Blood & Grease, a mobile speed shop from CGS Motorsports and a chopped and lowered Transit Connect from Mobsteel promoting the Detroit Steel Wheel Company.
All those we knew about beforehand. What Ford had only previously hinted at, however, was a tenth Transit Connect that turned out to be one from Michigan-based custom builder Ice 9 Group that had worked with designers from both Ford and Hot Wheels to create – you guessed it – a Hot Wheels Transit Connect.


"We basically re-skinned a new vehicle," said Keith Strong, president of Ice 9 Group. "We did all the computer-aided drafting and tooling, removing the old body panels and crafting a whole new look. Every single aspect of the exterior is different, including the roof. The idea was to show just how far out you can take a vehicle like this – a small van – that isn't typically thought of when you go to SEMA."


The Hot Wheels Transit Connect is powered by Ford's 2.5-liter 2.5-liter Ti-VCT four-pot and was widened 4 inches in front and 6 inches in back. It also features functional exhaust ports, gullwing doors, 20-inch wheels and a custom front fascia inspired by the Ford Focus RS.


As it's supposedly a "a race-inspired support vehicle for the average guy" (yeah, right), a Sortimo secondary floor covers a set of drawers for tool storage, while there's also a 55-inch flat-screen TV, two 18-inch tablets and a pair of custom Recaro seats from a Focus ST.
In addition to the van, there's also a custom trailer to carry Rip Rod, a custom hot rod designed and built by Hot Wheels in 2012 that's powered by a 1.0-liter EcoBoost engine.


At the same time those of us who are truly average can take heart: a more affordable Hot Wheels Transit Connect in the form of a 1:64 die-cast scale model will arrive on store shelves in the fall of 2014.


The Gene and Shannon show
The stars of the press conference, however, turned out to be none other than KISS bassist Gene Simmons and his wife, actress Shannon Tweed who unveiled a custom 1956 Ford F-100 pickup.


Called Snakebit, the project, called Wheels of Dreams, was originally conceived by Tom Foster, president of Saskatoon-based customizer Industrial Machine & Manufacturing in order to help raise funds for a new children's hospital in a city and province that, unbelievably, currently lacks this type of facility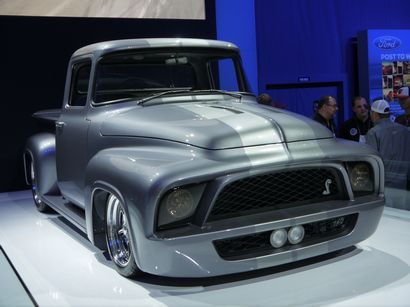 The custom truck was funded by the Ford dealer association in Saskatchewan and, after hearing of it, the cause was taken up by Simmons and Tweed (whose hometown is Saskatoon).


According to Ford:
The winning bidder (it will be auctioned off in 2014 by Barrett-Jackson) will get one serious truck. Under the sectioned dual-skinned hood of the 1956 F-100 is a Ford Racing supercharged 5.4-liter V8 breathing through a high-performance exhaust system. A six-speed manual gearbox feeds the estimated 550 horsepower to the 20-inch rear wheels.


The wheelbase has been stretched five inches, while the box has been widened and dressed with a billet machined floor to mimic wood. It is topped with a custom tonneau cover. The headlights and sequential taillights are custom-built, while 18-inch front and the 20-inch rear wheels are also inspired by Shelby Mustangs.


The interior of this metallic gray beauty features handmade panels and two-tone leather. The knobs on the leather-wrapped dash are custom, as are the armrests. The leather bench seat, carefully contoured to match the look of a Shelby Mustang interior, is from Glide Engineering.