Honda Urban EV Concept
Earlier this week during its press conference at the 2017 Frankfurt Motor Show, Honda gave us its glimpse of what it believes urban mobility will look like in the very near future. Called the Urban EV Concept, it represents a future that is just a couple of years away.
During his press conference speech, Honda Motor Co. President and CEO, Takahiro Hachigo, noted that "This is not some vision of the distant future; a production version of this car will be here in Europe in 2019."
Based on its own dedicated platform, the Urban EV Concept is nearly four inches shorter than Honda's smallest vehicle sold here in the US, the subcompact Fit.
Outside, it sports a retro-look that's both simple and sophisticated at the same time. Up front, Honda's "H" emblem, centered on what normally would pass as a grille, is backlit in blue – a styling cue that Honda says will also be featured on future EV vehicles. Replacing the grille between the headlights is an electronic message board that can display interactive, multilingual messages that, according to Honda, can include "greetings, advice for other drivers on the road, or charging status updates."
The interior, accessed via a rear-hinged door on either side of the cabin, can accommodate up to four occupants seated across two bench seats. Narrow A-pillars and a wide windshield aid in driver visibility, while a "floating" dashboard features a set of simple control buttons as well as a panoramic infotainment system display. In place of traditional outside rearview mirrors, extended door screens display rear view digital images.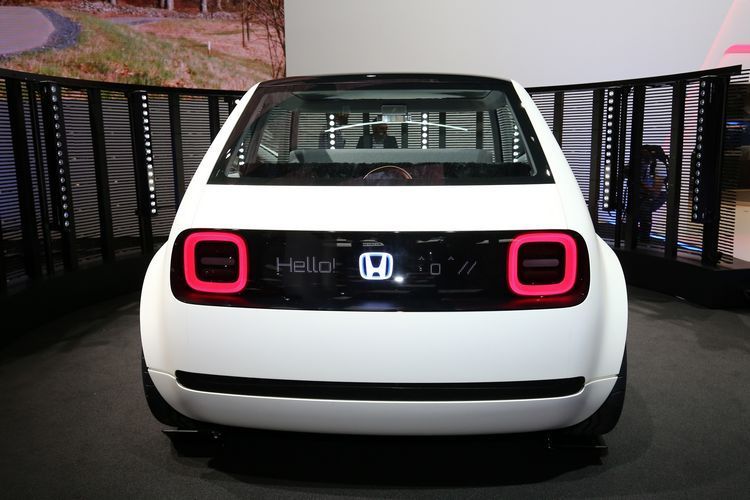 In addition to typical infotainment features, the vehicle's onboard Honda Automated Network Assistant, in the words of the company, "acts as a personal concierge, which learns from the driver by detecting emotions behind their judgments. It can then apply what it has learnt from the driver's past decisions to make new choices and recommendations."
The Urban EV Concept is also designed to work in tandem with Honda's Power Manager Concept – a system that's engineered to efficiently store energy from renewable sources with any excess electricity sourced back to the home or sold back to the energy grid.