Hyundai unveils the updated 2014 Elantra plus a new R Spec model Veloster Turbo at the 2013 LA Auto Show


2014 Hyundai Elantra
The 2014 Elantra receives all-new front and rear exterior designs, along with interior styling upgrades. Sport-tuned steering and suspension calibrations sharpen the new Elantra Sport's handling, while extensive technology upgrades improve ergonomics for the entire Elantra Sedan lineup.


New for 2014:
Packaging
• Elantra GLS is now Elantra SE
• Elantra Sport added to the lineup


Exterior Enhancements
• New front and rear fascia styling with new rear diffuser
• Projector headlights with LED headlight accents standard on Elantra Sport and Limited
• LED taillights standard on Elantra Sport and Limited
• Chrome belt line molding standard on Elantra Sport and Limited
• Exposed single exhaust tip standard on Elantra Sport
• 15-inch alloy wheels standard on Elantra SE
• New Fog lamp styling
• Redesigned 17-inch two-tone alloy wheels on Elantra Sport
• Redesigned 17-inch alloys wheels on Elantra Limited
• Redesigned 16-inch alloy wheels on SE Preferred Package
• Rear spoiler standard on Sport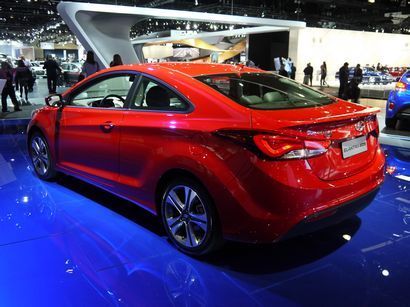 Interior Enhancements
• Pandora Internet Radio (available)
• Center stack HVAC vents relocated
• New 4.3-inch color LCD touchscreen audio with rearview camera standard on Elantra Limited and Sport and included in SE


Preferred Package
• New dual dial HVAC controls
• New aluminum entrance sills standard on Elantra Sport and Limited
• New third generation navigation with seven-inch touchscreen optional on Elantra Limited
• New straight pull transmission selector with leather boot
• New aluminum pedals standard on Elantra Sport
• New beige interior color choice
• Increased height of center armrest
• New reverse LCD display


2014 Hyundai Veloster Turbo R-Spec
Hyundai also announced the addition of the Veloster Turbo R-Spec. The heart of the R-Spec is the responsive, aftermarket-tunable 1.6-liter, direct-injected, turbocharged engine, along with unique design cues, enhanced chassis tuning, a B&M Racing Sport Shifter, and the lowest price point in the Veloster Turbo lineup. R-Spec production will begin in December 2013 with availability in early February 2014.


Veloster Turbo R-Spec is the fourth R-Spec model in Hyundai's lineup, following in the footsteps of Genesis Coupe 2.0T R-Spec, Genesis Coupe 3.8 R-Spec and Genesis 5.0 R-Spec. R-Spec represents the ultimate performance version of each of these models.


For Veloster Turbo R-Spec, sport suspension and steering settings have been retuned for optimum responsiveness, with higher spring rates and a more rigid transmission mount. On the powertrain side, R-Spec is available only with the 6-speed manual transmission, and a short-throw B&M Sport Shifter has been added for a tighter, more direct shift feel.


2014 Veloster Turbo R-Spec Highlights
• Unique R-Spec suspension and steering tuning for enhanced agility and feel
• 6-speed close-ratio manual transmission with new shift knob design
• Short-throw B&M Racing® Sport Shifter for a tighter, high-precision shift feel
• Red exterior accents on front splitter and side blades (optional; later availability)
• Red leatherette bolsters with red/black cloth insert sport seats (in lieu of standard leather on other Veloster Turbo models)
• R-Spec embroidered-logo floor mats and R-Spec exterior badging
• Lowest MSRP Veloster Turbo model: $22,110, including $810 destination charge


In keeping with its purist driving focus, some standard equipment from the Turbo model has been deleted from the R-Spec, such as proximity-key entry with push-button start, premium gauge cluster, side-repeater mirrors, driver's auto-up window, high-gloss interior cues and full-faced heated leather seats.


Adding to the focused driving experience for all 2014 Veloster Turbo R-Spec and Turbo models is Torque Vectoring Control (TVC). This active cornering feature, utilizing capabilities from the Electronic Stability Control (ESC) and powertrain control systems, improves dynamic cornering during more enthusiastic driving. TVC uses wheel-speed sensors coupled with ESC algorithms to apply precise braking force to the inside front wheel during spirited cornering. This active braking redirects power to the outside front wheel in the turn, reducing wheelspin, for enhanced cornering grip and corner-exit acceleration. Overall, TVC provides Veloster Turbo R-Spec drivers with an incremental margin of cornering precision during enthusiastic driving.


Inside the cabin, 2014 Veloster Turbo R-Spec and Turbo models receive Active Sound Design (later availability), which provides richer in-cabin powertrain resonance for an even more involving driving experience, especially during spirited driving.