For weeks, Hyundai has been teasing enthusiast with hints of a number of tuned Genesis Coupes and Veloster Turbos custom made for this years SEMA show. Yesterday they arrived.
The five custom cars developed by tuners Bisimoto, ARK Performance, John Pangilinan, EGR and Fox Marketing are part of Hyunadai's marketing effort to showcase their new crate engine program which was also officially unveiled at the show. Under the program, the Lambda 3.8-liter direct-injected V6 and Theta 2.0-liter turbocharged 4-cylinder engines will be available in December to aftermarket tuners at a significantly lower cost than equivalent replacement engines.

1,000 HP Hyundai Genesis Bisimoto Concept
The first to take advantage of the new crate engine program, was Bisi Ezerioha the founder of Bisimoto engineering. Taking an R-Spec Genesis Coupe and the 3.8-liter direct-injected V6 which will be offered by Hyundai at $9,000, Bisi created a 1,000 horsepower monster with the reliability of a street car but with the fire breathing power of a track performer.
"The key to producing reliable, high-horsepower engines goes well beyond the design, engineering and fabrication of performance parts. The core powerplant must be strong enough to withstand advanced modifications. The Genesis Coupe 3.8-liter Lambda engine is a thoroughly robust powerplant, and Bisimoto Engineering is excited to develop it to its full potential for the rigors of competitive motorsport," said Bisi Ezerioha, owner of Bisimoto Engineering.

Hyundai Veloster Turbo Fox Marketing Concept
Keeping up with the theme of powerful street cars, Fox Marketing took the 1.6-liter, 4-cylinder direct-injected, turbocharged Gamma powerplant (not part of the crate program) found in the Veloster turbo and took it from 201 horsepower to 370 horsepower with the help of a new 845 Motorsports turbo upgrade, BorgWarner EFR turbo, front-mounted intercooler, AEM water/methanol injection system, VP Racing 101-octane performance fuel and an ECU tune from SeoulfulRacing.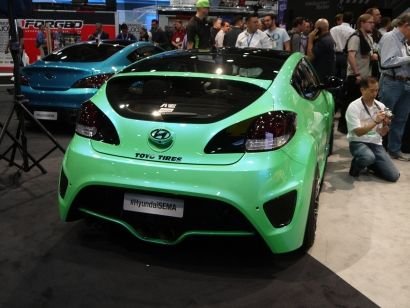 "The Veloster Turbo was designed with affordable performance in mind," said Scott Margason, director, product planning, Hyundai Motor America. "Fox Marketing's unique concept showcases the versatility of our turbocharged 4-cylinder Gamma engine family while expanding the overall performance envelope for the Veloster line."

Hyundai Veloster Turbo EGR Yellowcake Concept
Probably the most visually compelling of the Hyundai SEMA tuner cars was the EGR Group modified Hyundai Veloster Turbo dubbed Yellowcake for its radioactive yellow paint job. Designed to tackle time attack races at night, the 250 horsepower Hyundai features a Wurton roof-mounted LED light bar and custom ONEighty-branded headlights to ensure the track is as easy to see as the car itself.
"Veloster Turbo provides an ideal tuning platform for enthusiasts who want to modify their cars," said Mike O'Brien, vice president, product planning, Hyundai Motor America. "EGR created a very special night-focused time attack car that perfectly showcases Veloster Turbo's inherently sporty DNA."

Hyundai Genesis Coupe Legato Concept
Perhaps the most subtle of the tuner cars presented, the Legato concept which is Italian for "tied together", tries to integrate emphasis the inherent exotic concepts of the production Genesis Coupe and bring the interior to luxury territory. The 3.8-liter Lambda V6 engine is stroked to 4.0-liters for 400 horsepower and 425 lb.-ft. of torque, while Takata Drift Pro LE seats, AiM Sports Strada GT steering wheel, and digital gauges present a more refined performance look.
"The ARK Legato Concept demonstrates the compelling appeal and versatility of the original Genesis Coupe production concept," said Mike O'Brien, vice president, product planning, Hyundai Motor America. "ARK Performance has taken this original concept and expanded its appeal to the most demanding premium coupe owners at a whole new level."