The U.S. will get the performance version of Hyundai's Avante model that was revealed in Korea in April of this year.
2017 Hyundai Elantra Sport introduction
Earlier this week, Korean automaker Hyundai unveiled the latest version of its compact Elantra sedan in Alexandria, Virginia at a meeting of the Washington Automotive Press Association.
That venue might seem, at least on the surface, to be a bit understated,hyun as automakers typically will pick a much higher-profile location – say, New York, L.A. or even Detroit – especially if the vehicle happens to be a performance version of a current product.
But the fact is that much of the world had already seen it when it was introduced in Korea in April of this year as the Avante Sport – "Avante" being the name given to the Elantra in the brand's home country.
Be that as it may, we're still glad to see that it will be sold here in the States.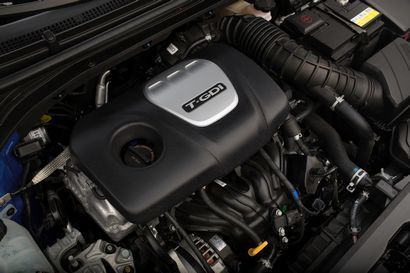 2017 Hyundai Elantra Sport
Scheduled to reach dealer showrooms sometime during the third quarter of this year, the 2017 Elantra Sport is powered by the same 1.6-liter Gamma DOHC direct-injection twin-scroll turbocharged four-cylinder engine as that found in the Veloster Turbo. According to Hyundai, in the Elantra Sport it generates "more than 200 hp and 190 lb-ft of torque" (which seems to jibe with the Veloster Turbo's specs - 201 horsepower at 6,000 rpm and a maximum 195 lb.-ft. of torque between 1,750 and 4,500 rpm).
Like the Veloster Turbo, two transmissions will be offered: a standard six-speed manual or optional seven-speed dual clutch unit with paddle shifters. Unlike the Veloster's coupled torsion beam rear suspension (also found on the Elantra SE, Eco and Limited models), however, the new Elantra Sport will be equipped with a more sophisticated independent multi-link rear suspension.
Rounding out the exterior upgrades are larger intake vents, a new lower rear diffuser, larger wheels and a more aggressive ground effects package. Inside, there's a new flat-bottom, metal-trimmed pedals, leather-wrapped steering wheel and red accent stitching on the "Sport"-embossed leather sport seats, shifter boot and steering wheel.
"Elantra Sport demonstrates our commitment to providing drivers with compelling vehicle choices that align with their interests," says Mike Evanoff, Hyundai Motor America manager of product planning. "This is a vehicle that reflects our own passion for cars and driving, expressing it with sharp looks, proven in-car technology, upgraded power, and fun, sporty handling."
2017 Hyundai Elantra Sport prices and full specifications
Per Hyundai, "Additional details, including full specifications and pricing, will be available closer to the on-sale date."