Fiat 500e to be made available to California buyers sometime in 2013


The long electric slide
It's time to take a step into the way back machine and travel back nearly three years ago to Detroit, Michigan in January of 2010.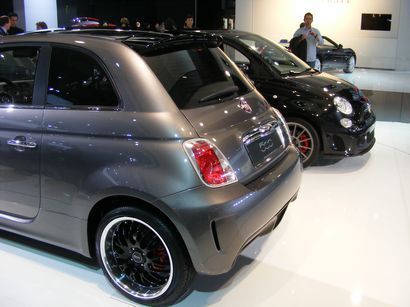 There, at the 2010 North American International Auto Show and perched on a raised platform as part of the Chrysler exhibit was a metallic gray Fiat 500. It sported a red interior, black alloy wheels and its hood was raised.


Under the hood and nestled between the two wheel housings was what appeared to be some kind of electric propulsion system. The only other clue to this one-off Cinquecento was a small front license plate with the word "elettra" in raised silver letters on a dark gray background.
There was nothing else that even gave a hint as to what it might be.


Earlier this year, on February 4th during the annual NADA (National Automobile Dealers Association) convention in Las Vegas, Chrysler CEO Sergio Marchionne confirmed that the company was developing an electric version of the Fiat 500 in a tweet that read thusly:
"At Chrysler, we are working on an electric version of the Fiat 500 that we'll begin manufacturing later this year."


It seems that production of what is officially the 500e is right on schedule, for on Monday Chrysler released the first official images of the newest 500 and issued the following statement:


The all-new battery-electric Fiat 500e brings Italian flavor to the electric vehicle market with a unique combination of iconic 500 design, performance and range. The zero-emission Fiat 500e will premiere on the "green carpet" of the American Music Awards on Sunday, November 18, and will be showcased to the general public for the first time at the 2012 Los Angeles Auto Show. The Fiat 500e will be available in the state of California in 2013.


Pricing
While it looks as if California's Fiat new car dealers will be given first crack at selling the diminutive electric, little else, including new car pricing, is known at this time.


Stay tuned, as we will have more information and new images of the 500e from next week's LA Auto Show.