Small cars to dominate the Chevy exhibit at the 2011 SEMA Show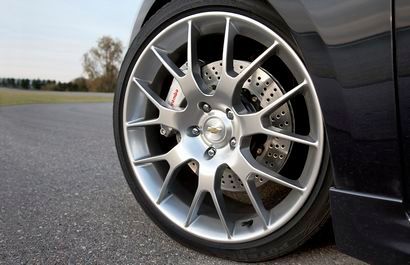 Getting small
If early press releases are indication, Chevrolet's exhibit at this year's Specialty Equipment Market Association will pay homage to its performance past but is also heavily weighted in favor of its current lineup of small over 30 mpg cars.
"When you look around the SEMA Show, the imprint of the Chevrolet bowtie is impossible to ignore – from the show cars to the manufacturer displays offering countless parts and accessories," said Chris Perry, vice president, global marketing and strategy for Chevrolet. "The brand has inspired and delivered on the automotive dreams of millions over the decades. We embrace that heritage and are working harder than ever to build on it."
SEMA will also see the public debut of Chevrolet Performance, a new entity that has been created by bringing together Chevrolet Racing, GM Performance Division and GM Performance Parts.
According to Jim Campbell, General Motors US vice president of Performance Vehicles and Motorsports, "Chevrolet Performance will be the conduit for performance vehicles, parts and motorsports sponsorships to market the vehicles, parts and accessories that enthusiasts want and dream about."


The cars
Chevrolet's display at SEMA will consist of:
A slew of personalized and performance-modified small cars, with no fewer than 12 Sonic models and a pair of Cruze sedans
A number of Camaros and Corvettes representing "Chevrolet's traditional performance heritage –   rooted in the words 'small-block V-8'"
A display commemorating Chevrolet's Centennial 100th anniversary, which, coincidentally, takes place on Nov. 3, during the SEMA Show
An additional display of 35 of Chevrolet's most important V-8 engines

Specific Sonic and Cruze models will include:
Sonic Z-Spec #1 – A turbocharged Sonic five-door with concept Z-Spec ground effects, spoiler, grille and graphics with a Torch Red exterior and 18-inch wheels with four-piston caliper performance brakes, a new high-flow exhaust system and performance suspension parts. A Cobalt Red cabin features perforated black suede seat inserts, sport pedals, shift knob and racing-style flat-bottom steering wheel.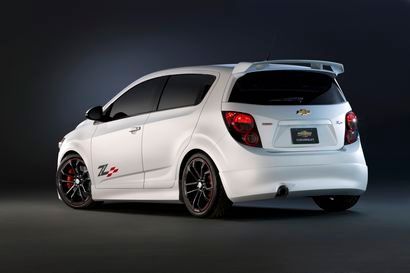 Sonic Z-Spec #2 – A second Sonic in Flat White with Torch Red accents comes with an even more aggressive ground effects package, unique grille, rear spoiler and graphics. Riding on 18-inch wheels it includes a re-trimmed interior with sport pedals, sport shift knob and a flat-bottom steering wheel along with Z-Spec logo custom racing seats. The powertrain features the 1.4L turbo engine mated to a six-speed manual transmission, while brakes with four-piston calipers, a high-flow exhaust system and upgraded suspension parts complete the package.


Sonic Z-Spec 4D Concept – Based on the Sonic sedan, this Ashen Grey Metallic concept starts with concept Z-Spec ground effects, rear spoiler, grille, "Chevrolet" graphics and 18-inch wheels. The interior is trimmed in Dark Titanium with Cobalt Red accents, a Z-Spec sport pedal kit, aluminum sport shift knob and a Cobalt Red suede flat-bottom steering wheel. Performance upgrades include four-piston caliper brakes, a high-flow exhaust system and suspension parts.


Sonic Dusk – This one features a Berlin Blue exterior with blue-tinted headlights, milder ground effects along with a unique grille treatment and 18-inch dark Galvano Silver alloy wheels. The Mojave leather interior comes with custom seat inserts, Z-Spec shift knob. sport pedals and accessory interior trim kit along with a suede-trimmed, flat-bottom steering wheel, custom audio system and brake and suspension upgrades.


Cruze Z-Spec – Ground effects, 18-inch wheels, a spoiler and a high-flow grille give this Cruze "the looks and feel of a taut touring car." The exterior features a stripe package, while special seat inserts, racing-style pedals, an accessory shift knob and a new steering wheel complete the interior mods.


Cruze Dusk – Like the Sonic Dusk concept, the Cruze version includes a mild ground effects package, a unique grille treatment and dark-tinted wheels. The interior has custom seat inserts, accessory shift knob, sport pedals, interior trim kit, a suede-trimmed steering wheel and a custom audio system.