We finally get the Honda Civic we wanted in the first place
Pros:
Smooth engine and transmission
Comfortable ride
Fit and finish, ergonomics
Cons:
Road noise
Average handling
Clockwork changes
Japanese manufacturers have been responsible for a number of innovations not the least of which is the regularity of a mid-cycle vehicle refresh between major model changes.
Honda, for one, followed this schedule like clockwork until December of 2012 when it set about addressing a rare misstep - misjudging the marketplace and bringing out a de-contented vehicle at a time when competitors were upping the ante, big time, in the compact segment.
I had a chance to evaluate a top-of-the-line 2012 Civic EX back in August of last year and, quite frankly, found it to be a major disappointment. Although fit and finish was generally impressive, the materials used in the interior were hard and plasticky, the dashboard looked clunky and the rear suspension had a penchant to move laterally when it encountered washboard road surfaces.
I also criticized a number of styling touches and questioned "the same horizontal-bar grille treatment as the Accord sedan and Odyssey minivan. Instead, how about giving it a version of the grille used on the Si sedan or any of the coupe models?"
Fortunately, as the saying goes: that was then and this is now.


2013 Honda Civic EX-L sedan
The 2013 Honda Civic EX sedan weighs 2855 lbs., an increase of 90 pounds over the 2013 model largely the result of a beefed-up front structure and more standard equipment. It's also longer by nearly 2 inches to 179.4 due to alterations in the front and rear fascias. Other dimensions remain unchanged: a wheelbase of 105.1 inches a height of 56.5 inches, a width of 69 inches and front and rear tracks of 59 and 59.9 inches, respectively.
The engine is also a carryover from 2012: an all-aluminum, SOHC 1.8-liter inline four that produces a less-than-breathtaking 140 horsepower and 128 lb.-ft. of torque.


Exterior
Although it doesn't necessarily sizzle, changes to the Civic's exterior improve upon much of the drabness present in the 2012 model – styling that I characterized at the time as being "more evolutionary than revolutionary in a segment that's now filled with a number of cutting-edge designs."
In back, the squarish taillamp design of the 2012 model has given way to a more horizontal shape whose lower half continues across the restyled trunk lid until it reaches the license plate binnacle. The trunk, itself, is brightened considerably by a bright chrome horizontal trim strip that bisects its entire width.


The updated Civic's sides and fenders are unaltered, but the hood has been given more sculpting. Mercifully, the issue regarding the snoozer of an Odyssey-inspired front end has also been addressed. In its stead is – surprise – a larger honeycomb grille reminiscent of the sportier Si – huzzah! The more aggressive lower air intake also gets a tie-in with the deck lid and sports a stylized bright chrome horizontal trim strip.


Interior
Inside the changes are better and even more apparent.
To begin with, the dashboard was completely reworked – couched in what Honda terms a "revised textures and panel junctions." Gone is the ill-fitting, hard plastic, multi-sectional upper dash replaced by a more contemporary unit that not only features soft-touch surfaces but elegant-looking stitching on the lower panel.


In addition, the clunky add-on look of the previous infotainment system has been supplanted by a new i-MID display with new standard features including Honda's Bluetooth HandsFreeLink, Bluetooth audio and a rearview camera.
The soft-touch materials, along with new metallic accents, continues along the upper door trim panels so that, once again, the materials as well as the interior fit and finish of the Civic can be termed "excellent."


As in the 2012 model the two front seats, in particular, are very comfortable. There is plenty of headroom in front and in back and rear seat passengers are treated to 36 inches of legroom.
In typical Honda fashion, all controls are within easy reach of the driver, are very intuitive and operate smoothly. I was able to pair my iPhone to the Civic's Bluetooth system in less than a minute without having to consult the owner's manual.


Cargo volume, which remains the same at 12.5 cubic feet, is just average while the rear seats (with a center armrest featuring 2 cup holders) offer plenty of room and also split and fold flat.
Finally, I have two additional observations about the interior.


Just as in the first go-round the two-tier dashboard layout takes a bit of getting used to but, once acclimated; I ended up appreciating the fact that I could view speed as well as a number of other functions without having to take my eyes off the road.
Secondly, credit should go to Honda for the quick execution of what is much more than a re-style. The overall interior ambience is more luxurious - even the "Econ" button no longer looks out of place.


Equipment
Like other Honda models, rather than rely on option packages Civics come in a number of trim levels that, as they rise in price are pre-packaged with an ever-increasing amount of standard features. In the case of the 2013 Civic sedan comes in a total of five different trim configurations – with only the bottom trim offering the availability of a manual transmission.
To begin with, for the 2013 model year Honda has done away with the "base" DX trim level.


As such, the new entry model, the LX, features six airbags, power windows, driver's seat height adjustment, electric steering, tilt and telescopic steering column, ABS and stability control. Also standard a multi-information display with TFT color screen, rearview camera with guidelines, air conditioning, USB and auxiliary input jacks, Bluetooth, illuminated steering wheel-mounted cruise, audio, phone and i-MID functions and an AM/FM/CD audio system.


There are four versions of the upper-trim EX. All get 16-inch alloy wheels, rear disc brakes, a power moonroof and automatic climate controls. The EX-L adds fog lights, automatic headlights and leather to the seats and steering wheel while heating the front seats and outside mirrors. The EX with navigation (and sans leather) adds a navigation system with voice recognition and illuminated controls for it on the steering wheel, satellite radio and FM traffic.
Finally, the EX-L with navigation gives you everything.


On the road
Even the newest Civic offers little in the way of sporting pretensions. That being said it should be noted that Honda has performed yeoman's work in transforming its road manners.
Taking advantage of the opportunity and in anticipation of the new narrower-offset crash testing, Honda beefed-up the Civic's front structure with its new ACE II system, constructed of 55-percent high-strength steel and providing a stiffer structure for a number of chassis upgrades.


Stiffer wheels and front springs and a new front stabilizer bar with Teflon-lined mountings allow for flatter cornering. The rear suspension also gets a thicker stabilizer bar, increased spring rates and reworked suspension bushings to increase both bump and roll-motion stiffness.
Meanwhile, Honda also re-worked the electronic power steering system for reduced friction and a quicker steering ratio.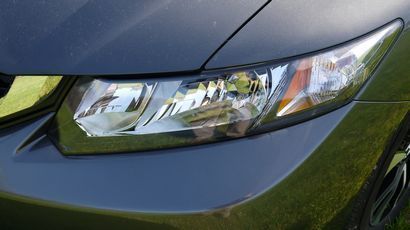 The results are nothing short of eye-opening. The suspension no longer has a problem with washboard surfaces while the overall handling feels more connected. There is none of the jitteriness of the outgoing model and the Civic's ride now feels both luxurious and well-controlled at the same time.
The cabin is also quieter as the result of additional insulation and thicker glass and although both road and tire noise are still apparent it's not nearly as offensive.


Pricing
Manufacturer suggested retail pricing, including the $790 destination charge, begins at $18,955 for a manually-equipped LX sedan and tops out at $24,555 for a 5-speed automatic-equipped EX-L sedan with navigation – a figure that matched precisely the bottom line of our Polished Metal Metallic tester.


The Bottom Line
The fact is that the 2013 Civic is what I, as well as practically every other tester in North American, expected from Honda all along. Honda, however, had only itself to blame when a less-than-acceptable model was introduced. By setting the bar ever higher for each succeeding generation and pushing the industry in that same direction, the 2012 Civic was, in a sense, a victim of its own success.


But the values of dependability, reliability and resale value are no longer enough in today's crowded compact car segment. Other manufacturers have been nipping at Honda's heels and, in the case of the previous Civic, surpassed it in a number of areas.
So kudos to Honda for realizing this and taking decisive action: the resulting 2013 Honda Civic is better in every way and, once again, should be at or near the top of every buyer's list.