These were the headlines when Ford, in a recent press release, announced plans to realign much of its North American operations in response to weak demand for large trucks and SUV's and strong sales of its compact Focus models.
Where is Casey when we need him?
I believe it was the famous Bard from the Bronx that made the following statement: "It's déjà vu all over again." Yes, Mr. Stengel, it certainly is. For those of us present during the 70's, it's hard to believe that, once again, the domestic manufacturers were caught flat-footed when oil prices took a sudden jump. And yet, here we are in a very similar situation 30 years later.
It is important to note that the domestics weren't the only ones that drank the SUV Kool-aid. Both Toyota and Nissan took long draughts of the liquid, while even perennial small-car manufacturer Honda kicked in with the Pilot and Acura MDX. The Japanese were also joined by the Germans as Mercedes-Benz, BMW and even Volkswagen introduced large, gas-guzzling SUV's into the U.S. market.
But while the German and Japanese manufacturers also brought much of their European small-car goodness to America, both G.M. and Ford kept their domestic and European markets separate. With the exception of the original Focus, Ford, in particular, shied away from bringing any of its contemporary small cars across the pond from the mid 90's, due to the less than stellar success of the Contour sedan.
That, as they say, was then. In a recent press release, the company outlined the steps that it will take to regain profitability within the next few years:

DEARBORN, Mich., July 24, 2008 – Ford Motor Company [NYSE: F] today announced a significant acceleration of its transformation plan with the addition of several new fuel-efficient small vehicles in North America and a realignment of its North American manufacturing.
The actions represent a considerable shift in Ford's North American product plans and investments toward smaller vehicles and fuel-efficient powertrains in both the near- and mid-term in line with rapid changes in customer buying preferences. In addition to bringing six small vehicles to North America from the company's acclaimed European lineup, Ford is accelerating the introduction of fuel-efficient EcoBoost and all-new four-cylinder engines, boosting hybrid production and converting three existing truck and SUV plants for small car production, beginning this December.
"We continue to take fast and decisive action implementing our plan and responding to the rapidly changing business environment," said Ford President and CEO Alan Mulally. "Ford is moving aggressively using our global product strengths to introduce additional smaller vehicles in North America and to provide outstanding fuel economy with every new product."
Of particular interest to small car enthusiasts are Ford's plans to accelerate small car and small engine development for the North American market, with no less than 6 small vehicles being brought over from Europe. While 3 of them were set in stone before this story developed (the Transit Connect, Fiesta sedan and Fiesta hatchback), Ford mentioned only one (the European Focus) of the 3 remaining vehicles it plans on selling here.
Accelerating New Products
Ford is adding several new North American products in the near- and mid-term, and shifting from a primary emphasis on large trucks and SUVs to smaller and more fuel-efficient vehicles. By the end of 2010, two-thirds of spending will be on cars and crossovers – up from one-half today."
European Ford Fiesta

"We are accelerating the development of the new products customers want and value," Mulally said. "We sell some of the best vehicles in the world in our profitable European and Asian operations, and we will bring many of them to North America on top of our already aggressive product plans."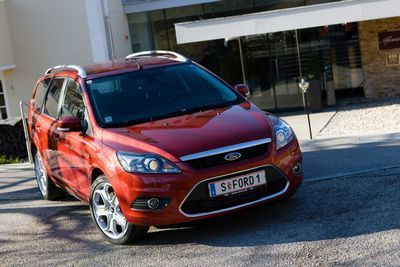 European Ford Focus Wagon

The new products include six European small vehicles to be introduced in North America by the end of 2012. Ford's acclaimed European products are set apart by their world-class driving dynamics, exciting design and outstanding quality.
Ford Transit Connect

"While we have no intention of giving up our longtime truck leadership, we are creating a new Ford in North America on a foundation of small, fuel-efficient cars and crossovers that will set new standards for quality, fuel economy, product features and refinement," Fields said.
The Ford, Lincoln, Mercury line will be almost completely upgraded by the end of 2010, including:
•    2009 Ford F-150, on sale in late fall with the most capability, most choice and most smart features of any full-size pickup, and with more than a 7 percent fuel economy improvement
•    2010 Ford Fusion, Mercury Milan, Lincoln MKZ sedans, on sale in early 2009, with Fusion's and Milan's four-cylinder fuel economy expected to top Honda Accord and Toyota Camry
•    2010 Ford Fusion Hybrid and Mercury Milan Hybrid, beginning production late this year and on sale in early 2009 – with fuel economy expected to top the Toyota Camry hybrid
•    New Ford Mustang – coupe, convertible, and glass-roof models – in early 2009
•    New Ford Taurus sedan – with EcoBoost engine and even more advanced safety and convenience technologies – in mid-2009
•    New European Transit Connect small multi-purpose van in mid-2009
•    New Lincoln seven-passenger crossover – with EcoBoost engine – in mid-2009
•    New European Ford Fiesta, in both four- and five-door versions, in early 2010
•    New European Ford Focus, in both four- and five-door versions, in 2010
•    New Mercury small car in 2010
•    New European small vehicle that will be a "whitespace" entry in North America in 2010
•    Next-generation Ford Explorer – with unibody construction, EcoBoost, six-speed, weight savings and improved aerodynamics for up to 25 percent better fuel economy – in 2010
With every new product, Ford expects to be the best or among the best for fuel economy. This is aided by one of the most extensive powertrain upgrades ever for Ford. By the end of 2010, nearly all of Ford's North American engines will be upgraded or replaced. In addition, within two years, nearly all of Ford's North American lineup will offer fuel-saving six-speed automatic transmissions.
Coming in 2009 are the first applications of Ford's new EcoBoost engines. EcoBoost uses gasoline turbocharged direct-injection technology for up to 20 percent better fuel economy, up to 15 percent fewer CO2 emissions and superior driving performance versus larger-displacement engines.
EcoBoost V-6 engines will be introduced on several vehicles next year, beginning with the Lincoln MKS and Ford Taurus sedans, and Ford Flex crossover. Four-cylinder EcoBoost engines will debut in 2010 in both North America and Europe. Ford will offer EcoBoost on more than 80 percent of its North American lineup by the end of 2012.
Ford also plans to double capacity for North American four-cylinder engines to more than 1 million units by 2011, to meet the consumer trend toward downsized engines for fuel economy. The smaller engines will deliver significant fuel savings.
In addition, Ford plans to double its hybrid volume and offerings next year – and is looking to expand further going forward. Production of the all-new 2010 Ford Fusion Hybrid and Mercury Milan Hybrid begins in December – with fuel economy expected to top the Toyota Camry hybrid.
With these new models, the Ford Escape Hybrid – now in its fifth year of production – and the Mercury Mariner Hybrid, Ford will offer four hybrid vehicles. That will make Ford the largest domestic producer of full hybrid vehicles in North America, second only to Toyota in sales volume.
Ford also is introducing six-speeds with PowerShift that offers the fuel economy of a manual transmission and convenience of an automatic; start-stop engines that shut off when the vehicle stops; electric power steering; direct injection, and Twin Independent Variable Cam Timing engines. These technologies will be progressively introduced within the North American lineup by 2012.
"One Ford"
Driving Ford's product transformation is the company's "One Ford" global product development vision, which will deliver more vehicles worldwide from fewer core platforms, further reduce costs and allow for the increased use of common parts and systems.
In the next five years, Ford will build more than 1 million vehicles a year worldwide off its global B-car platform and nearly 2 million units worldwide off its global C-car platform.
"Ford is investing most where consumer growth is taking place – and that's in highly fuel-efficient global small cars," said Derrick Kuzak, Ford group vice president of Global Product Development. "One of every four vehicles in the world today is a 'C' or Ford Focus-sized vehicle, and we expect the segment to grow more than 20 percent to 6 million units in North America and Fiesta competes."
With Ford's global product development plan, all of the company's vehicles competing in global segments will be common in North America, Europe and Asia within five years. In addition to B- and C-sized small cars, the company's Fusion- and Mondeo-sized C/D cars and utilities will be common globally. The same will be true for commercial vans.
Ford said it is uniquely positioned to take advantage of its scale, already acclaimed global products and the strength of the Ford brand around the world to respond to the current changing marketplace and to begin to grow profitably. The company said its success in growing market share and profits with smaller, more fuel-efficient vehicles in Europe is now the template around the world.
"We remain absolutely committed to creating an exciting, viable Ford going forward – and to transforming Ford into a lean global enterprise delivering profitable growth over the long term," Mulally said. "We continue to make progress on every element of our transformation plan, and we are taking decisive steps in the near term to ensure our long-term success."