A week spent in the best selling model from the Millennial brand of Toyota
Pros:
Styling
Standard equipment
Fuel economy
Cons:
Steering feel and ride – especially in back
Road noise
Rear visibility
Scion scores a coupe
Scion's sporty coupe, the tC, debuted in production form at the 2004 North American International Auto Show and went on sale in June of that year. As the one relatively mainstream-looking Scion – its stable mates specialize in "quirky" - it also accounts for nearly a third of division sales, making it an important model, indeed.
The original version was given a mild refresh for the 2008 model year while October of 2010 marked the rollout of the second-gen version as a 2011 model.
Earlier this year Scion introduced a third-generation tC that will reach dealerships sometime this summer, so we thought it time that we finally had a look at the one preceeding it.


2013 Scion tC
Taking a broad look at the sport coupe, I found it to be both affordable and well-equipped. Unlike its Scion stable-mates which range from the sublime (the xD) to the ridiculous (the iQ), the tC is more mainstream both in looks and appeal.
For the second generation model, Toyota gave its sporty coupe an all-new engine with two new transmissions to choose from, larger wheels, wider tires and new sheetmetal.
Let's have a look at all of it.


Exterior
Styling for the 2013 Scion tC is based on the Calty-designed Scion FUSE concept. According to Toyota, designers were inspired by, and I quote, "the athletic look of a racing helmet."
Those of you who have ever worn an actual racing helmet have no doubt noticed that, once placed on your head, there's no getting around a somewhat claustrophobic feeling due to the narrow opening .
This look and much of the same feelings are present in the tC (although the large sunroof helps alleviate this a bit). While the overall look is aggressive, there are drawbacks to it as well – but more on that later.


Up in front, the tC sports what has become de rigueur for sporty vehicles – a rather narrow upper grill flanked by equally narrow headlamp enclosures while, below a central horizontal band, sits a much larger and more aggressive lower air intake bracketed by a pair of fog lamps.
To its credit, Scion has specified projector lamps for the main beams, while the turn signals feature repeater LED lamps in the outside rearview mirrors.
A pronounced A-line begins at the upper edge of the headlamp enclosures and traces its way, roughly three inches below the beltline, to the trailing edge of the rear quarter windows where it splits. One line continues to the upper edge of the rear taillamps while the second kicks up at nearly a 45 degree angle and follows the lower edge of the quarter windows where they end midpoint on the C-pillar.


Other than a mild character line at the lower door sill, the tC's flanks are fairly plain, aside from fairly aggressive front and rear fender well arches.
The back of our tester was made more interesting with the optional high profile rear lip spoiler, while the roof is dominated by the standard glass sunroof and overly-large backlight. Noticeably absent is a rear wiper for all of that gently-raked rear glass real estate.


Interior
Inside, front passengers will find nicely-bolstered seats covered in a durable-feeling fabric and trimmed in gray with geometric-patterned seat inserts.
The dashboard as well as other trim is simple and straightforward, although the fit and finish of both appears to be a bit below traditional Toyota standards and there is a plethora of hard plastics.


The door sill features a "Scion" logo that, on our tester, featured optional green illumination.
The nicely-shaped steering wheel, which is wrapped in leather, has a flat bottom for better leg clearance and tilts as well telescopes.
It also contains rocker controls for the audio system including volume, station up/down and a mode button. This is a  well and good, but at night these buttons don't illuminate – something I found both annoying and puzzling given the geeky green "Scion" door sill illumination. Why feature a lit door sill when you can't even check the remote radio buttons at night?


Speaking of night illumination, the window switches on the doors also aren't illuminated – a gross oversight in my opinion especially for a vehicle that retails for over nineteen large in base trim.
Getting back to the interior, drivers will find plenty of head, shoulder, and leg room. On the other hand, there is no height adjustment for the front seat belts so that short drivers may find the belts too high, while taller drivers may find them tugging down on their shoulders.
The back-lit instrumentation is clear and easy to read, with a tach to the left, a speedo to the right and a fuel gauge between the two. Both outboard gauges are deeply recessed and easy to read in bright sunlight.


The same, however, can't be said for the infotainment system that, despite its 300 standard watts and 8 speakers features the same annoying Scion icon-based system lacking even an analog tuning knob. Like pretty much every other Scion, although it features iPod connectivity, Bluetooth and HD radio technology, there's nothing entertaining about trying to figure out the cryptic symbols.
Mercifully, the HVAC controls are also straight out of the Scion parts bin and consist of three rotary knobs: air delivery/recirculation, fan speed/rear defrost and temperature/AC.
The small center console contains the shifter, USB/Aux port, traction control off switch and two cup holders as well as a storage bin with a top that serves double duty as an inner arm rest.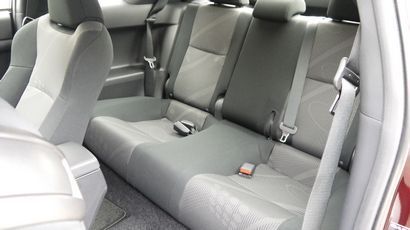 As for the back seats, they're a bit low and head room getting in and out is limited. Ducking sometimes worked, but on a couple of occasions opening the sunroof offered the best solution. Rear seat passengers also complained of an even rougher ride than those in the front pair of seats. A big plus, however is that they can be folded in a 60/40 split with a low liftover height under the huge hatchback.
I should also note that I was able to pair my iPhone to the tC's Bluetooth system; although, given its icon-based system, I spent a good deal of time referring to the owner's manual in order to accomplish this.


Sitting in the driver's seat, forward visibility is generally good. Looking over your shoulder our out the back, however, is an altogether different story as the large B-pillars and steeply raked rear window hinder views to the side and cut down on the view out the back.


Under the hood
As part of its refresh in 2011 the tC was the recipient of an all-new 2.5-liter inline four that offers both dual variable valve timing and a variable-induction intake manifold.
The new engine produces 19 more horses than the previous model, 180, and 11 additional lbs.-ft. of torque for a total of 173. This engine can be coupled to either a six-speed manual or six-speed automatic transmission – both also part of its refresh. The engine is rated by the EPA at 23 city, 31 highway and 26 combined mpg. My observed fuel economy in primarily city driving was a commendable 27 mpg.


On the road
As for the tC's road manners, the biggest disappointment is that its svelte lines write a check that its suspension can rarely cash. While overall handling is decent enough in most situations, quick steering motions can result in a jittery ride even on smooth surfaces. When those surfaces get rough, however, suspension isolation can break down and rear seat passengers, in particular, can find that the going quickly gets uncomfortable. The steering wheel also exhibits a bit of on-center numbness. At the same time, both engine and road noise can be fairly intrusive.
On the flip side, toss the tC into a corner and you'll be rewarded with very little body lean while steering weight builds progressively. The six-speed manual on our tester shifted smoothly, although it was not nearly as short or precise as that of the FR-S.


Equipment
Other than the occasional special edition, tC's come in just one flavor, albeit with a fairly extensive standard feature list. These goodies include air conditioning, keyless entry, power locks, mirrors and windows with one-touch driver's up/down.
Also standard are handsome 18x7.5-inch seven-"split" spoke alloy wheels wrapped in Yokohama Avid 894 P225/45R18 tires.


The tC also comes with a total of 8 airbags including driver and front passenger, driver and front passenger seat-mounted side airbags, front and rear side curtain airbags and driver and front passenger knee airbags.
Also standard is stability and traction control, 4-wheel disc brakes with ABS, electronic brake-force distribution, brake assist and Toyota's smart stop technology.


Pricing
The tC has an MSRP for 2013 of $18,725 and can top out at close to $28,000 with a number of port installed TRD goodies. Our Sizzling Crimson Mica tester came with the optional Bespoke premium audio system ($845), carpeted floor and cargo mats ($184), cargo net (($55), as well as the aforementioned fog lights ($340), illuminated door sills ($375) and high profile real lip spoiler ($444). Adding its $755 delivery, processing and handling fee meant that our tester checked in at precisely $21,723.


The Bottom Line
So here, as I see it, is the bottom line.
On the upside, the tC is a sporty-looking coupe that is well-equipped, affordable, versatile (given its hatchback) provides good acceleration, overall good handling and above-average fuel economy.
All is not perfect, however, as plenty of engine, road and tire noise intrudes into the cabin, the ride can get choppy over rough surfaces while rear seat passengers, in particular, will find ingress and egress challenging and, at times, an uncomfortable ride over those aforementioned roads.
But if they can keep the passenger list for the most part down to two, buyers will find the tC to be a stylish coupe that, because it's a Toyota, should prove to be reliable over the long haul.