A week in which we bid farewell not only to its sporty coupe, but also to Scion, itself.
Pros:
Styling
Standard equipment
Hatchback versatility
Cons:
Steering feel
Road noise
Hard plastic interior trim
Scion tC
Earlier this month, Toyota announced that it would terminate its Scion brand and re-badge the iM hatchback, iA sedan and FR-X sports coupe as Toyota models. Both the boxy xB wagon and tC coupe, per earlier disclosures, will be phased out at the end of the 2016 model year. So with the tC's run nearly at an end and a last example of one for a week, we commenced a journey down memory lane
Scion's original sporty coupe made its debut at the 2004 North American International Auto Show and went on sale in June of that year as a 2005 model. It went on to become the brand's volume leader in addition to attracting what Toyota says is the youngest median age buyers in the industry, at 28 years old.
2016 Scion tC
The second-generation tC was rolled out in October of 2010. While it was based on the same platform, it featured a new interior, all-new sheetmetal, a new engine, larger wheels and a wider track.
2016 Scion tC exterior
The second-gen model was given a facelift for the 2014 model year, receiving a healthy dose of FR-S, at least in the looks department. Exterior changes included a new hood, which was both longer and lower, sloping down to a narrower upper intake and a larger, more aggressive trapezoidal-shaped lower grille. The bumper became more muscular-looking, the headlights became narrower, while the outboard faux brake cooling ducts now featured vertical LED accent lighting.
The side sheetmetal remained unchanged, but the 18-inch wheels now are finished in dark gray paint with machined spoke surfaces.
The rear fascia features a larger and more aggressive rear bumper, narrower, clear taillamp lenses housing LED tail lights and a blacked-out lower rear valance bracketed by recessed vertical reflector housings.
Since it's the final model year, as you would expect very little has been done to the 2016 tC's exterior. That is true; save one feature we always felt was lacking and which finally now appears: a rear wiper for all that gently-raked rear glass real estate. Boo-rah!
2016 Scion tC interior
Inside, passengers will find the same nicely-bolstered seats covered in upgraded materials – a dark solid for the headrests and bolsters with a lighter pinstripe fabric for the seat inserts.
There is plenty of head, shoulder, and leg room for the driver and front passenger, but all is not perfect. In this case there is no height adjustment for the front seat belts so that short drivers may find the belts too high, while taller drivers may find it tugging down on their shoulder. As for the back seats, they're a bit low and head room getting in and out is limited. Ducking sometimes works, but on a couple of occasions opening the sunroof offered the best solution for rear passenger ingress and egress. A plus is the fact that the back seats can be folded in a 60/40 split. That, along with with a low liftover height, gives the tC quite a bit of hauling versatility.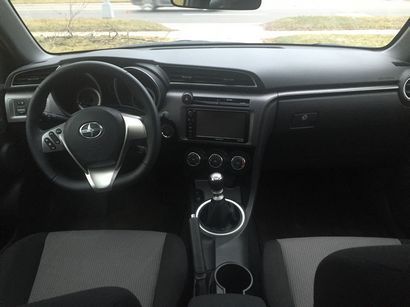 The dashboard, itself, is unchanged and remains simple and straightforward. Toyota also left the dash and door trim pieces alone, and while it's nicely grained it's the same plethora of hard plastics that's been upstaged by most vehicles in this class.
The nicely-shaped, leather-wrapped steering wheel (the shift knob also gets wrapped in cow for 2016) features a flat bottom for better leg clearance and tilts as well telescopes. It contains rocker controls for the audio system including volume, station up/down and a mode button - all well and good, but at night these buttons (along with the power window switches) don't illuminate, particularly annoying in a vehicle in this price range.
On the other hand, the back-lit instruments are clear and easy to read, with a tach to the left, a speedo to the right and a fuel gauge between the two. Both outboard gauges are deeply recessed and easy to read in bright sunlight.
The HVAC controls, straight out of the Scion parts bin, are unchanged and consist of three rotary knobs: air delivery/recirculation, fan speed/rear defrost and temperature/AC. The small center console contains the shifter, USB/Aux port, traction control off switch and two cup holders as well as a storage bin with a top that serves double duty as an inner arm rest.
Additional interior changes for 2016 include a center console tray cover forward of the shifter, and chrome plating for the interior door handles.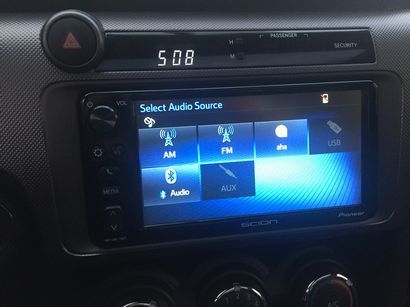 Sitting in the driver's seat, forward visibility is generally good. Looking over your shoulder our out the back, however is an altogether different story as the large B-pillars and steeply raked rear window hinder views to the side and cut down on the view out the back.
The 2014 update also addressed another glaring problem: the lack of a combination power/volume knob on the radio. For 2016, a new standard Pioneer audio system includes a 7-inch touchscreen along with iPod connectivity, Bluetooth, HD radio technology and the Aha app.
Under the hood
All tCs come equipped with a 2.5-liter inline four that offers both dual variable valve timing and a variable-induction intake manifold generating 180 horsepower and 173 lb.-ft. of torque. It's mated to either a 6-speed automatic or, as in the case of our tester, a 6-speed manual transmission. Fuel economy, according to EPA estimates, is 23/31/26 city/highway/combined mpg. Our observed fuel economy in primarily city driving was a reasonable 26.3 mpg.
On the road
For 2014, Toyota also went about enhancing body rigidity, steering response and suspension compliance. These improvements were accomplish with additional spot welds, retuning the electronic power steering, recalibrating shock damping and modifying the hardware associated with the stabilizer bars and suspension.
The result is kind of a mixed bag. On the plus side, the ride feels very compliant on smooth surfaces, while large bumps and uneven road surfaces only slightly upset its demeanor (although rear seat passengers complained of a rougher ride than those of us in the front pair of seats). Toss the tC into a corner and you'll be rewarded with very little body lean On the other hand, while the six-speed manual on our tester shifted smoothly, its throws are on the longish side and the clutch pedal has more travel than we'd prefer. In addition, the steering remains annoyingly numb at all speeds and while engine noise is now less intrusive, road noise, especially at higher speeds, remains an issue.
Equipment
Other than the occasional special edition, tC's have always come in just one flavor, albeit with a fairly extensive feature list. These standard goodies include air conditioning, keyless entry with push button start, power locks, mirrors (with LED turn signals), and windows with one-touch driver's up/down and a panoramic tilt and slide sunroof.
In the safety department, the tC comes with a total of 8 airbags including driver and front passenger, driver and front passenger seat-mounted side airbags, front and rear side curtain airbags and driver and front passenger knee airbags. There's also stability and traction control, 4-wheel disc brakes with ABS, electronic brake-force distribution, brake assist and Toyota's smart stop technology.
2016 Scion tC prices
The latest Scion tCs is fairly affordable as long as you stay away from the more expensive bits in the TRD performance bin. On top of a base price of $19,385, our Cement (that's right) flavored tester came equipped with carpeted floor mats and a cargo mat ($164), lower body graphics appliqué ($130) and fog lights ($340). Add to that a $795 delivery, processing and handling fee meant that it checked in at precisely $20,834.
The Bottom Line
Following its latest refresh, we found the even sportier-looking tC to be a well-equipped, versatile hatchback with decent acceleration, improved handling, a better ride and above-average fuel economy.
But we can also see why Toyota has chosen to axe it. There's still an abundance of engine, road and tire noise in the cabin, the ride still gets choppy at the limit, the rear seat is nearly as unusable as that of the FR-S and, let's be honest, the rest of the C-segment has not only caught up, but also passed what was once Scion's best-selling model.
But despite the fact that it's headed into the sunset, even now buyers shouldn't be too worried about resale value. Because it's a Toyota it, and other Scions (which, by the way, will continue be serviced by Toyota dealers), should not only prove to be reliable, but also maintain resale values over the long haul.