The 2014 Mazda3 loses its smiley face while improving upon its Zoom Zoom heritage
Pros:
Handling
Fuel Efficiency
Interior quality and exterior styling
Cons:
Road and wind noise
Rear seat room
Softer ride
The Mazda3
Since its inception in 2003, Mazda's compact has been something of a revelation, as well as a conundrum, in its segment. How else can you explain the fact that despite the 3's excellent handling and fuel economy, it still manages to get outsold (104,713 in 2013) by the likes of the Chevrolet Cruze, Hyundai Elantra and Nissan Sentra? Even the turd Dodge foists upon buyers known as the Dart was within relative spitting distance (22,000 sales) of beating out the Mazda last year.
You'll notice we didn't mention the word "styling" in the above paragraph. The fact is, we could've almost forgiven buyers for taking a pass on the second-gen model if for nothing other than its offensive front fascia.
But starting here and now, there are no more excuses. We will hear none of it. The Mazda Mazda3 is back and it's better than ever.
2014 Mazda Mazda3 i Touring
If you enjoy driving great handling small cars you're in for a treat because this latest Mazda is the best one yet – and that's saying a lot. Driving dynamics aside, buyers have a number of decisions to make when it comes to specking one out.
To begin with, there's the choice of a hatchback or sedan. Both are elegant in their own way and, for once, the styling of the sedan rivals that of the hatchback. There are also two engine options and the choice of either a six-speed manual or six-speed automatic transmission (although the larger engine is only available with the automatic at this point).
The 2014 Mazda Mazda3 is also a complete re-design from the ground up. As such, both body styles ride on a 2.4-inch longer wheelbase and are wider by over an inch and a half. Despite the increase in wheelbase, both the sedan and hatchback are shorter overall – the four-door by half an inch and the five-door by 1.8 inches.


Engines
For 2014, two engine choices will be offered, both featuring Mazda's SKYACTIV suite of technologies that include direct injection, variable valve timing and a 13.0:1 compression ratio. The larger of the two is an all-new SKYACTIV-G 2.5-liter engine the produces 184 horsepower and 185 lb.-ft. of torque.


Our Liquid Silver Metallic tester was powered by the smaller SKYACTIV-G 2.0-liter engine generating 155 horsepower and 150 lb.-ft. of torque. Torque is up 2 lb.-ft. over last year as is the compression ratio (13.0:1 versus 12.0:1 for 2013). It was mated to a carryover six-speed automatic.
Speaking of engines, fuel economy is one of the high points of the Mazda3. Despite its great performance the EPA rates 2-liter models at a segment-leading 30 miles per gallon city and 41 miles per gallon highway. Even in fairly aggressive stop and go city winter city driving I averaged a surprising 32.5 miles per gallon.


Exterior
The Mazda faithful can now breathe a collective sigh of relief as the newest Mazda3 follows the company's new "Kodo" design language and is every bit as compelling as its big brother, the Mazda6.
Outside the newest Mazda in both hatchback and sedan versions is at the top of its class and looks as if it could easily cost thousands of dollars more than it does. The sedan is a seven-tenths version of the stunning Mazda6, while the hatchback looks even better in its new more sophisticated garb. Both benefit from the excising of the gaping "smile" up front.


Interior
The new look is made complete when you step inside the cabin. Like the outside, the interior is all new for 2014. It's well executed and tastefully done and starts with the nicest front seats this side of a pair of Recaros.


The new sense of style is also matched a much higher attention to detail than the outgoing model. Although there's a bit too much dust and scratch-attracting piano black trim for my tastes, all horizontal and many more vertical surfaces are now covered in soft-touch materials – accented by brushed aluminum trim around the instruments, air vents and shifter as well as on the steering wheel.


There's even a well-executed use of carbon fiber-look trim on the door switch surrounds and steering wheel spokes.
The gauges are straightforward and easy to read with a prominent center speedometer flanked by a tach and information center.


Our tester was equipped with the technology package which includes an easy to read 7-inch touchscreen with a console mounted control knob for scrolling through the menu functions. Another neat feature is the separate console-mounted knob for radio volume and mute.
For 2014 there's more hip, shoulder and legroom up front and even a bit more room in back, although room for more than 2 rear seat passengers is still tight. On the other hand, thanks to the low cowl and beltline and relatively narrow c-pillars, the driver's view out the front, sides, rear three quarters and back is all excellent. This is aided even more with a rearview camera that's part of the optional technology package.


Equipment
To simplify matters Mazda markets the 3 in two body styles and six trim levels. Only the four door sedan is available in base SV trim. Both sedans and hatchbacks (now just a $500 premium over the sedan) offers the choice of five additional trim levels – i Sport, i Touring, i Grand Touring, s Touring and s Grand Touring.


Our i 4-door Touring tester, just two rungs up the ladder from the base model, came standard with a slew of features including air conditioning, cruise control, power windows and door locks, power heated side mirrors, keyless entry with push button start as well as a leather-wrapped brake handle, shifter and steering wheel (with audio, cruise and Bluetooth controls) that both tilted and telescoped. Alloy wheels, rear decklid spoiler, variable intermittent wipers, a rear wiper and washer and window defroster were also standard.
Options on our sample included the Technology Package featuring a 7-inch color touch-screen, the aforementioned multi-function command control, rear-view camera, nav system, Bose speakers, Aha, Pandora and Stitcher, SMS text message delivery and reply, internet radio integration along with an AM/FM/CD/MP3 player with an auxiliary audio input jack.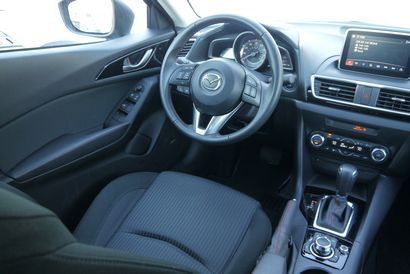 Finally, blind spot monitoring, rear cross traffic alert, dynamic stability control, ABS with EBD and brake assist as well as traction control and driver/passenger, side and front and rear side curtain airbags are also standard.


On the road
As Colin Chapman used to admonish, "Adding power makes you faster on the straights. Subtracting weight makes you faster everywhere" and in addition to the fuel economy figures, the i Touring makes the most of its 102 pound weight loss in other areas as well.
The Mazda3 is one of the best handling vehicles in the compact segment. The suspension is firm and well damped and the steering is direct with great feedback to the driver. Underfoot the brakes never grab and are easy to modulate. Toss it into a corner and the chassis remains firm and well-planted with little body lean. At freeway speeds it feels extremely stable and you know right where you are on the road. Mazda's compact is also hardly affected by crosswinds and it always tracks straight and true.


The engine never sounds buzzy even at full throttle, and the transmission moves through the six forward gears smoothly and effortlessly. The suspension soaks up minor road imperfections with aplomb, while even rough washboard surfaces hardly affect it.
As far as gripes go, there are few. For one, outside noise levels are only average for a vehicle in this class as there seems to be quite a bit of wind, road and engine noise in the cabin. For another, the suspension, though more compliant, seems just a bit softer than on the outgoing model – especially over rolling surfaces.


Pricing
2014 Mazda Mazda3 new car pricing, including a $795 destination charge, starts at a very reasonable $17,740 for a manually-equipped i SV 4-door and can top out at over $31,000 for a fully-equipped s Grand Touring 5-door with an automatic and all the extra bits.
Our automatic-equipped i 4-door Touring tester had a base price of $20,645. Adding the $1,600 Technology Package, $795 destination charge plus a $70 cargo mat and $125 worth of door trim plates brought the as-tested price to an affordable $23,245.


The Bottom Line
There isn't much not to like about the Mazda3 and the latest version accomplishes the disparate missions required of the best of the compact class - fuel economy, handling and performance - in nothing short of spectacular fashion.


Some might find its ride a bit on the firm side while it could use more room in the back seat and models with a lot of equipment can get pricey. The flip side is that it is fun to drive with great handling and the ugly smiley face of the previous generation is finally history.
The bottom line is this: with the new Mazda3, Mazda has upped the ante in the compact segment and buyers looking for style, performance and excellent fuel economy should put this car at the top of their shopping lists.