The original laundry list of vehicles vying for honors for this year's World Car Awards got a bit smaller this week.
2017 World Car Awards
2017 will mark the World Car of the Year Awards thirteenth year. It also heralds the last of the award programs that operate in conjunction, but not in affiliation, with the major (and minor) auto shows held here in the United States.
Although the World Car Awards ceremony is the last, it should hardly be considered the least. That's because it differs from the others - Commercial Green Car and Green Truck of the Year award at the San Antonio Auto & Truck Show, the Green Car of the Year awards at the LA Auto Show, and the North American Car, Truck, and Utility of the Year awards at NAIAS in Detroit - in one significant aspect. And that is, nominated World Car vehicles aren't required to be marketed here in North America. As such, the nominated vehicles in the various categories are frequently unfamiliar to American buyers.
This year, nominees for the awards fall into the five categories from last year - 2017 World Car, 2017 World Performance Car, 2017 World Green Car, 2017 World Luxury Car, and 2017 World Car Design of the Year. There's also a sixth category that has been added this year - 2017 World Urban Car.
The following lists will be paired down once more to the top three vehicles in each category. The results of that will be revealed on March 7th during the Geneva Auto Show. After yet another pause, the winners in each category will be announced on Thursday, April 13th during press days at the 2017 New York International Auto Show.
So without further ado, here, in alphabetical order, is the latest list of finalists:
2017 World Car
In order to qualify, the vehicle must be in production as well as available for sale on at least two continents during 2017. It also must, according to the committee, "excel in a broad range of attributes." The top ten finalists for this award are:
Audi A5 / S5 Coupé
Audi Q2
Audi Q5
Fiat/Abarth 124 Spyder
Honda Civic
Jaguar F-PACE
Mazda CX-9
Skoda Kodiaq
Toyota C-HR
Volkswagen Tiguan
2017 World Luxury Car
This is the fourth year for the World Luxury Car award which was "created to acknowledge higher-priced premium models selling in more limited numbers worldwide." Finalists this year are:
Bentley Bentayga
BMW 5 Series
Genesis G90
Mercedes-Benz E-Class
Volvo S90 / V90
2017 World Performance Car
Unlike the World Car, in order to qualify for the Performance Car, candidates for the award have to "demonstrate a specific and overt sports/performance orientation" while still satisfying the criteria of model production and availability. Vehicles in this category also must satisfy a minimum annual production rate of 500. The finalists for this category are:
Aston Martin DB11
Audi R8 Spyder
Honda / Acura NSX
McLaren 570s
Porsche Boxster Cayman
2017 World Green Car
Unlike the World Car and Performance Car categories, vehicles on this list only need to be available in one major market or more in 2017. Another difference: five experts in "green" technology review all vehicles on the list of nominees. The experts then create a short-list of finalists for review by the seventy-three jurors. This year's list includes:
Chevrolet Bolt
Honda Clarity Fuel-Cell Car
Hyundai Ioniq
Tesla Model X
Toyota Prius Prime
2017 World Urban Car
According to Beth Rhind, Executive Manager of the World Car Awards, cars nominated for this category must be "small (at least 3.3, but no more than 13 feet in length), clean, green, safe, quiet, flexible, fun; driver, pedestrian and cyclist friendly; affordable, comfy, capable of "motorway" speeds when being driven outside of urban areas, and able to fit in the 'narrowest of driving lanes' and the tightest of parking spaces above or below ground…or even on the side of apartments and offices."
BMW i3 (94 Ah)
Citroen C3
Ford KA+
Smart Cabriolet
Suzuki Ignis
2017 World Car Design of the Year
Taken from the broad list of World Car candidates, a panel of six judges is asked to review each one, then "establish a short list of recommendations for the jurors." This year, the finalists are:
Audi A5 / S5 Coupé
Jaguar F-PACE
Mazda CX-9
Mercedes S-Class Cabriolet
Toyota CH-R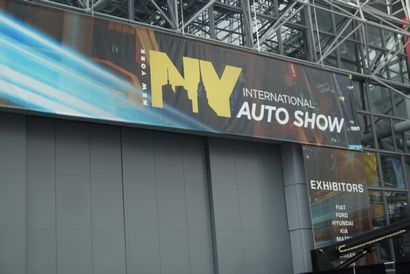 2017 New York Auto Show
Stay tuned for the live announcement, via Twitter, of the winners from the New York Auto Show on Thursday, April 13th.