Pros:
Aggressive good looks
Muscular V-6
Exceptional handling
Cons:
Smallish back seat
Middling fuel economy
Lacks the Stinger's versatility
2019 Genesis G70
All-new this year, the Genesis G70 dips into the corporate parts bin, sharing engines, a platform, and various other bits with the Kia Stinger. But it's a sedan, not a hatchback, and cedes nearly 6 inches overall and 2.8 inches in wheelbase to its corporate near-twin. The overall design and concept can be traced back to the Genesis New York Concept unveiled at the 2016 New York Auto Show, while the production version was introduced on September 15, 2017 at the Olympic Park in Seoul, Korea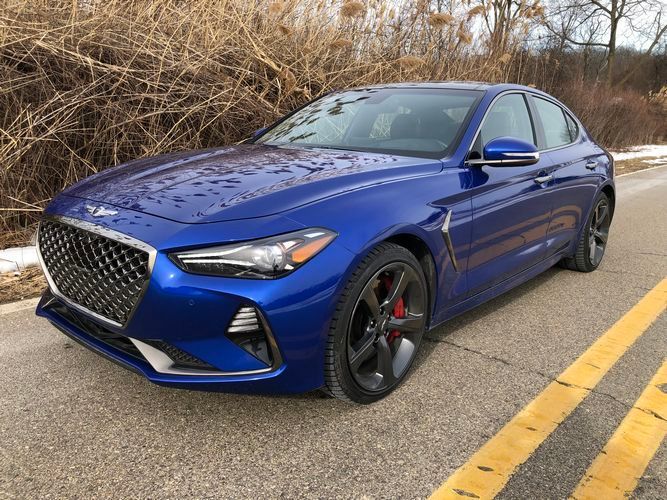 Exterior
Copping to the same slick design language as the larger G80, the end result is sumptuous, premium, and entertaining. It begins up front, with an assertive hexagonal mesh grille, narrow headlamp enclosures featuring inboard LED strips, and a liberal dose of strakes and intakes - the latter of which feed air to the front brakes. Short overhangs, a chiseled hood, a steeply raked windshield, and a dynamic roofline that tapers toward a turned-up trailing edge to the decklid defines the G70's side profile, with a exhaust duct behind the front wheel wells and lower body sculpting add depth.
The rear fascia, conservative by comparison, makes do with pair of triangular LED tail lights and a narrow, lower rear diffuser housing a pair of oval, outboard exhaust ports.
Interior
As striking as the sheetmetal surrounding it, the G70's interior offers an oasis of Bentley-inspired, diamond-tufted soft leather accented with brushed aluminum trim. The two-tier dashboard features stitched soft-touch surfaces, an instrument binnacle in front of the driver housing a 7-inch LCD display, and a central 8-inch touchscreen resting above an asymmetrical upper console that offers redundant buttons for the infotainment and climate control systems, and seat heat/cool functions. The dashboard and console controls are large, intuitive, easy to read, and within easy reach of the driver, while the switchgear is buttery smooth.
The nicely-bolstered front seats are comfortable, supportive, heated and cooled. In back, the seats are equally comfortable – at least for the two outboard passengers. The rear seats fold and a pass-through to the trunk allowed us to transport a 52cm road bike without having to remove either wheel and, despite the high beltline and cowl, the view out the front and sides is very good, thanks to a large expanse of glass and a relatively narrow A-pillar. The view out the rear window is also acceptable despite the high trunk line, while views out the rear three-quarters are hampered by the sloping roofline and thick C-pillars.
But there are shortcomings, including tight rear leg and head room - rear seat passengers over six feet may have to slouch in order to avoid contact with the roof, and the center occupant won't be at all happy. In addition, trunk space – a mere 10.5 cu ft - is also limited with less than half the Stinger's 23.3 cu ft.
Equipment
As you might expect, even base models offer a high level of standard equipment that, along with the typical power features, includes 18-inch alloy wheels, LED taillights and daytime running lights, smart trunk, keyless entry with push-button start, auto-dimming rearview mirror, dual-zone automatic climate control, leatherette seats (power driver and front passenger), perforated leather-wrapped steering wheel and shifter, electronic parking brake, Bluetooth, Android Auto, Apple CarPlay, and the Genesis telematics system.
Standard active safety features include forward collision warning, automatic emergency braking, adaptive cruise control, blind spot alert, lane keep assist, driver attention alert, rear cross-traffic alert, and automatic high beams with high-beam assist.
The 3.3T trim adds to that list with Brembo brakes, a limited-slip differential, sport-tuned suspension, full LED headlights 19-inch alloy wheels wrapped in high-performance summer tires, leather seats, alloy pedals, aluminum interior trim, power tilt-and-telescope steering wheel, Lexicon audio system, auto-dimming outside mirrors, integrated memory system, navigation, heated and ventilated front seats, and a power driver seat cushion extension.
Because it was a 3.3T Sport, our tester was equipped with the Elite Package (low beam assist, rain-sensing wipers, front and rear park assist, sunroof, wireless charging), the Prestige Package (head-up display, microfiber headliner, Nappa leather seats-heated in back, a surround-view monitor), and the Sport Package (adaptive suspension, copper headlight accents, black quilted Nappa leather seats, dark tint taillight covers, dark chrome grille and window trim).
Engines
Like the Stinger, the G70 offers the choice of two engines. 2.0T Standard, Elite, Prestige, Dynamic, and Sport models come with the smaller of the two - a turbocharged 2.0-liter four-cylinder rated at 260 lb-ft of torque and 252 horsepower when paired with the 8-speed automatic or 255 horsepower when coupled to the 6-speed manual. The larger engine, found on 3.3T Standard, Elite, Prestige, and Sport models, is a 365 horsepower, twin-turbo V6 that develops 365 horsepower and 376 lb-ft of torque that is matched to an 8-speed automatic only. Rear-wheel and all-wheel drivetrains are available with both engines, although the 6-speed manual is offered only with rear-wheel-drive.
Fuel economy ranges from an EPA-estimated 22 miles per gallon in the city, 30 on the highway, and 25 combined for RWD automatic 2.0T models, to an EPA-estimated 18 mpg city, 25 highway, and 20 combined for AWD 3.3T trims.
Our tester, a RWD 3.3T, scores an EPA-estimated 18 mpg city, 26 highway, and 21 combined. We managed a vehicle-measured 24.7 miles per gallon in predominantly highway driving – not bad, but hardly a benchmark in the class.
On the road
With a shorter wheelbase and sportier suspension settings, the G70 offers sharper handling than its Kia stable mate. Like the Stinger, power from the twin-turbo V6 is lively with just a hint of turbo lag, delivering impressive acceleration for effortless merging and passing at highway speeds. The chassis feels well-planted and is unaffected by crosswinds, while the suspension does a nice job of absorbing bumps and pavement irregularities. The steering is direct and the Brembo brakes providing exceptional stopping power.
All-wheel drive is available and, given our experience with Michigan winters, we'd recommend checking that box if you live in colder climes - along with swapping out the summer tires for a set of winters – even though rear-drive examples like our tester are equipped with a standard mechanical limited slip differential for increased grip and performance.
Our time spent with the G70 included a round trip from the Detroit metro area to Chicago. Normally, a vehicle with crisp handling characteristics wouldn't be our first choice as a highway cruiser, but the G70 proved more than equal to the task and we were pleasantly surprised by how rested we felt even after spending ten-plus hours in moderate to heavy freeway traffic.
We simply set the variable adjustable suspension to its softest setting, and activated the various freeway-friendly highway safety nannies (adaptive cruise control, lane keep assist, etc.). The result was one of the most relaxing trips we've ever experienced. As expected, the chassis delivered predictable handling, while the Comfort mode suspension setting lent itself to long stretches of relaxed cruising. Traffic slowdowns were handled with aplomb by the adaptive cruise control system, while lane keep assist gives a gentle nudge if you stray too far to the left or right. And while it may seem counter-intuitive, with these systems in place drivers can pay far more attention to the overall traffic picture, which we found to be much more restful. As a result, we arrived in Chicago feeling refreshed and ready to go.
At the same time, although very little engine and wind noise enters the cabin, tire noise – especially over rough and uneven pavement - was another matter (although, to be fair, this drive took place during the early spring and our tester was equipped with a set of Pirelli Sottozero 3 winter tires). And in addition to less-than-stellar fuel economy, the 3.3-liter engine requires premium fuel.
Genesis G70 Prices

G70 trim levels are determined by engine size. Rear-wheel-drive is available on all three trims – 2.0T, 2.0T 6-Speed Manual, and 3.3T. All-wheel-drive is available on two – 2.2T and 3.3T. For most trims (the $38,895 2.0T Manual isn't offered with any package options) on top of the Standard package, you can add either three or four ascending packages. On the web page, packages are priced separately, while on window stickers, Hyundai breaks out the pricing thusly: base price, plus one or more individual package prices (the sum of which is total price of a particular package), plus destination fee.
For the $35,895 2.0T RWD trim, Elite ($5,000), Dynamic ($9,000), and Sport ($10,000) Packages are offered. $37,895 2.0T AWD models are available with all three plus the Prestige ($8,000) Package, slotted between the Elite and Dynamic Packages. On the 3.3T trim, both RWD and AWD models are offered with $1,750 Elite, $4,250 Prestige, or $5,750 Sport Packages.
For example, our Metallic Blue RWD 3.3T Sport tester had a base MSRP of $43,750. Since the Sport designation requires all three packages, the rest of the Monroney label reads thusly: Elite Package ($1,750), plus the Prestige Package ($2,500), plus the Sport Package ($1,500) that yields the total package price of $5,750. In this case, the base price, plus the sum of the package prices, plus the $995 destination charge, gave the Mallorca Blue tester a total price of $50,495.
The Bottom Line
The smallest sedan entry from Genesis may have tight rear seating, a dearth of trunk space, and middling fuel economy, but the G70 is also a performance bargain with an adventurous design, potent V-6, and the handling chops to carve back roads corners while offering the capability for comfortable, all-day cruising, making it a solid contender in the luxury compact sports sedan class.