Pros
Balanced handling
Communicative steering
Improved performance
Cons
Vexing infotainment system
Pricey top trims
Weird ergonomics
2019 Mazda MX-5 Miata
The Mazda MX-5 Miata continues to carry the torch for those iconic, lightweight, classic British sports cars that GIs brought back with them from Europe following the Second World War. The fourth gen version, arguably the best yet, made its debut in 2015 as a 2016 model. In 2017, blind spot monitor and rear cross traffic alert were added to the Club trim (already standard on the Grand Touring), while 2018 saw three new colors added and three dropped, a new dark cherry soft top color, a new infotainment screen across the lineup, and the addition of leather seating to the Brembo BBS package.
Unlike the past two models, the 2019 version features a number of refinements to the exterior, interior, engine, and safety systems.
Exterior
Shorter and lower than the previous generation, the current style of the MX-5 follows Mazda's latest "Kodo" design language that dovetails nicely with the Miata's long hood, short trunk, and minimalist sheet metal. The smiley face of yore has been replaced by a more aggressive grille that sits below standard LED headlights that squint at you through narrow, teardrop-shaped housings. The muscular body is equally expressive, sporting sinewy lines, bulging fenders, and a flat trunk that accentuates the concave upper rear fascia.
Interior
The alluring sheet metal is wrapped around a cozy interior that's restrained without appearing too spartan. Although it displays hints of luxury – matching the exterior color on upper door panels, and cut-and-sewn trim with contrast stitching on the dash - the straightforward instrumentation clearly telegraph that this is a driver's car. The steering column now telescopes as well as tilts to accommodate taller drivers, the shifter falls easily to hand, the pedals are perfectly placed for heel-and-toe shifting, while the view out is perfect for a small sports car. Relying on suspended fabric rather than foam and springs, the base seats are all-day comfortable and the bolstering is superb - ideal for sports car duty.
But there are issues, as the touchscreen looks like an afterthought, the infotainment system is cumbersome, the cup holders – whether mounted on the back panel or on the passenger side of the console forward of the seat - are hilariously out of reach, while the 12-volt outlet is also located in the passenger's footwell. In addition, the infotainment controller is directly under the driver's forearm, and more than once we inadvertently changed either the radio station or the audio source. Lastly, a rearview camera is now standard across all models, but you have to pay extra for active safety features on all but the Grand Touring trim.
Equipment
Unlike the entry-level first-gen model that featured steel wheels and crank windows, the 2019 version, even in base trim, is well-equipped. The Sport offers the usual power features (windows, locks, mirrors) plus LED headlights and tail lights, 16-inch alloy wheels, keyless push-button start, variable intermittent wipers, leather-trimmed steering wheel, shift knob, and parking brake handle, tilt and telescoping steering wheel, and a 7-inch touchscreen with Aha, Pandora, Stitcher, and HD radio capability.
The optional i-Activesense package adds low-speed automatic emergency braking, lane departure warning, blind spot monitoring, and rear cross-traffic alert.
Stepping up to manually-equipped Club models pipes in engine sounds to the cabin and adds Bilstein shocks, a shock tower brace, a sport tuned suspension, and a limited-slip differential. Manual- along with automatic-equipped models also receive 17-inch alloy wheels shod in summer tires, a front air dam and rear lip spoiler, body-color upper door trim, vinyl and leather console trim, a Bose sound system with satellite and HD radio capability, and seats trimmed with red stitching.
Club models can also be ordered with the i-Activesense Package that includes low-speed automatic emergency braking and lane departure warning.
Choosing the Grand Touring trim deletes the suspension upgrades of the Club, but adds standard 17-inch alloy wheels, cloth lining to the convertible top, rain-sensing wipers, automatic climate control, leather seats, navigation, traffic sign recognition, and adaptive front lighting with automatic high beams.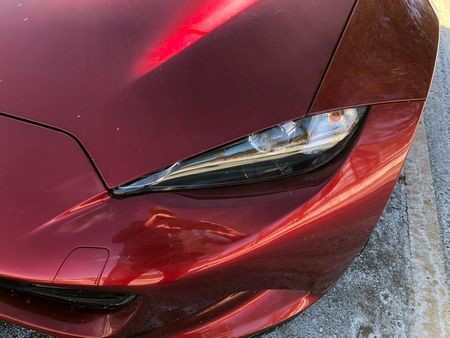 Grand Touring models fitted with the 6-speed manual can also be equipped with the optional GT-S Package, which adds the limited-slip rear differential, Bilstein shocks, red-painted calipers, shock tower brace and sport-tuned suspension found on manual Club trims.
Unfortunately, both Android Auto and Apple CarPlay are still MIA.
Under the hood
The big news for 2019: Mazda has done some serious tweaking of the Miata's 2.0-liter Skyactiv-G engine, revising the throttle body and intake ports, while enlarging the intake and exhaust valves and exhaust ports. In addition, cam timing on the exhaust side was modified, the pistons were lightened, the connecting rod wrist pins were reshaped, the crankshaft was stiffened to improve smoothness, the single-mass flywheel was replaced with a low-inertia dual-mass unit to dampen gear noise, injector pressure was increased for more power, and a new muffler was swapped in.
On the road
The changes result in an increase in the already high engagement between driver and machine, with higher revs, greater speed, and a more robust sound. The engine now happily spins to 7,500 rpm (up from 6,800), while horsepower rises to 181 (up from 155).
The additional power is significant in a car as light as this, and is apparent the moment you put your foot into it. The Miata pulls strongly in first through third gear, and, with an aggressive throttle, with do it right up to the 7,500 rpm redline each time (drive "normally" and the engine cuts out at 7,200 rpm). Merging and passing at freeway speeds no longer require studying traffic patterns, and the power is linear throughout the rev range.
Hitting the road, the Miata offers neutral, balanced handling. Set it into a curve and it goes exactly where you point it, feeling well-planted with the steering communicating exactly where you are, while the 6-speed manual snicks through each gear with precision. Clutch take-up is firm without being stiff, and offering just enough slack for drivability in stop-and-go traffic. The Brembo brakes on our Grand Touring tester were strong, hauling down the Miata's 2,345 pounds with alacrity and no drama, over and over, with no perceptible fade. They're easy to modulate, with a nice initial bite, and offer excellent feedback through the brake pedal.
Fuel economy is also very good. MX-5s with manual transmissions score an EPA-estimated 26 miles per gallon in the city, 34 on the highway, and 29 combined, while we managed a vehicle-measured 29.1 miles per gallon in spirited driving – predominantly around town.
At the same time, unless track days are a priority, the standard suspension might be preferable. Equipped with the Sport Package, our Grand Touring tester – shod with Bridgestone Blizzak LM-60 RFT performance winter tires – sacrificed too much comfort for our tastes on the rough and pothole-scarred roads of southeastern Michigan.
Pricing
2019 MX-5 Miata new car pricing begins at $26,650 for the manually-equipped Sport trim - with a $1,050 bump in price to delete the clutch pedal - and can top out at over $35,000 for a fully-optioned, six-speed manual, Grand Touring model. Our Soul Red Crystal Metallic, 6-speed manual, Grand Touring soft top tester had a base price of $30,780, and options that included the GT-S Package ($500, limited-slip differential, Bilstein dampers, shock tower brace), Interior Package ($425, red alloy oil cap, alloy pedals, door sill trim plates), Interior Lighting Kit ($350), and All-Weather Floor Mats ($90) that, along with a destination fee of $920, brought its MSRP to $33,710.
The Bottom Line
Despite the obvious size and practicality constraints, the awkward placement of the infotainment controls and the oddly-placed cupholders, the latest Miata, given the healthy injection of additional power, is even more fun to drive and remains the ultimate affordable sports car and a perfect second vehicle - even in winter (a fact we can attest to and provided you install a good set of winter tires).