It is comics and concepts and turbos oh my for the Korean automaker at the 2013 Chicago Auto Show


Triple play
For the past few years Kia Motors America has made it their mission to make a bigger splash at the Chicago Auto Show than at the earlier event down Interstate 94 in Detroit.
A case in point would be this year when only its Cadenza saw the light of day in the Motor City while the Windy City played host to no fewer than three premieres – evidently Kia feels that with less competition it gets more bang for its marketing buck on the shores of Lake Michigan.
So here goes.


Superman Optima Hybrid
"As the most recognized Super Hero in the world, Superman is a symbol of strength and integrity, making him the perfect character to join forces with Kia's first-ever hybrid to create a customized ride powered by a robust and efficient powertrain."


That quote from Michael Sprague, executive vice president, marketing and communications, KMA marked the introduction of Kia's sixth customized vehicle based on members of the DC Comic pantheon.
But rather than your run-of-the-mill concepts, each is designed to raise awareness for a very special campaign.


"This joint effort to raise awareness for the 'We Can Be Heroes' giving campaign through Justice League-inspired cars has proven to be a huge hit with both comic fans and car aficionados," stated Amit Desai, senior vice president of franchise management, DC Entertainment.  "We're excited to continue our partnership with Kia to bring the latest addition, the Superman-inspired Optima Hybrid, to fans in Chicago and beyond."


Rather than go on to the describe the collaboration between Kia, DC Entertainment and Super Street magazine, we'll adhere to the adage that "a picture is worth a thousand words."


2014 Kia Forte 5-Door
After a short look at the Superman Optima, it was trotted off the stage and taking its place was the world premiere of the all-new 5-door Kia Forte.


The 5-door not only gets a new rear section but, unlike its predecessor, the front fascia of the uplevel SX is highly revised from its sedan counterpart. A narrower "tiger nose" grille now sits atop a much larger and more aggressive lower intake.


Also new is what resides under the hood of the SX model – an all-new 1.6-liter direct-injected (GDI) turbocharged four-cylinder gasoline engine that generates 201 horsepower and 195 lb.-ft. of torque - thus making the SX the most powerful Forte to date.


"We received very positive feedback after the all-new Forte sedan made its debut at the 2012 Los Angeles Auto Show, and we expect the all-new Forte 5-door will build upon that success," said Michael Sprague, executive vice president of marketing & communications, KMA.  "The combination of a useful hatchback for carrying cargo and the sportiness of the turbocharged SX trim make the all-new Forte 5-door a dual threat in the segment."


Standard goodies across the line include, among others, alloy wheels, rear camera display, Bluetooth, satellite radio, leather-wrapped steering wheel, fog lights and LED-trimmed headlamp bezels.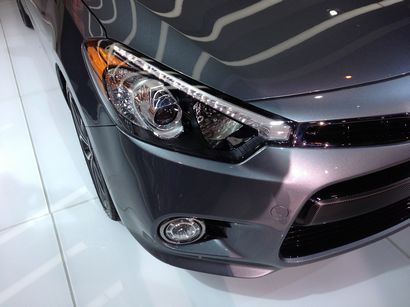 SX buyers get all that plus larger wheels and front brakes, alloy sport pedals and carbon fiber-look trim on the lower front fascia, rear valance and front and rear seats.


Options on both models include HID headlights, nav system, sunroof, heated steering wheel, power driver's seat, heated front seats and cooled driver's seat, heated rear outboard seats, leather, push-button start and dual-zone automatic climate control.


The Forte 5-door then moved stage right to make room for the finale.


Cross GT Concept
Kia is said to be considering a larger premium crossover than its current Sorento. We know this because this is what Peter Schreyer had to say in Chicago:


"The debut of the GT in 2011 heralded a new frontier for Kia, both from a design and a business perspective," noted Peter Schreyer, Kia Motors Corporation president and global chief of design.  "It beautifully illustrated to the world that the brand was ready to explore the possibility of perhaps one day offering a full-size rear-drive luxury saloon.  The Cross GT, with its raised stance and large cargo area, allows us to envision the GT in the form of a full-size luxury crossover."


In fact, the Cross GT's wheelbase, at 122 inches, is longer than Sorento's by 15.7 inches while its overall length of 192.8 inches is 8.4 inches greater. The 79.1-inch width also puts it 4.9 inches wider, although its overall height of 65.3 inches is actually 1.6 inches lower.


The Kia Cross GT Concept also represents the collaboration between Kia's design centers in Germany and California as the design was penned in Frankfurt but constructed in Irvine.


Will they build it?
"As witnessed by the introduction of the all-new Cadenza at the recent Detroit Auto Show, our customers are looking to the Kia brand to offer relevant vehicles in the premium segments that take value to new levels of sophistication," said Sprague.  "The Cross GT is the next logical step in that evolution.  And while only a concept today, it signals one possible design direction we may explore for the future."


Click here for a high resolution gallery of images.