Four years after it was redesigned, the 2017 Nissan Rogue gets an interior and exterior freshening and, when it's introduced later this year, will also be available with a hybrid drivetrain.
2017 Nissan Rogue
There's no question that here in the U.S. the crossover market remains the hottest vehicle segment in an overall auto market that's beginning to flatten and, in some areas, even cool down.
A year ago, Fred Diaz, senior vice president, Sales & Marketing and Operations, U.S.A. for Nissan North America noted that "The crossover segment, particularly small crossovers, is the hottest part of the automotive market right now. The Nissan Rogue is leading the sales growth pace and has not yet shown us the upper limits of the potential in the market."
But to keep the kettle boiling, so to speak, a number of updates are on the way.
2017 Rogue changes
For the 2017 model year, the Rogue will come with a number of new safety features and technologies including:
• A new front end design with Nissan's latest design cues
• An optional motion-activated liftgate
• Optional safety technologies including intelligent cruise control and forward emergency braking with pedestrian detection
Inside, all trim levels will feature a new D-shaped steering wheel as well as a leather boot around the redesigned console-mounted floor shifter. The console and console lid have also been revised, while new trim adorns the doors and instrument panel. Options now include a heated steering wheel, memory functions for the driver's seat and outside mirrors, remote engine start and a new Platinum Reserve Interior Package that features tan leather seats with quilted inserts.
The engine on all non-hybrid models carries over from last year: a 2.5-liter inline-4 producing 170 horsepower and a maximum 175 lb.-ft. of torque. It's mated to the only transmission offered, a 3-mode CVT with standard, Sport and Eco settings.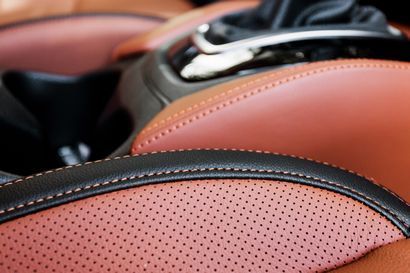 All Rogue models are offered in either FWD or AWD. EPA estimated fuel economy is 26/33/29 city/highway/combined mpg for FWD models, while AWD models receive EPA estimates of 25/32/27 city/highway/combined miles per gallon.
2017 Nissan Rogue Hybrid
The 2017 Rogue Hybrid will be available only in SV and SL trim with a FWD drivetrain, although an AWD version will be released at a later date.
The hybrid features a 141 horsepower 2.0-liter inline-4 producing 141 horsepower and 144 ob.-ft. of torque along with a 40 horsepower electric motor for a total of 176 system horsepower. This model is expected by the end of the year, with pricing announced closer to its on-sale date.
2017 Nissan Rogue: Rogue One Star Wars Limited Edition
Nissan also plans on releasing a "Rogue One Star Wars Limited Edition" (Nissan's quotes, not ours) model at this year's Los Angeles Auto Show in November, when additional information on the model, including pricing and availability, will be released.
2017 Nissan Rogue prices
2017 Rogue prices (those models that we know of) are as follows:
Manufacturer's Suggested Retail Prices (MSRP) for the 2017 Nissan Rogue:
Rogue S FWD: $24,760
Rogue SV FWD: $26,180
Rogue SL FWD: $30,900
Rogue S AWD: $26,110
Rogue SV AWD: $27,530
Rogue SL AWD: $32,250
Pricing includes a destination and handling charge of $940.