Toyota raises the bar once more as we spend a week in the hybrid version of the elegant new Avalon
Pros:
Fuel economy
Styling
Ride
Cons:
Trunk space
Not as much fun as the non hybrid
Seats only modestly supportive
Not your dad's Avalon
The first Avalon was introduced in 1994 as a 1995 model and, since that time, has served as the Toyoda City-based manufacturer's flagship sedan - ostensibly bridging the gap between more proletarian Toyotas and the Lexus brand.
The full-size sedan also embodied Toyota's traditional values of quality, reliability and practicality. At the same time it was boring to look at and uninspiring to drive. For the better part of its life it could best be described as Japan's nicest Buick - faint praise, indeed. Truth be told, until its third re-design in 2005 an Avalon could even be had with that most American of touches - a front bench seat.
But that all changed on April 5, 2012 when the 2013 Toyota Avalon made its debut at the 2012 New York Auto Show. Two months later, Toyota announced that the new Avalon would be offered with a hybrid powertrain.


2013 Toyota Avalon Hybrid Limited
In terms of overall size, the fourth generation Avalon isn't that much different than its predecessor, although only one dimension, a 111-inch wheelbase, remains unchanged. Length and width and height (195.3 in., 72.2 in., and 57.3 in.) were all reduced by 2.3, 0.6 and 1.0 inches, respectively.
Significantly, the front and rear tread were increased (by 0.4 and 0.6 inches), for more stability while the front and rear overhangs were decreased (by 0.6 and 1.7 inches) – pushing the wheels out to the corners. Even more impressive is the fact that even in hybrid trim vehicle weight was reduced over the outgoing model.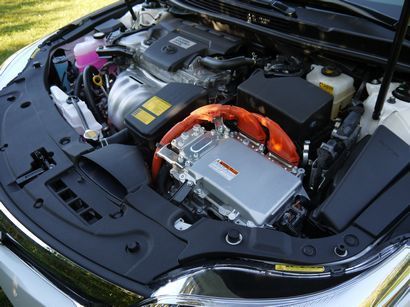 The 2013 Avalon Hybrid, a first for the Avalon nameplate, shares its Hybrid Synergy Drive powertrain with the hybrid version of the Toyota Camry starting with an inline-4 Atkinson cycle engine that displaces 2.5-liters. Output from the four-pot is 156 horsepower and 156 lb.-ft. of torque. Sharing power duties is an AC Synchronous Electric Motor that produces 141 horsepower (105 kW@4,500 rpm) and 199 lb.-ft. of torque. Together they're capable of producing 200 net horsepower. According to EPA estimates, city fuel economy is 40 mpg, highway fuel economy is 39 mpg and combined fuel economy is 40 mpg. During a week of primarily suburban driving, I averaged an outstanding 38.6 mpg.


Styling
Despite the major changes done under the hood, it pales in comparison to how much the stylists have managed to completely transform the exterior of the Avalon. The new look is both sleek and sophisticated and, unlike its predecessor, it won't get lost in a parking lot full of cookie cutter midsize sedans.
Not only is the sheetmetal all new, the 2013 version bears no resemblance whatsoever to its predecessor. Up front, the upper grille and headlamp enclosures are narrower and sleeker, while both the front bumper and bland lower fascia have been replaced by a large and aggressive-looking lower air intake.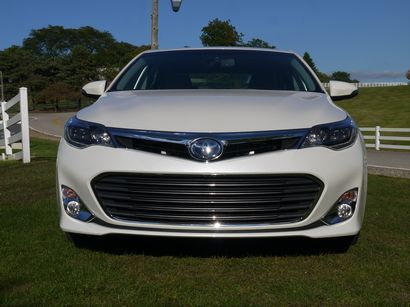 Along the sides, prominent upper and lower body creases are accentuated by pronounced wheel arches. In back, the previous model's eyebrow-shaped taillamps have been replaced by narrower horizontal units, while the decklid features a more aggressive rear lip.
Tying this all together is a steeply raked windshield and a sweeping, almost coupe-like, roofline.


Interior
The interior itself appears more Lexus than Toyota. A striking one-piece upper dash is separated from the lower dash area and corrects the only cabin misstep we found in our Avalon XLE tester from a few months ago: that model's too-glossy looking faux wood strip is replaced by more subtle gray-stained wood trim. The rest of the trim surfaces feature smoked chrome-metallic accents.
Dash, door and center console surfaces are soft touch, with real stitching on all three as well as the dash extension over the instrument pod.


Despite the fact that the interior is smaller – going from 106.9 to 102.3 cubic feet and moving the Avalon down a rung on the EPA ladder from full- to mid-size, Toyota has gone to great lengths to give occupants a feeling of spaciousness. The beltline is down, the passenger-side dashboard features a concave design and the front seat's hip point was lowered by 0.4 inches for improved headroom.
Lateral support was good, but the bottom cushion was a bit soft for my tastes.


Where more mundane Avalons are blessed with16 cubic feet of trunk capacity and rear seats that flip and fold forward, the necessity of toting a 244.8-volt nickel-metal hydride battery pack along for the ride necessitates a fixed back seat and a trunk with a somewhat abbreviated capacity of 14 cubic feet.
Typical for a Toyota, all controls, including those with capacitive touch on the center console, were within easy reach of the driver, intuitive and silky smooth in their operation. Driver visibility throughout the cabin was also excellent as even the rear three-quarters view is aided by a window strategically located within the C-pillar.


A testament to the simplicity of its Entune infotainment system is that I was able to pair an iPhone to it without having to consult the owner's manual – a target that has become somewhat of a benchmark around here.
Speaking of Entune, all Avalons come standard with three color display screens that support the multi-information display, audio/navigation functions and climate control system. The Display Audio system, itself, is supported by a 6.1-inch touchscreen.


On the road
One of the targets of the Avalon's re-design was improved vehicle dynamics in order to improve the outgoing model's straight-line stability and handling. Part of the process involved adding strategically-placed welds, improving body bracing and adding high-strength steel in key areas.
In addition, coil spring rates and front and rear sway bar stiffness were increased, while the electric power steering system was recalibrated for better control and feedback.


The result of all this engineering goodness is one of the most driver-oriented Toyota sedans I have ever experienced. Some may complain that the plushness of the previous model has been sacrificed, but the fact is that even in hybrid guise the newest of Avalons offers a flatter trajectory through corners while keeping road noise to a minimum through the use of such niceties as acoustic glass and additional sound-deadening materials.
On-center steering feel is also excellent and the weight builds nicely as it moves through the curves. Straight-line stability is also impressive and on the interstate, unlike many vehicles in this class, I found that there was no need to constantly make corrections to the Avalon Hybrid's heading.


Avalon XLE Touring models and up also come equipped with three drive modes – EV, Eco and Sport – available through a driver-selectable switch on the center console. Sport offers enhanced throttle response and higher steering effort, Eco alters the throttle and A/C power usage to boost fuel economy while EV mode, if the conditions are met, will allow the vehicle to operate in all-electric mode for up to a mile at 25 mph or less..
Considering the fact that the hybrid tips the scales at 121pounds more than its non-hybrid counterpart with 68 less horses under the hood, its acceleration isn't quite as brisk. Still, it's much more than you might expect. And even though they feature regen, the brakes provide excellent feel and are easier to modulate than most hybrids I've driven.


Pricing
As you might expect, the Avalon Hybrid also brings a high level of standard equipment to the table. Even in base XLE Premium trim this includes all the power niceties including windows, locks, mirrors and front seats, leather steering wheel, a moonroof, auto-dimming rearview mirror and Homelink.  Also standard is the aforementioned infotainment system, unique 17-inch alloy wheels, leather seating, rear camera and smart key with pushbutton start.
Checking the box next to XLE Touring adds, among other things, fog lights, navigation, voice command controls to the steering wheel, plus driver's seat and outside mirrors memory, Entune, and Blind Spot Monitor with Rear Cross-Traffic Alert.


Adding to all that, Limited models come with HID headlamps and LED daytime running lights, auto-dimming outside mirrors, rain-sensing wipers, aluminum door sill scuff plates, navigation system, perforated leather seats (cooled in front and heated in back), a power rear window sunshade and, ta-dah!, "white ice" interior ambient lighting.
Pricing for hybrid Avalons start at $36,365, including destination, for an XLE Premium and can top out at over $44,853 for a fully decked-out Limited – a price, coincidentally, that matched that of our tester which was equipped with the $1,750 technology package, $200 wireless device charger, a $29 first aid kit $29.00, $225 worth of carpeted floor and trunk mats, a $59 emergency assistance kit plus $395 for the special Blizzard Pearl/Gray paint job.


The Bottom Line
Like the gasoline-only version, the 2013 Toyota Avalon Hybrid is also something of a revelation. It accomplishes this by shedding pretty much all of its previous outward car-as-appliance approach along with an interior that would be at home in a Lexus. Here at LotPro we have been, to say the least, more than pleasantly surprised at its metamorphosis.
Currently Avalon owners may not be overly pleased with these changes, including its more responsive handling and smaller back seat, but those drivers seeking more involvement plus exceptional gas mileage should be. We also predict that many more potential buyers looking for these traits plus the quality and reliability Toyota is known for will now be making their way to Toyota new car dealers.