A week spent in the affordable and well equipped compact from Hyundai
Pros:
Fuel economy
Exterior styling
Interior quality, fit and finish
Cons:
Suspension compliance
Steering feel
Road, tire and engine noise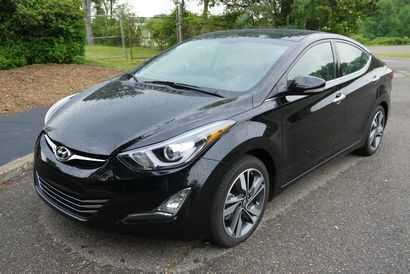 2014 Hyundai Elantra Limited sedan
Korean manufacturer Hyundai has always been known for affordable transportation and the Elantra model continues that tradition, although loaded up versions such as this Limited tester can get pricey. Available either as a coupe or sedan as well as a hatchback that is a much different animal, the fifth generation Elantra was unveiled in 2010 and went on sale later the following year as a 2011 model.
Once again, there remain a great many things I liked as well as a few things I didn't care for with the latest Elantra.
Exterior
The exterior continues to be the most striking aspect of Hyundai's current compact – encompassing the "Fluidic Sculpture" design language that, for the first time, distanced the offerings from the Korean manufacturer from their "throw-away" roots.
In this case, it all begins up front with the brand's signature trapezoidal grille. From there, large headlamp enclosures sweep up over the flared front wheel well openings. A prominent body crease begins at the leading edge of the front door and sweeps back, ending at the leading edge of the rear tail lamp lenses.
The cab-forward greenhouse features a steeply-raked windshield and peaks at the B-pillar, where the sweep of the rear roof begins.
The Elantra exterior dimensions include a wheelbase of 106.3 inches, length of 179.1 inches, width of 69.9 inches and height of 56.3 inches. Front and rear tracks measure 61.1 and 61.6 inches, respectively.
Interior
It's inside where the Elantra truly shines with a cabin that is nicely trimmed and features soft touch surfaces on the dashboard and upper doors. Limited models like our tester also come with a leather-trimmed steering wheel and shifter knob.
Storage cubbies abound. In addition to a decent-size box under the armrest, the center console contains two cup holders, a small open compartment behind the cup holders, a covered storage area (which also houses a 12-volt outlet as well as AUX and USB Jacks) in front of the shifter as well as an additional 12-volt outlet plus smaller storage area on the lower right side of the console just to the left of the glove box.
There are also two cup holders for rear seat passengers built into the rear fold-down center arm rest.
The gauges are clear, easy to read and within easy reach of the driver. They're also simple to use. The turn signal lever has a handy flash to pass feature while the touch screen-equipped infotainment system has dedicated on/off/ volume, tuning, seek, FM/AM, satellite, media, map, destination, route, enter, seek and settings knobs while the automatic climate control system also features easy-to-understand buttons. For these types of systems, it doesn't get any easier than this.
The front seats are very supportive and both the driver and front passenger will find plenty of head, leg, shoulder and hip room. The steering wheel tilts and telescopes, there's a nicely-placed dead pedal for the driver and the turn signal lever has a handy flash to pass feature.
The good news continues for rear seat passengers as, back there, up to three adults will find generous amounts of head shoulder and leg room.
Thanks to fairly narrow A-pillars and lots of glass, the view out the front and sides is really good. Views out the rear three-quarters and back, however, are compromised by a sloping roof and high beltline that rises towards the back. Both Sport and Limited trims come standard with a rear back-up camera that's also an option on SE models.
Trim levels
For 2014, Hyundai Elantra sedans come in three trim levels –entry-level SE, mid-level Limited and the top shelf Sport model. Standard on SE and Sport is a six-speed manual transmission with a six-speed automatic standard on the Limited available as an option on the other two.
Standard safety features include stability and traction control, 4-wheel disc brakes with brake assist, ABS and EBD and six airbags.
Equipment highlights that can hardly be considered basic include, on all trim levels, such niceties as alloy wheels, power windows, locks and outside mirrors as well as remote keyless entry. Air conditioning, an audio system with CD, satellite radio with USB and audio input jacks are also standard as is a tilt and telescoping steering wheel with cruise controls.
In addition to those goodies, Sport trim models get a firmer sport-tuned suspension, alloy pedals, 2.0-liter engine with 28 more horses, projector headlights with LED accents and LED tail lights, power driver's seat, power moonroof, a 4.3-inch color touchscreen with rearview camera, larger 17-inch alloy wheels and leather-trimmed seats (heated in front), steering wheel and shift knob.
Limited trim models lose the engine and suspension upgrades but get a standard 6-speed automatic, black chrome grille, heated back seats, power driver's seat lumbar adjustment and Hyundai's Blue Link Telematics System.
Under the hood
There are two engines available in the Hyundai Elantra. The Sport model comes with Hyundai's 173 hp Theta II 2.0-liter engine. All other models come with Hyundai's 1.8-liter Nu 4-cylinder. With state-of-the-art dual continuously variable valve timing the all-aluminum engine produces 145 horsepower.
As you might expect from a compact, fuel economy is one of the Elantra's high points. The EPA rates it at 27/37/31 city/highway/combined; while my own observed fuel economy in primarily around-town driving was a very respectable 30.2 mpg.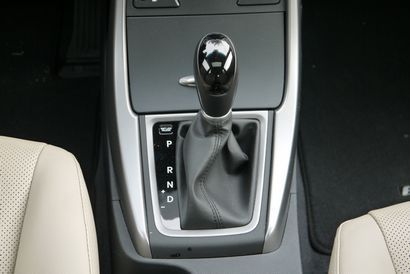 On the road
The Elantra Limited feels well planted on the road, with a decent amount of isolation from larger bumps and road imperfections. The steering is well weighted, although it doesn't offer much in the way of feedback to the driver.
With only 130 lb.-ft. of torque on tap, you might expect the automatic transmission to do a lot of gear hunting, but thanks to a modern six-speed automatic transmission, this just isn't the case.
On the expressway the Elantra felt composed with no need to constantly make corrections to the steering. It also was not affected that much by crosswinds. Another plus: the level of interior noise is a high point of the Elantra. Unlike some compacts, engine, tire, road and wind noise is fairly muted – especially in around town driving.
Additionally, the Elantra's suspension easily soaked up small bumps, although larger ones or a series of bumps or road imperfections had a tendency to upset its rear torsion axle suspension. The brakes, on the other hand, were easy to modulate and there was excellent feedback through the brake pedal.
Pricing
2014 Hyundai Elantra sedan pricing starts at $18,010 for a base SE with a manual transmission and can top out at close to $27,000 for a Limited model with all the trimmings.
Our Black Diamond Pearl Limited tester came in close to that top figure with a base price of $21,650. Adding the $2,750 Technology Package (nav system, 7-inch touchscreen, 360-watt audio, dual automatic temperature control, automatic headlamps and proximity key with push-button start) plus $125 for floor mats brought the total MSRP, including $810 for freight and handling, to $25,335.
The Bottom Line
There's a lot to like about the Hyundai Elantra sedan. It's an affordably-priced, nicely-styled compact with a great-looking interior and plenty of room for up to 5 adults. It also has a forgiving ride and really good fuel economy. On the other hand, that supple ride is far from sporty, while the 1.8-liter engine in particular, though strong, is hardly what you would call exhilarating to drive.
The bottom line, though, is that the Elantra is certainly a well-rounded sedan that, while hardly sporty, offers a lot of bang for the buck and should certainly be near the top of the list of vehicles for consideration by most compact car shoppers.