Pros:
Entertaining handling
Edgy design tweaks
Smooth manual transmission
Cons:
Lacks hatchback's versatility
Cheap interior touches
Mediocre brake feedback
2019 Hyundai Elantra Sport
Just two years into its run, Hyundai has given its sportiest compact sedan, the Elantra Sport, a refresh that includes updates to the exterior and interior, while adding a number of active safety features to the model's standard equipment list.
Exterior
Up front, the fascia is more angular and aggressive, with a pair of narrower, triangular-shaped headlamp housings containing smaller LED projection lamps, outlined on the top and sides by LED signature lighting. The grill is now octagonal with a honeycomb mesh, which is framed by a pair of triangular-shaped lenses housing the fog lights.
The hood is also all-new, with an upsweep and more pronounced vertical creases that have been pushed outward closer to the edges, while, along the sides, 18-inch alloys with a new design remain wrapped in ultra high performance, all season, Hankook Ventus S1 Noble tires.
In back, a revised decklid offers a more conservative upsweep with a new lip spoiler, while, for a cleaner look, the license plate location has been moved from the center of the trunk lid to the center of the re-styled lower valance panel.
Interior
Inside, the changes are far subtler. The vents on either side of the touchscreen can be shut off using the directional flap, eliminating the separate wheels at the bottom, while the hard buttons for the infotainment system are now concave. The biggest change, however reflects the fact that automatic climate control is no longer offered, so all variations feature a central display panel with three knobs (fan speed, delivery vent, temperature adjustment) and three corresponding push buttons (rear defrost, A/C off/on, fresh/recirculating air) below them.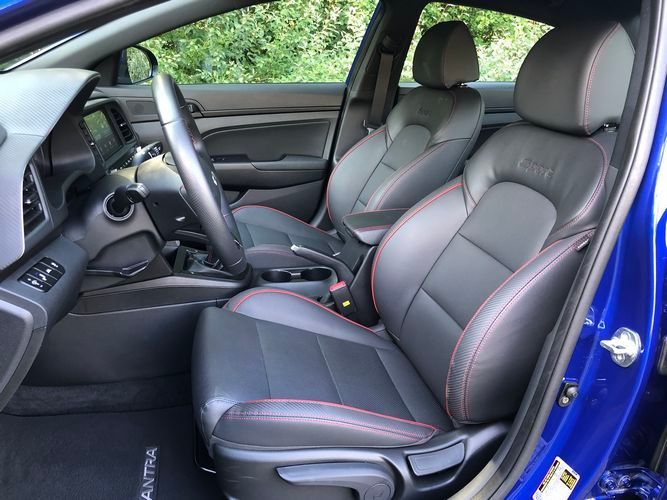 In addition to a soft-touch dash, Sport models retain unique door trim panels and leather seats, with leather wrapping the shift knob and flat-bottom sport steering wheel - all trimmed with red stitching - along with aggressively-bolstered heated front sport seats.
Unfortunately, what also hasn't changed is the hard plastic lower dash, door panels, and various other trim pieces - bits that look decidedly low rent compared to the interiors of class leaders like the Mazda Mazda3 and Volkswagen Golf.
Equipment
In keeping with Hyundai's value proposition, the Elantra Sport comes very well equipped. Augmenting the usual power features (windows, locks, mirrors) are LED low and high beam headlights, daytime running lights, and tail lights, keyless push-button start, a sport instrument cluster with center TFT display, alloy pedals, a black headliner, and a proximity key with push-button start. An infotainment system built around a standard 7-inch touchscreen offers Bluetooth phone connectivity, satellite radio, and Apple CarPlay and Android Auto capability. A sunroof, optional last year, is also standard.
Also new is the addition of a raft of standard advanced safety features including driver attention warning, pre-collision warning, automatic emergency braking, lake keep assist, lane departure warning, blind spot detection, and rear cross-traffic alert.
Now that a sunroof and advanced safety features are standard, the optional $2,250 Premium Package that adds an 8-inch touchscreen with navigation, an 8-speaker Infinity audio system along with Hyundai's Blue Link connected car services, and an auto-dimming rearview mirror, isn't nearly as compelling.
Under the hood
The good news is that nothing has changed under the hood. Shared with the Veloster, Sonata, and Elantra GT N Line, the Sport features a 1.6-liter direct injection turbo that generates 201 horsepower, and 195 lb-ft of torque available between 1,500 and 4,500 rpm – a very useful range for all-around driving enjoyment.
Two transmissions are currently offered: a standard 6-speed manual or optional 7-speed dual clutch that also includes steering wheel-mounted paddle shifters. But if you plan on rowing your own, you'd better hurry. Although still available in the GT, due to a less-than-favorable take rate in the sedan, the 6-speed manual has been dropped for the 2020 model year.
In the fuel efficiency department, models equipped with a 6-speed manual qualify for an EPA-estimated 22 miles per gallon in the city, 30 on the highway, and 25 combined, while the Sport manages to secure an EPA-estimated 26 mpg city, 33 highway, and 29 combined when equipped with the 7-speed dual clutch automatic. Our own observed fuel economy was 20.3 miles per gallon in "very spirited" around town driving.
On the road
The additional power of the Sport model is married to a chassis with a multi-link rear suspension that replaces the torsion beam setup found on more plebian trims. Also boosting handling prowess is the addition of a rear stabilizer bar along with a larger one up front, firmer spring and damper rates, a quicker steering ratio, larger front brake rotors, and trim-specific 18-inch alloys.
As a result, along with the GT N Line, the Sport sedan stands tall as one of the most entertaining Elantras. The suspension offers a supple, well-controlled ride even over rough pavement, there's no apparent turbo lag on acceleration, and the manual transmission is especially involving, with fairly short throws and a slick action.
At the same time, we found there to be quite a bit of body lean in corners for such a "sporty" model, and although the steering is certainly better than lesser Elantras, it often felt artificially weighted and still doesn't offer much feedback to the driver. And while there was a decent amount of feedback through the brake pedal, pedal feel, and pad bite, didn't always feel consistent.
In addition, the performance of the Elantra Sport can't match that of the Volkswagen GTI, and doesn't enter the equation unless the difference in price matters and you're comparing standard features. If price does matter, the Sport also falls short, in the handling department, of the less powerful Mazda Mazda3.
2019 Hyundai Elantra Sport prices
Including a $920 destination charge 2019 Hyundai Elantra Sport sedan pricing starts at $23,520 when equipped with the 6-speed manual, and tops out at over $26,870 for a Premium Package-optioned example with the 7-speed dual clutch automatic.
Our Intense Blue 6-speed manual tester had a base price of $22.600 and came with a $135 set of front and rear floor mats. Adding the $920 destination fee brought the total MSRP to $23,655.
The Bottom Line
While it lacks the superb interior and overall handling prowess of the Volkswagen Golf and Mazda Mazda3, there's still a lot to like about the Elantra Sport. The ride is smooth and well-controlled, the responsive engine offers more power than the Mazda3 and, quite frankly, we'll miss the slick 6-speed manual transmission.
As we noted two years ago, buyers looking for a compact sedan offering a lot of bang for the buck that's also a pleasant and fun daily driver will find the Elantra Sport to be a big step up from softly-sprung compacts like the Nissan Sentra and Toyota Corolla.