We spend a week in the all-new multi-purpose people mover from Kia
Pros
Smooth, quiet ride
Exterior Styling
Bang for the buck
Cons
Handling lacks crispness
Numb steering
Mediocre fuel economy numbers
Kia Sedona
Although the Kia Sedona has been sold in the U.S. since 2002, both the first and second-generation versions lacked the style and amenities most American minivan buyers look for. This meant it was never really able to compete with the likes of the Toyota Sienna, Honda Odyssey or Chrysler Town and Country. But all that is about to change.
2015 Kia Sedona SXL
Our tester, which represents the third generation Kia Sedona, was introduced as a 2015 model at the 2014 New York Auto Show.
Exterior
Outside, the changes include a noticeably higher hood as well as a larger, more upright and far more dramatic-looking front grille. That grille is flanked by slimmer headlamp enclosures as well as, on the SXL, a fairly aggressive chrome-trimmed lower valance containing round fog lights and a brushed silver lower diffuser.
Along the sides, the beltline kicks up just forward of the rear window. In back, horizontal taillamps replace the previous vertical units while the lower fascia features a brushed silver diffuser similar to the one found up front.
Interior
Inside, soft touch materials cover an all-new horizontal-themed dashboard and upper door surfaces and, at night, there's new red backlit illumination for the major buttons and controls. There's also a new three-spoke steering wheel (heated on the SXL) and a redesigned, fixed center console.
Dashboard instrumentation is clear and easy to read, while the controls are both intuitive and silky smooth. In addition, the android-based UVO infotainment system features redundant buttons for most of the major infotainment functions.
Like all minivans, however, the real goodness of the Sedona lies in its versatility. On the SXL, this means fitting up to six adults in comfort and even a seventh in relative comfort.
Up front there's plenty of head shoulder hip and leg room. The seats are nicely bolstered with supportive lower cushions and plenty of lower back support. Ingress and egress for front and second row occupants is easy, but it's a bit tight getting back to the third row, even with the second-row seats pushed fully forward.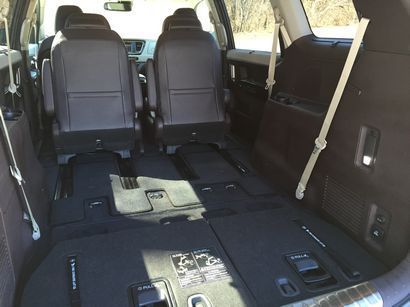 Speaking of the middle row, seven passenger SXL models come equipped with "first class" center lounge seating. When pushed all the way back and with the lower leg rests extended, passengers back there can be shuttled about in what are essentially a pair of lay-z-boy chairs.
One major issue with this setup is that the center row seats, although they can be pushed forward to just behind the front seats, cannot be removed. This means the Sedona SXL has anywhere from 7 to 8 cubic feet less cargo space than either the Honda Odyssey or Toyota Sienna. The space afforded by those expansive center seats is also offset by what amounts to smaller than average third row accommodations – even with the middle row seats in their normal positions.
On the other hand, the cabin has an airy feeling to it thanks to plenty of glass area. Despite the Sedona's size, from the driver's seat, views out the front, sides and rear three-quarters is excellent. The SXL also comes standard with a backup camera and 360 degree around view camera, making backing up and parking – even in tight quarters - a cinch.
Under the hood
The only engine available on Kia's latest people mover is a 3.3-liter all-aluminum V6 that produces 276 horsepower and 248 lb.-ft. of torque. But despite tipping the scales at 4,720 pounds, merging into traffic and passing on the expressway is never a problem. The six-speed transmission also shifts very smoothly, although you are always aware of the fact that the Sedona is hardly a small vehicle
As minivans have grown in size and weight, their fuel economy numbers have also taken a hit. Because of its heft, the Sedona's fuel economy is hardly what you would call frugal. The EPA rates it at 17/22/19 city/highway/combined mpg, while our observed fuel economy in primarily suburban driving was above that estimate at 18.2 miles per gallon.
On the road
As with other minivans, although none of them can really be considered "mini" anymore (even Kia refers to the latest incarnation as a "multi-purpose vehicle"), the Sedona takes advantage of a very long wheelbase. Here we're looking at all of 120.5 inches - which makes riding in it very comfortable - especially when the pavement is smooth. But the flipside is quite a bit of body lean is exhibited through the corners while, over pot-holed or uneven road surfaces, body flex, rather than suspension compliance, seems to be absorbing many of the irregularities. To top it all off, the Sedona's overall handling doesn't seem to be at all crisp and there's very little in the way of feedback through the steering wheel.
At freeway speeds the Sedona exhibits the same type of ride qualities as it exhibits on surface streets with body flex absorbing much of the road surface imperfections. But at the same time, the Sedona's handling is unaffected by either crosswinds or grooved pavement.
On the other hand, interior noise levels are one of the high points of the new Sedona. Both in around town as well as freeway driving, the cabin is very quiet with very little engine, road or tire noise entering the cabin – although in high wind situations there is some wind noise caused by the rearview mirrors.
In addition, the brakes are strong for a vehicle this size. They're also easy to modulate and progressive with plenty of feedback through the pedal to the driver.
Sedona pricing
New car pricing for the 2015 Sedona, including an $895 freight and handling fee, starts at $29,995 for the entry-level L model and tops out at over $45,000 for a fully-optioned and accessorized Limited model.
Our SXL tester came with an extensive standard equipment list including blind spot monitor, dual power moonroofs, leather seating with heated and cooled front seats, 3-zone automatic air conditioning, proximity key with push-button start, power tailgate, navigation and front and rear parking assist.  With a base price of $39,700, it was also equipped with the $2,700 tech package which includes HID headlights, lane departure warning, forward collision warning, surround view monitor and smart cruise control. That, along with the delivery processing and handling fee, brought its as-tested price to $43,295.00.
The Bottom Line
There are a lot more reasons buyers should take a look at the 2015 Kia Sedona. It has a quieter ride, a more modern and up-to-date interior and, despite an as-tested price of over forty-three large, buyers are still getting a lot of bang for the buck when compared to the competition.
On the other hand, the steering is numb, its handling lacks the Odyssey's crispness while its fuel economy numbers, although better than the Toyota Sienna, are still nothing to write home about.
But despite these shortcomings, previous owners will be extremely happy with the latest re-do, while we believe buyers new to the market should definitely put the new Sedona on their consideration lists – a statement that, in the past, we haven't been able to make.