The 2016 SEMA Show in Las Vegas may still be two weeks away, but Hyundai has already shown its hand by releasing the information and specs of three vehicles that will be revealed at the show.
Speed Equipment Manufacturing Association
Although the name has changed, that's what SEMA stood for during its first seven years when, in 1963, Vic Edelbrock, Jr., Dean Moon and Ed Iskenderian, among others, formed an association to promote the automotive aftermarket industry. 17 years later the name was changed to the Specialty Equipment Market Association – allowing the acronym "SEMA" to continue.
Hyundai at the 2016 SEMA Show
This year, Hyundai will unveil three highly-modified vehicles when the SEMA show gets underway on November 1st at the Las Vegas Convention Center. Here is what we know about them: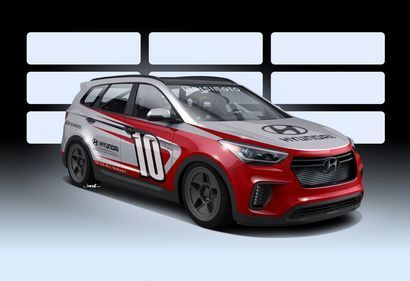 Santa-Fast Santa Fe
Developed in partnership with Hyundai and Bisi Ezerioha, owner of Bisimoto is the 1,040 horsepower, rear-drive "Santa-Fast" crossover SUV. All that horsepower is courtesy of a Bisimoto-constructed Hyundai 3.8L engine replete with, among other things, a custom intercooler and twin-turbo kit (Twin Turbonetics TNX 30/56 Turbos), Arias 9.0:1 custom forged pistons (Bisimoto specification),Bisimoto-Web level 2.4 camshafts and Bisimoto's own custom exhaust system featuring dual-pulse chambers.
The rear differential is from a Hyundai Equus, while the 6-speed manual conversion was done with a Genesis R-Spec gearbox. The suspension features KW coil-overs, while the 19-inch Fifteen52 Tarmac R40 wheels are wrapped in R888 265/35R19 Toyos. Bringing this all to a stop are Buddy Club 4-piston brakes mounted to Bisimoto brackets.
Rockstar Santa Fe
Yet another crossover offering, this one in collaboration with Rockstar Performance Garage, brings us this nitrous-powered Santa Fe based on Hyundai's 3.3L Lambda V6 engine. It, in turn, drives all four corners using a raised Santa Fe off-road system. The engine utilizes an AEM cold air intake, Mishimoto cooling system and Nitrous-oxide injection system.
Stopping power is courtesy of an R1 6-piston front, 4-piston rear, big brake system, while a custom suspension with new tie rods and control arms also features 2.0 KING coil-overs up front, while 2.5 KING shocks with finned reservoir get the job done in back.
Rock sliders and bumpers, a Warn winch and a wheel clearance expansion setup add to its off-road prowess, along with 17-inch off-road KMC XD 301 Turbine bead-lock wheels wrapped with Mickey Thompson Baja Claw 35-inch off-road tires.
Gurnade Veloster Concept
Taking a step away from the crossover segment is the Gurnade Veloster Concept, which adds integrated flares, a front splitter, racing canards, lightweight forged wheels and a one-off rear spoiler to the production Veloster. Engine mods include an 845 Motorsports intercooler, downpipe, cold-air intake and ECU tune, while Ark Performance contributes with a cat-back exhaust system.
Chassis changes include NEO Motorsports coil-overs and 6-piston big brake kit, while its strut bar, rear torsion bar, and tie brace are all sourced from Pierce Motorsports. The 19-inch OZT three-piece forged wheels are sourced from Rotiform and are wrapped in what Hyundai describes as "Toyo competition-spec tires."
Exterior enhancements include Magic Magenta paint from PPG refinish, one-off fender flares and grille from Lightner Motorsports, carbon-fiber front spoiler, side sills, and rear garnish from EPR, an ARK Performance carbon-fiber spoiler and custom headlamps and fog lamps from Cappelletti Design.
Interior highlights include racing seats from Cobra Nogaro with Takata racing harnesses, a Pierce Motorsports roll cage and a carbon-fiber steering wheel from SoCal Garage Works.