The Japanese automaker unveils a quartet of one off show cars including a pair of Club Sport Concepts at SEMA13


Low key intros
The 2013 SEMA Show can boast about a number of OEM press conferences, but a few manufacturers resorted to a much lower key approach. Among those was Japanese manufacturer Mazda – even though its stand contained four concept vehicles plus an example of the Mazda6 GX-class race car that won the Grand-Am GX Manufacturers Championship this year.
So here goes.


Club Sport Concepts
Both a Mazda3 and Mazda6 were given "Club Sport" treatments.
With a Mazda Design Composite Grey finish and black rooftop, the Mazda Club Sport 6 Concept features a Euro spec 14.0:1 low-compression SKYACTIV-D 2.2-liter clean diesel engine with an output of 173 horsepower at 4,500 rpm and 310 ob.-ft. of torque at 2,000 rpm (a North American clean diesel will be available in late spring of next year).


The exterior is painted with custom Club Sport graphics, while a Mazda Design custom accessory aero kit was installed featuring gloss black front, rear and side diffusers as well as a rear spoiler.  The Club Sport 6 sits on Rays 57 Motorsport G07FXX 20-inch Black and Machining-colored 10-spoke wheels wrapped with Yokohama S.drive 245/35R20 tires.  Suspension modifications include an H&R spring kit along with custom Brembo two-piece, six-piston 380x32 drilled brake rotors and a Racing Beat exhaust.


The Mazda Club Sport 3 Concept features a Mazda Design Slate White exterior finish with metallic Silver lines along the wheel arches, the base of the side skirts and the contours of the doors and C-pillars. Aside from a thin red vinyl line that follows the vehicle's lower contours, the only other non-painted surfaces are the alpha and numeric black vinyl call-outs of the fuel door, tire size and a large SKYACTIV TECHNOLOGY logo across the hood.


Like the larger Club Sport 6, the Mazda3 version features a Mazda Design-developed accessory aero kit with black front, rear and side diffusers as well as a new rear spoiler style (designed in North America, this aero kit will be available for all 2014 Mazda3 vehicles with  pricing to be announced closer to its on-sale date).


Equipped with Mazda's SKYACTIV-G 2.5-liter gasoline engine, the Club Sport 3 is specked with a modified CX-5-derived six-speed manual transmission. With gearing that is 20 percent shorter than in a SKYACTIV-G 2.0-liter-equipped Mazda3, the Club Sport 3 also utilizes a Wavetrac helical limited-slip differential.


Additional equipment includes a CUSCO coilover kit, a Racing Beat performance exhaust and Brembo two-piece, six-piston 380x32 drilled brake rotors.  Rays 57 Motorsport G07FXX 20-inch 10-spoke wheels are wrapped in Bridgestone Potenza RE-11 235/35R19 performance tires.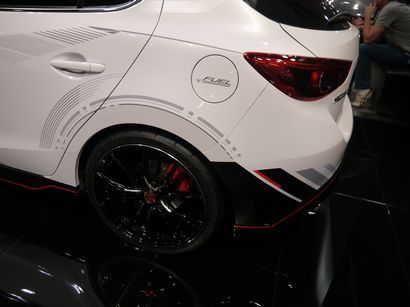 The Club Sport 3's interior features Red aniline leather seat trim, door panel inserts, center console, IP and a steering wheel stripe with black leather on the steering wheel, arm rest, emergency brake and shifter boot. Stitching patterns consist of Momo-inspired contrast-Red stitching on the steering wheel and double-stitched seams on the doors, seats and IP.  The steering wheel also features a single Red aniline leather strip at the "high-noon" position.


Vector 3 Concept
The Soul Red Vector 3 Concept features a custom blend of Deep Crimson in varying shades to highlight the "fractured line" treatment of the paint finish's vector pattern of variable length and width that are identical on both sides of the concept car.


A set of Rays Volk Racing Original G25 19-inch wheels are wrapped in Yokohama S.drive 225/40R19 performance tires while other performance features include an H&R spring kit and Brembo two-piece custom four-piston 365x29 drilled rotors.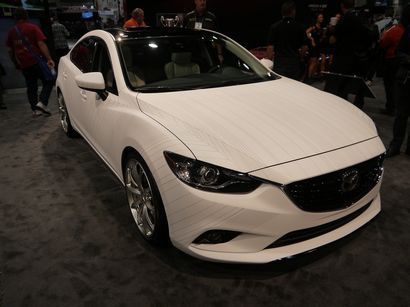 Ceramic 6 Concept
Although similar to the Vector 3 in that its design pattern is identical on either side, in the Ceramic 6 these patterns focus on racing.
The Ceramic 6's exterior is finished in matte Ceramic White (using a base metallic followed by a satin quality clear paint) with Taupe Silver accent stripes.


The Ceramic 6 rides on silver Rays Volk Racing Original G25 10-spoke, 20-inch wheels while performance enhancements include an H&R spring kit, a Racing Beat custom dual-exhaust and custom Brembo two-piece, six-piston 380x32 drilled rotors.


The interior is finished in white leather with contrasting black leather on the arm rests, emergency brake, center console and steering wheel (that also features white Momo-style stitching that's finished with a matching leather strip at the high-noon position).


Mazda6 GX
Although its first year of racing got off to a rough start – all three Mazda6 GX-class diesel racing sedans were forced to retire from the 2013 Rolex 24 at Daytona – Mazda ended the season by winning the manufacturer's championship in the class.