In a recent press release, Kia Motors announced that it is a global sponsor of RoboChamps 2008, a virtual world robotics competition from Microsoft.
Cars and Computers
Everyone here at LotPro.com knows how important technology is to the auto industry. Virtually every automotive system, from engine management to steering, braking and listening to music, is dependent upon modern technological wizardry to make it function properly.
This week, Kia Motors announced that it is partnering with Microsoft Corporation to become a worldwide sponsor of RoboChamps 2008, a global IT competition to "advance development of intelligent, autonomous driving technology." Say what?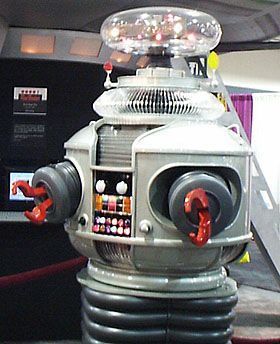 Danger, Will Robinson!
It turns out that this is a logical extension of an earlier agreement between Hyundai-Kia and Microsoft that was signed in May of this year in which both parties agreed to co-develop in-vehicle technology and entertainment systems.
The purpose of the RoboChamps competition is to encourage excellence in robotics programming. Using Microsoft software, programmers can "build" a virtual robot and program it to complete a number of different tasks or "challenges" in a virtual world. There are a total of 5 challenges, each taking place in its own world.

Attention all programming geeks!
The overall competition began July 5th, while the Urban Challenge portion got underway on October 9th. Most of the challenges allow entrants about a 6 week window in which to complete each challenge. The Urban Challenge segment ends on November 30th. There is no charge to enter and the development software is also available from Microsoft for free.

If it's virtual, shouldn't a Spectra be a Spectral?
In addition to the obvious advantages of partnering with Microsoft, Kia will also establish its presence in the virtual world. As part of the urban challenge, robot cars (all Kias) will travel from an initial position past multiple Kia dealership buildings. Points will be awarded for, among other things, each unique Kia building passed. Five Kia models will be represented, as well as Kia's new U.S. headquarters, outdoor advertisements and videos (remember Bladerunner?).
Here is the official press release:
(SEOUL) October 13, 2008 – Kia Motors Corporation, a maker of quality vehicles for the young-at-heart and a leader in automotive information technology convergence, announced today that it is a global sponsor of RoboChamps 2008, Microsoft's virtual-world robotics competition.
The sponsorship is designed to encourage the nurturing of professionals specializing in intelligent, autonomous automotive technology as well as further research and interest in auto-IT convergence. Kia also hopes to reach new audiences through the innovative promotion of its brand and a range of new Kia vehicles embedded throughout the simulation.
Kia Motors is providing 3D rendered models of five of its vehicles – the all-new and recently launched Soul, Borrego SUV, pro-cee'd (not sold in the U.S.), refreshed Optima and all-new Spectra. Event participants will use the simulated Kia cars to complete the RoboChamps Urban challenge, programming and autonomously operating a vehicle in a simulated city environment with accuracy and priority.  Backdrops integrated into the simulated city will also include the new Kia Motors America headquarters, Kia Motors dealer shops, outdoor Kia advertisements and a Kia Motors' promotional video.
Hyoung-Keun Lee, Senior Executive Vice President and COO, International Business Division of Kia Motors Corporation, said, "We are building on our strategic alliance with Microsoft and want to continue as a leader of next-generation automotive technology, enabling development of auto-IT convergence in Korea and around the world.  By integrating our products and advertising into the simulation environment, our brand is connecting with an audience of potentially 10 million IT professionals in a new and exciting way."
This announcement follows the strategic alliance agreement signed between Hyundai-Kia Automotive Group and Microsoft in May to co-develop in-vehicle IT and infotainment systems, and to work together toward establishing the Automotive IT Innovation Center in Korea.
Microsoft is encouraging IT academics, hobbyists and developers to take part in the challenges of RoboChamps.  Using Microsoft Robotics Developer Studio (MSRDS) 2008 CTP (Community Technical Preview), participants are provided with immersive 3-D environments, simulated versions of robots, and compelling scenario-specific challenges. Environments range from a maze to the surface of the planet Mars to downtown driving, to robot rescue, and to soccer.
The Urban challenge kicked off at 12:01 AM PT (Pacific Time) on October 9, 2008 and ends at 11:59 PM PT on November 30, 2008. Top prizes include a $15,000 cash prize or, for the domestic Korean competition, an all-new Kia Soul vehicle.
More information can be found at www.robochamps.com.