For the time being, the svelte new CX-5-based crossover, unveiled at Auto China 2016, will only be available in the Middle Kingdom.
2016 Beijing Motor Show
As the largest automobile market on the planet, the role China now plays on the world stage can't be overestimated. Those wishing for proof need look no further than the 2016 Beijing Motor Show (Auto China 2016), held annually in the capital of a country that now boasts a population of nearly 1.4 billion.
Earlier today (much earlier as it was actually an entire day later in China), Mazda unveiled its latest crossover vehicle that, at least for the time being, will be sold only in the People's Republic.
2017 Mazda CX-4
"The CX-4 is our fourth new-generation model in China," said Nobuhide Inamoto, Senior Managing Executive Officer overseeing operations in China. "Demand for SUVs here is remarkably strong and we expect this model will play a big part in expanding the Mazda brand in this market. We will continue working to strengthen our brand in China, aiming to become a brand which enriches people's lives through cars."
The 2017 Mazda CX-4 is based on the CX-5 crossover utility but boasts a sleeker, almost coupe-like KODO design-inspired body.
Compared to the CX-5, the new CX-4's width matches that of the CX-5 at 72.4 inches. But it's 3.1 inches longer (at 60.4 inches) and a whopping 6.9 inches lower with a steeply raked roofline and rear window. Not all of that height has been sacrificed for interior headroom, however, as the CX-4 features less ground clearance than the CX-5.
Its dashboard, meanwhile, is nearly identical to that of the Mazda Mazda3.
In China, the 2017 CX-4 will e available with a choice of two gasoline engines, both members of Mazda's Skyactiv-G engine family. The smaller of the two is a 2.0-liter inline-4 which, in the U.S. is rated anywhere between 146 and 155 horsepower and 146 to 150 lb.-ft. of torque, depending on model application. The larger engine is a 2.5-liter unit that produces 184 horsepower and 185 lb.-ft. of torque.
Like the CX-5, the smaller engine can be had with either a six-speed manual of six-speed automatic and 17-inch alloy wheels, while the 2.5-liter will only be offered with the six-speed automatic and 19-inch alloys will be standard.
The CX-4 is scheduled to go on-sale in China in June. No word yet on whether Mazda plans on selling it here in the States.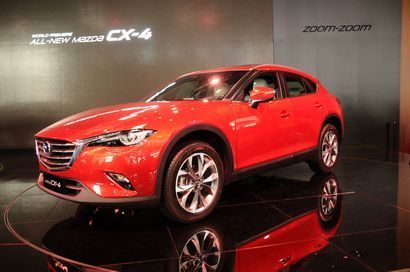 2017 Mazda CX-4 key specifications versus 2017 Mazda CX-5
Overall length: 182.4 inches (plus 3.1 inches)
Overall width: 72.4 inches (unchanged)
Overall height: 60.4 inches (minus 6.9 inches)
Wheelbase: 106.3 inches (unchanged)
Ground clearance: 7.7 inches (minus 0.8 inches)
Drive system: FWD or i-Activ-AWD
Engines: Skyactiv-G 2.0 (2.0-liter gasoline), Skyactiv-G 2.5 (2.5-liter gasoline)
Transmissions: Skyactiv-MT (6-speed manual), Skyactiv-Drive (6-speed automatic)
Fuel consumption (combined): 37 mpg (i-ELOOP manual), 37 mpg (i-ELOOP automatic), 33 mpg (non i-ELOOP vehicles)
Suspension type (front/rear): MacPherson strut/multi-link
Steering: Rack and pinion
Brake type (front/rear):  Ventilated discs/solid discs
Tires: 225/65R17 (2-liter models), 225/55R19 (2.5-liter models
Equipment: i-ACTIVSENSE advanced safety technologies, MZD (Mazda) Connect car connectivity system, auto-hold function, etc.
images courtesy of Mazda and newspress USA