Pros
Sublime, attractive styling
Stunning interior
Stellar fuel economy
Cons
Price can rise quickly
Premium fuel required
Tight seating for three in back
2019 Volvo XC60
All-new last year, the XC60 occupies the sweet spot between Volvo's larger, 3-row XC90 crossover and the smaller, more youthful-oriented XC40. The biggest change for 2019 is the addition of a new front-wheel-drive configuration for the entry-level T5 model only. Our tester features the T8 E-AWD hybrid powertrain configuration, while the sport-oriented R-Design trim slots above the base Momentum, but below the luxury-themed Inscription and limited run Polestar Engineered performance model.
2019 Volvo XC60 T8 e-AWD R-Design
Exterior
Offering a design that's both lithesome and distinctive, what is arguably Volvo's best-looking crossover in R-Design guise proclaims its presence beginning up front with slim headlights bisected by Volvo's "Thor's Hammer" LED accent lighting, that bracket a sharp, high-mounted grille. The lower fascia sports a narrow lower air intake as well as outboard pods containing LED fog lights. Chrome trim strips follow the A-line and beltline, the latter kicking up in front of the D-pillar. Soft curves, a sharp character line along the upper rear door and quarter panel, deeply sculpted lower door panels, and three-dimensional rocker panels define the sides, giving it a sporty character. The rear fascia is equally bold and features a prominent upper spoiler, tall vertical taillights that wrap inward, and a lower valance with a pair of outboard-mounted, chrome exhaust ports.
Interior
Those who've ever visited a Scandinavian furniture store will feel right at home when they step inside the XC60 R-Design and are immediately surrounded by a cabin awash in leather and a design aesthetic inspired by minimalist Swedish sophistication. The interior offers two focal points. The first is a stunning portrait-mode 9-inch touchscreen and an infotainment system that's Apple CarPlay/Android Auto compatible, set within an understated, soft-touch dashboard trimmed in aluminum with a mesh-like surface. The second is the console, whose sides are carpeted, and where an Orrefors crystal lever, set in front of the rotating start knob, operates the shift-by-wire system. Instrumentation is clear and easy to read, while the various buttons and knobs are silky smooth and within easy reach of the driver. Although on the firm side, the seats up front are supportive, offering plenty of leg, hip, shoulder headroom, memory functions for both, and all-day comfort. Their wide range of adjustability includes 4-way lumbar and power cushion extensions.
Driver visibility out the front, sides, and rear three-quarters is very good, although a smallish rear window and large rear headrests hinder views out back.
There's more good news for back seat passengers. In an area where many manufacturers cut costs, passengers in back are cosseted nearly as well as those up front. In addition to the usual ones found on the floor, B-pillar vents insure passengers in back are equally comfortable. The outboard seats are also nearly as comfortable as those up front, there's plenty of hip room for three adults, and the floor behind the console features a built-in rubber mat to spare the carpeting in that area from excessive wear. The cargo space is a fairly generous 30.8 cu ft behind the back row, that expands to 67.4 cu ft when the seat backs are folded (and you can either close or close and lock the vehicle with a pair of buttons on the electric hatch).
But all is not perfect, the middle rear seat is raised, on the firm side, and not particularly comfortable for anything other than short trips. In addition, the pricey ($3,200) Bowers and Wilkins audio system didn't impress, while the infotainment software, though visually intuitive, required us to delve through distracting sub-menus to perform even the simplest of tasks.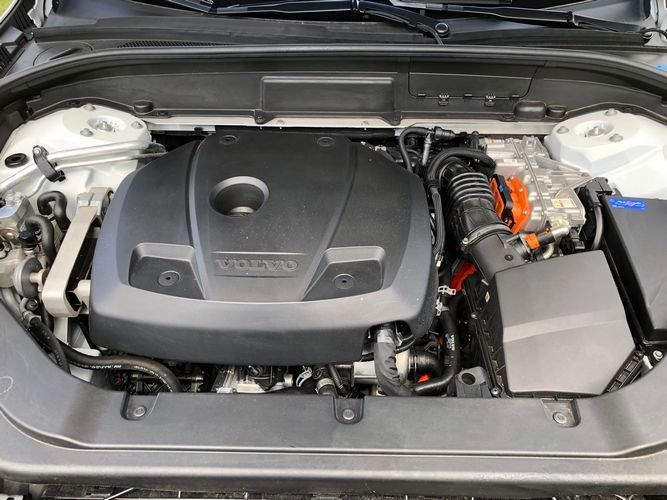 Under the hood
The XC60 is offered with a trio of 2.0-liter 4-cylinder engines. Turbocharged in the T5 and offered in front and all-wheel-drive variations, it develops 250 horsepower and 258 lb-ft of torque, while the more powerful turbocharged and supercharged T6, offered on all-wheel-drive models, produces 316 horsepower and 295 lb-ft of torque. That same turbocharged and supercharged engine is also offered in the T8, where it develops 313 horsepower and is paired with an 87-horsepower electric motor for an all-electric range of 17 miles, and 400 system horsepower along with 495 lb-ft of torque.
For gasoline-only models, fuel economy numbers range from an EPA-estimated 19 miles per gallon in the city, 27 on the highway, and 22 combined for AWD T6 models, to an EPA-estimated 22 mpg city, 29 highway, and 24 combined for FWD T5 models. Hybrid T8 models achieve an EPA-estimated 26 mpg combined, and 58 MPGe combined. Our own observed fuel economy for our T8 tester in a combination of city and high driving was an excellent, vehicle-measured, 35.5 miles per gallon. Volvo recommends premium fuel for all XC60 models.
On the road
For the most part, luxury buyers in this crossover class look for a smooth ride and decent performance – attributes that the twin-charged hybrid powertrain and optional air suspension deliver to a very high degree. Handling is composed, the steering is precise, and body motions are well controlled, even over the rough pavement found in the frequent work zones common to Michigan freeways this time of year.
The four driving modes - Eco, Comfort, Dynamic, and Off-Road – each offer a different experience. Early upshifts in Eco are par for the course. Comfort, on the other hand, allows for more normal shift points and adds a silkiness to the suspension and steering, while Dynamic adds steering weight, defeats engine start/stop, and holds shifts further into the rev range. Off-Road was a setting we didn't test, but engaging it increases ground clearance a bit, slows throttle and steering response, and engages hill-descent control.
Our stint with the XC60 included a Detroit to Chicago round trip, where we noted that the 2.0-liter twin-charge turbo delivers torque early in the rev range, with the eight-speed transmission offering smooth, well-timed shifts. Merging into traffic and passing at speed was never an issue, and the XC60 tracked nicely - unaffected by grooved pavement or crosswinds. In Comfort mode, steering is fairly light, while the brakes were fairly easy to modulate with acceptable feedback through the brake pedal.
Another high point was cabin noise. While we'd expect the XC60 to be quiet in city driving, even at freeway speeds there's very little wind, road, tire or engine noise that enters the cabin. We also should note XC60's shifter: a shift-by-wire system operated by a console-mounted crystal lever, it requires two pulls back to engage drive from park, and two pushes forward to place it in park from drive. Frustrating at first – you find yourself in neutral when you were hoping for either drive or park – with a bit of practice, it became second nature.
At the same time, while the Pilot Assist system worked flawlessly most of the time, work still needs to be done. At one point, in heavy traffic, we had to override the system and jam on the brakes when we got cut off by a vehicle and the emergency braking didn't react quickly enough. In addition, feedback through the brake pedal wasn't nearly as precise as what we've experienced with gasoline-only models.
2019 Volvo XC60 prices
Pricing for the 2019 Volvo XC60, including a $995 destination charge, starts at $41,790 for a base FWD T5, and can climb to over $76,000 for a fully optioned T8 R-Design model.
As you might expect, the R-Design trim comes equipped with an extensive roster of standard features that includes the typical power bits (windows, locks, mirrors) plus 19-inch alloy wheels, power retractable outside mirrors, aluminum roof rails, LED headlights and daytime running lights, heated wiper blades with integrated washers, a power-assisted, handsfree tailgate with programmable height, 2 zone automatic climate control, leather and Nubuck-trimmed sport seats, metal-trimmed pedals, metal mesh aluminum interior trim, leather-wrapped steering wheel, Orrefors crystal shift knob, keyless twist start, panoramic sunroof, auto-dimming interior and exterior mirrors, power folding rear headrests and rear seats, navigation, and a Harman Kardon sound system with Bluetooth, Apple CarPlay, Android Auto, and satellite radio capability.
The list of standard advanced safety features includes pre-collision warning with pedestrian, cyclist and large animal capabilities, automatic emergency braking, lane departure warning, lane keep assist with oncoming lane mitigation, automatic headlights with high-beam assist, blind spot detection with steering assist and cross-traffic alert, run-off road protection and run-off road mitigation, and road sign information.
Our Crystal White Metal T8 e-AWD R-Design evaluation vehicle featured a base price of $52,900 plus a number of options including the R-Design Features ($6,800), Advanced Package ($2,500, Pilot Assist semi-autonomous drive system with adaptive cruise control, overhead camera, head up display, full LED headlights with active bending lights, headlight high-pressure cleaning system), Heated Rear Seats & Heated Steering Wheel ($750), Metallic Paint ($645), Bowers and Wilkins Premium Sound ($3,200), and 4-Corner Air Suspension with Four-C Chassis ($1,800).
Add to that list a $995 destination charge, bringing the total Manufacturer Suggested Retail Price to $69,640.
The Bottom Line
While the XC60 can't match the cavernous space of full-size SUVs or the off-road chops of marques like Range Rover, and luxury buyers may prefer a more prestigious badge, we believe they'd be missing out.
The reason being the 2019 Volvo XC60 offers a refreshing and compelling entry to the growing lineup of luxury crossovers. The features are well placed and well-priced, and the interior is among our favorites. It's delightful in nearly every aspect, and deserving of the hype it's received including 2018 World Car of the Year and the North American Utility Vehicle of the Year honors.