For four years running, the results of the EPA Light Duty Fuel Economy Trends report show that Mazda is the most fuel efficient vehicle nameplate here in the U.S.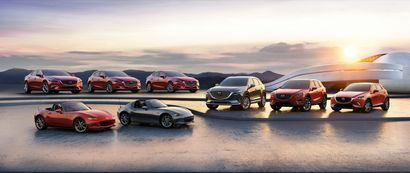 Mazda EPA results
With the price of a gallon of gasoline continuing to hover near the two dollars a gallon mark, the EPA numbers posted on the Monroney labels of all new cars sold in America are probably not the figures that uppermost in the minds of car buyers.
But it's still a fact that, despite current low prices, automakers continue in their quest for improved fuel efficiency while, in the process, spending billions to reduce their CAFE (Corporate Average Fuel Economy) numbers. The Holy Grail they are striving for, at least at this point in time, is the federally-mandated CAFE requirement of 35 miles per gallon by the year 2020.
Enforcing any fuel efficiency numbers is the bailiwick of the Environmental Protection Agency (EPA). The agency's latest Light Duty Fuel Economy Trends report was released earlier this week and, according to their calculations, once again it's Mazda that tops the list of mainstream automotive manufacturers.
For model year 2015 (the latest year measured) Mazda vehicles had a fleet-wide adjusted EPA fuel economy of 29.9 miles per gallon. That's up from last year's 29.4 miles per gallon, which was also up from a 28.1 mpg average in 2013. Mazda also has the third-lowest average CO2 emissions at 290 (down from 300 in 2014 and 302 in 2013) behind Fiat (240) and Mini (298) although, in all fairness, neither of those two brands offered a compact or midsize crossover in 2015.
Like the past two years, there's no doubt that a collective cheer could be heard rising from auto enthusiasts everywhere. Like the great majority of them, we here at Lot Pro believe that Mazda produces many of the most affordable, fun to drive vehicles on the planet. Their vehicle offerings include the MX-5 sports car, Mazda3 compact sedan and hatchback, Mazda6 midsize sedan, the CX-3 subcompact and CX-5 compact crossovers as well as the all-new CX-9 midsize crossover.
"Mazda's team of engineers and designers have worked diligently to create vehicles that are high-quality, stylish, fun-to-drive and fuel-efficient," said Masahiro Moro, president and CEO, Mazda North American Operations. "Using our unique SKYACTIV Technology, Mazda has been able to achieve class-leading fuel efficiency in nearly every segment it competes in while remaining true to its core mission that Driving Matters."
Mazda - fuel economy without electric or hybrid
As we've noted in the past, what's even more impressive about these results is that Mazda, named by U.S. News and World Report as the 2016 Best Car Brand, has managed to achieve this level of efficiency sans any hybrid or electric models.
Please see the chart below for information on the latest EPA test results: