A week spent in Hondas iconic minivan

Pros:
Smooth engine and transmission
Versatile interior
Fit and finish, ergonomics, switchgear
Cons:
It's still a minivan
Electric steering not as satisfying as conventional setup


Some history
Before we begin, I have a confession to make: I've owned the same Honda Odyssey minivan for the past ten years. Since I bought it new in March of 2001, it has been back and forth from Michigan to Florida three times. It's also made the trip to upstate New York once, to Des Moines, Iowa four times and to Chicago nearly fifty (yes, that's 50) times.
All told, it has 137,000 miles on the odometer. The tires have been replaced twice, the brakes three times and the shocks and struts once. The front springs have also been replaced and, at 105,000 miles, the timing belt and water pump were both swapped out for new ones.


Other than that, all it's needed were oil and filter changes. So you can see where this is going, right?
According to manufacturer's data, a 2001 Honda Odyssey LX weighed 4248 lbs., had a wheelbase of 118.1 inches and was 201.2 inches long. It was also 68.5 inches high, 76.3 inches wide and had front and rear tracks of 66.1 and 66.1 inches, respectively. The 2001 model also came equipped with a 3.5-liter V6 that produced 205 horsepower and 231 lb.-ft. of torque.


The 2011 Honda Odyssey EX-L with Navigation weighs 4500 lbs., has the same wheelbase of 118.1 inches and is 201.9 inches long. It's also 68.4 inches high, 79.2 inches wide and has front and rear tracks of 68.1 and 68.2 inches, respectively. The newest Odyssey also has a 3.5-liter V6 that produces 248 horsepower and 250 lb.-ft. of torque
So except for a 2-inch increase in width, an additional 252 pounds in weight and 43 more horses, not much has changed in the Odyssey's overall physical attributes over the past decade.


Exterior
The newest Odyssey is, at least in my humble opinion, one of the better-looking models in Honda's current lineup. Even though it's nearly impossible to make a large, boxy shape look sporty, especially looking at the Odyssey head-on it has a very aggressive, purposeful look.
Where the front end of the Accord sedan looks almost like a caricature, the grill and headlamp enclosures on the Odyssey flow back nicely to the steeply raked windshield while two creases begin at the lower outside corners of the grille - the top one, following the lower part of the headlamp enclosures, sweeps up to the belt line while the lower one curves around the front bumper until it hits the leading edge of the wheel well flare and follows the arch of the front fenders.
The Odyssey's "zigzag" beltline seems to interrupt its design fluidity just in front of the C-pillar but, once past the D-pillar, the back is every bit as good-looking as the front.


Interior
Aesthetics aside, what every minivan owner really looks for is versatility and, for the most part, Honda's Odyssey is the leader of the pack – fitting seven adults in comfort and an eighth in a pinch.
The two outboard middle seats flip and slide forward for easy ingress and egress to the rear bench seat that is large enough to see three adults comfortably. For trips requiring seven or less, the middle center seat section folds down revealing two cup holders and a square section for juice boxes or other odds and ends. It can also be removed completely to allow rear seat passengers to exit without moving either center seat.


Finally, Honda has improved upon the original rear magic seat. In 2001, it folded as a unit with the seat back folding forward and, thus folded, it tumbled back into the rear storage compartment.
The rear seat is now split 65-35 and, nowadays, all you have to do is grasp the lanyard on either seat and pull it backwards until the seat stores itself flush to the load floor.


Just as I've experienced in the 2001 model, the cargo capacity of the 2011 Odyssey is nothing short of spectacular.


Cargo volume behind the third seat is 38.4 cubic feet. If that's not sufficient, stow both halves of the rear seat and it jumps to 93.1 cubic feet. If that's still not enough, simply remove the three middle seats and, presto, you now have 148.5 cubic feet of cargo room. With three children in college who seem to be constantly moving around, this is the biggest reason I have been unable to part with my own Odyssey.
Interior fit and finish is outstanding, all controls are within easy reach of the driver and are typical Honda – that is to say, buttery smooth.


Equipment
The 2011 Odyssey comes in a total of seven different trim configurations.
The "base" LX comes standard with six airbags, two center seats, power windows, driver's seat, locks and mirrors, privacy glass, front and rear air conditioning, an AM/FM/CD audio system with subwoofer, ABS, stability and traction control.
The EX adds, among other things, power sliding doors, alloy wheels, 3-zone automatic climate control, steering-wheel mounted controls, a removable center front console, second-row sunshades, the second-row middle seat and 2 gigs of storage for the audio system.
All EX-L's come with leather, power tailgate, moonroof, rearview camera, Bluetooth, USB and an 8-inch TFT dashboard information display. Two additional variations add either a rear entertainment system or satellite-linked navigation with 15 gigs of memory storage (with phone controls on the steering wheel).
Touring model adds include 18-inch alloys, a six-speed automatic, both the nav and entertainment systems with 15 gig in memory, integrated sunshades in the second and third rows, ambient lighting and a folding center armrest in the third row.
Finally, the Touring Elite treats drivers to HID headlamps, blind spot detection, an "ultrawide" rear DVD entertainment system with HDMI and a 650-watt audio system with 12 speakers, subwoofer and 5.1 surround sound theater mode.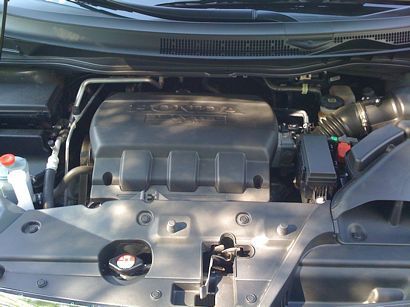 On the road
Minivans are, by their very definition, not the type of vehicles you associate with either twisty roads or straight-line performance. That being said, although suspension settings on our EX-L with navigation tended more towards the plush end of the spectrum, there was very little body lean through corners. The ride was controlled, with the Odyssey pretty much soaking up even the harshest bumps and potholes. Accelerating up to freeway speeds was also never a problem.
It was in the steering department that we had our only nit to pick with the Odyssey. Back in 2001, it came with conventional hydraulic power steering and, quite frankly, that system still seems to give better feedback than the current-generation's electric unit – a change made necessary, unfortunately, due to the need for better mpg figures.
I will say, however, that Honda has done a better job than most manufacturers in programming its electric steering for both on-road feel and around-town maneuverability feedback.
Pricing
New car prices, including an $810 destination charge, begin at $28,885 for the LX and top out at $44,335 for the Touring Elite. The Smoky Topaz metallic EX-L with navigation that we tested was just about halfway between, at $37,535.


The Bottom Line
There were a number of reasons I chose a Honda Odyssey more than ten years ago and those reasons still hold true today – quality, reliability, drivability and resale value.
The intervening years have also been good to Honda's people hauler. It now looks better, is quieter, and has a plethora of safety features not found on my over ten-year-old Odyssey while still offering the values that originally attracted me to it.
So here, as I see it, is the bottom line: if you're looking for a family hauler that offers excellent gas mileage (18 city/27 highway EPA) and outstanding people and cargo hauling capacity, look no further than Honda's Odyssey.